The Ultimate Beachfront Staycation: TradeWinds Island Resorts in St. Pete Beach
There are so many amazing hotels and resorts along the beaches in Tampa Bay, but there is one that is quite literally the perfect fit for families and that's the TradeWinds Island Resorts in St. Pete Beach.
It's located right on one of our favorite family-friendly beaches in Tampa Bay and offers a wide variety of activities for kids and families including a Floating Water Park, beachfront water slide and zip line, fish tank snorkeling, stand-up paddle boarding, and so much more.
So let's dive in friends and discover what the TradeWinds Island Resort has to offer for families like yours looking for that perfect beachfront getaway!
Where is TradeWinds Island Resorts?
The TradeWinds Island Resorts is located on one of America's top beaches, St. Pete Beach. The beachfront resort is actually two resorts in one: Island Grand and RumFish Beach Resort. Together, they encompass 40 acres of beachfront property with 899 rooms thanks to recent expansion that acquired the former Alden Suites.
What is there to do at TradeWinds Island Resorts:
One of the main reasons this resort makes our list of top hotels in Florida is because there is so much to do for families. You really don't have to leave to stay busy all day. Since there are so many different ways to play at the TradeWinds, we're going to break it down into a few different categories for you.
Things to do ON the water at the TradeWinds:
The Floating Water Park is a kid favorite! There 15,570 square foot inflatable water park has a slide, plenty of climbing structures, trampoline, and more! It's $40 per hour long session. It is available on Saturdays, Mondays, and Wednesdays as long as the weather permits.
To access it, you will need to first get a life jacket at the rental trailer, listen to the ground rules from the life guards and then swim out to Floating Water Park. Kids must be 6 years old and at least 46 inches tall.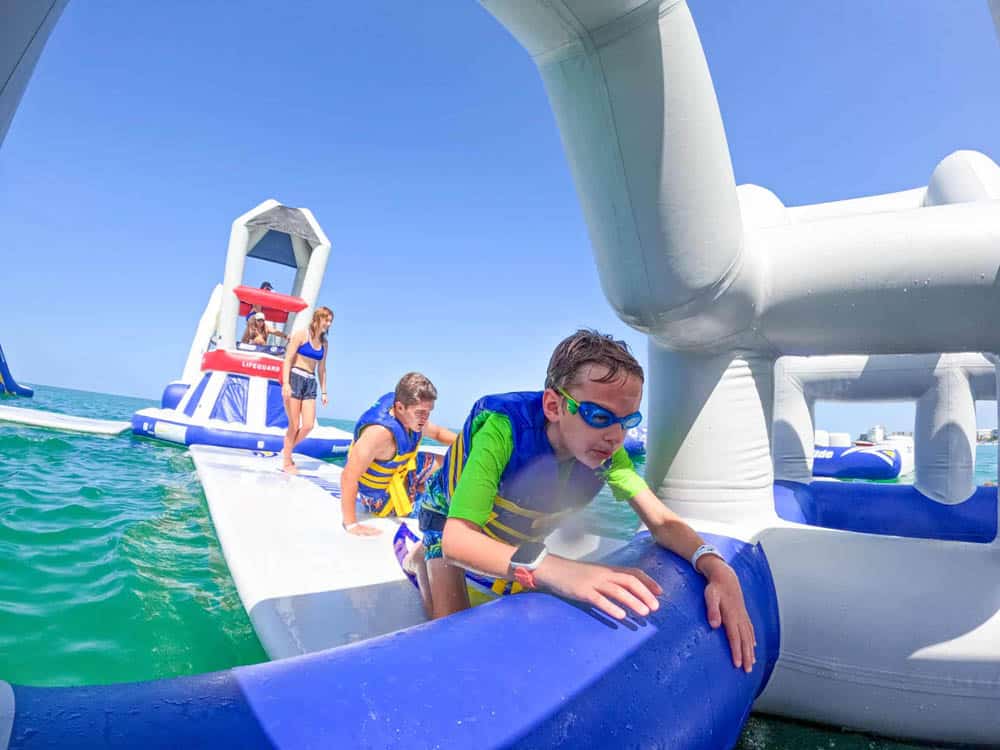 Another fun option for a more relaxing day on the water is to snag one of the new Aqua-Bana, a floating 10-person covered cabana with an ice cooler and table. You can rent the Aqua-Bana for $300 for a three-hour session, or $500 if you want the full six-hour experience.
There are also king-sized floating loungers that are not covered available for rent for $30 per hour.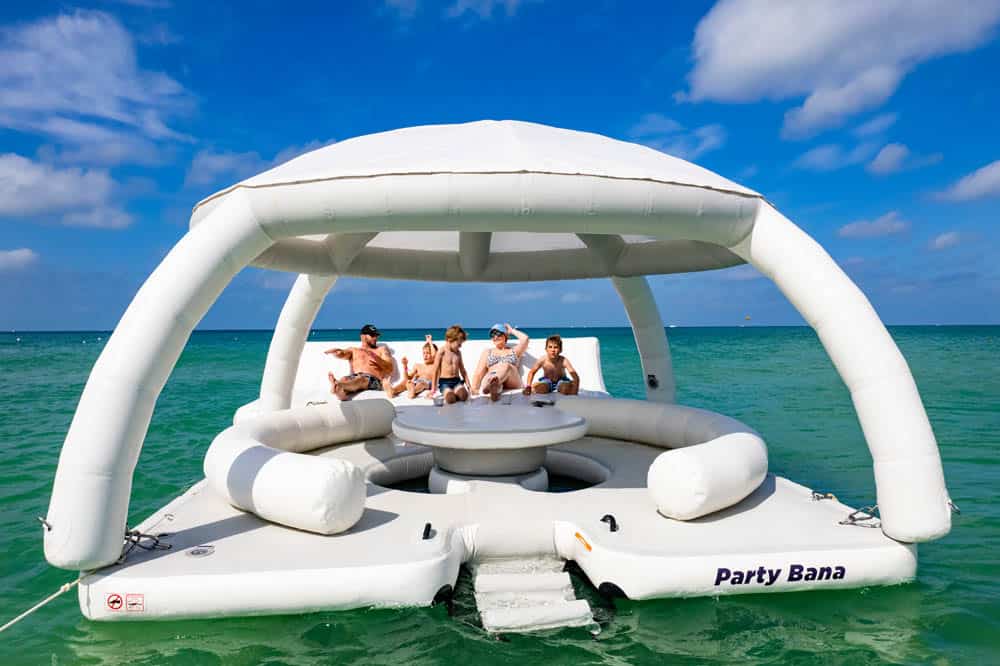 We're not done yet with all of the adventures you can have ON the water! You can also rent a kayak or stand-up paddle board. The SUP is $30 for a half hour and $45 for the full hour. If you've never done standup paddle boarding on the beach, this is a must-experience! Kayaks are $40 for a half hour and $60 for the hour.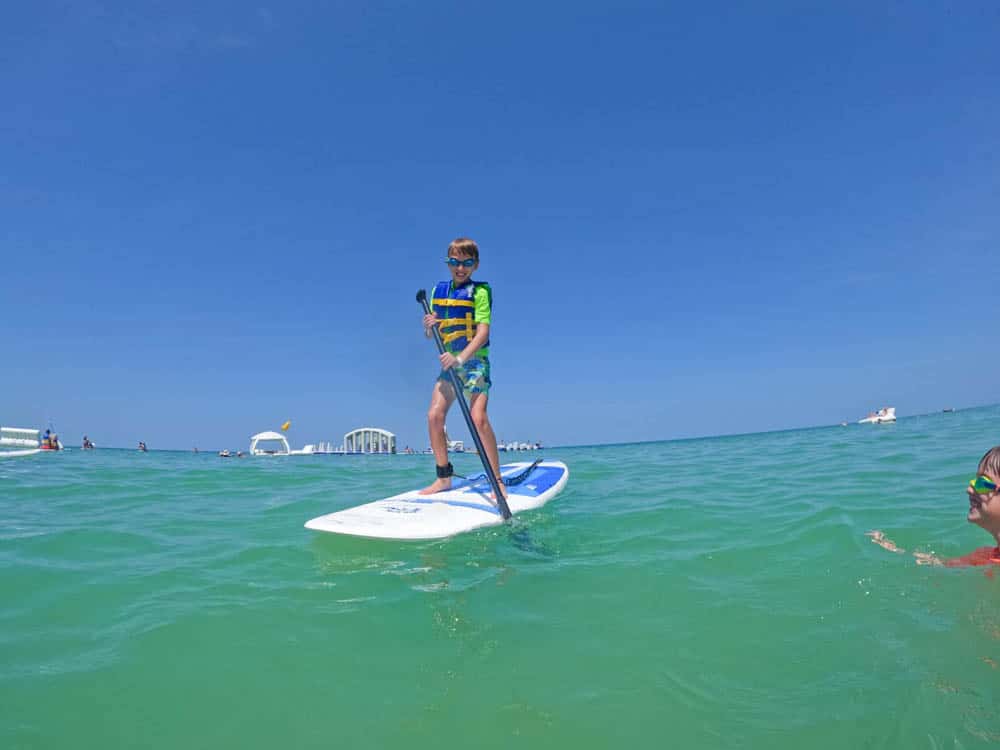 Other ON the water experiences you can book include: parasailing, guided jet ski tours, Banana Boat rides, and diving.
The last ON the water experience is a FREE paddleboat ride around the resort. It can be a workout, but it's also super peaceful as you make your way around the property. Try to do this in the morning before it gets too hot outside since you'll be in the boat the entire time.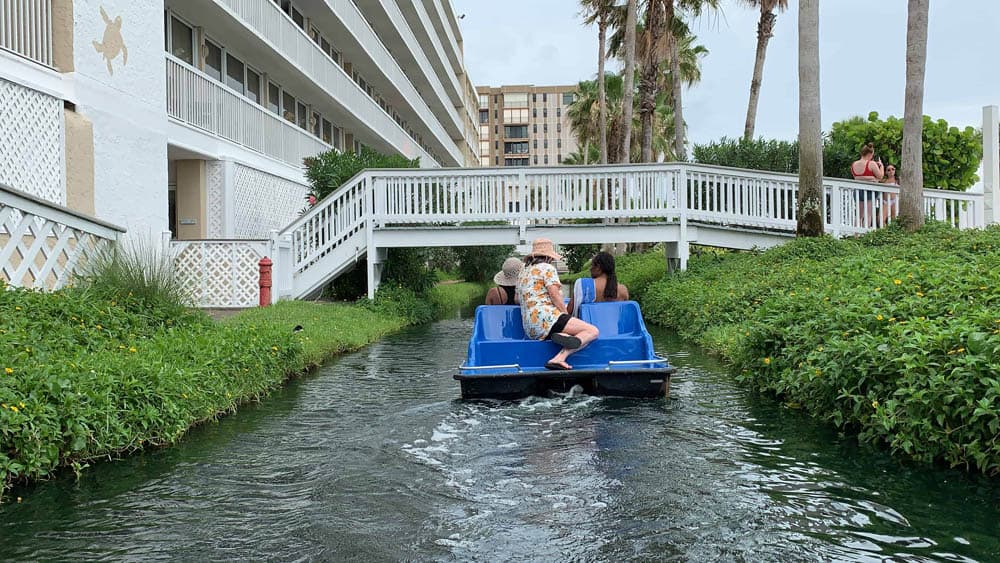 MORE Things to Do at the TradeWinds Island Resort
Our kids absolutely LOVE the inflatable High Tide Water Slide which sits right on the beach. It's three stories tall and 200 feet long. Kids must be at least 42 inches tall and be able to climb up to the top. If you see a line, it does go pretty fast since there are four slide lanes.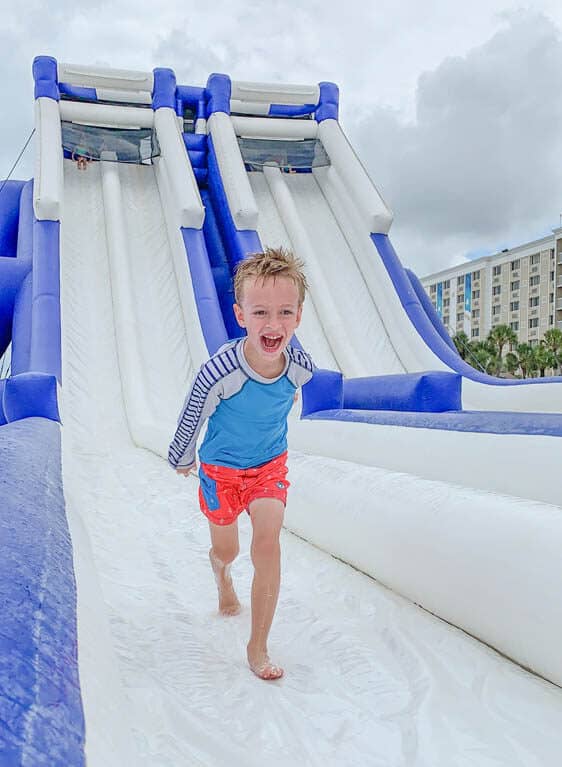 Make sure to pack the closed-toed shoes and shorts so you can take a ride down the new Zing Ray Zip at RumFish Beach Resort, a three-story tall zip line over the beach! This experience is included in your amenities resort fee. The cool thing about this zip line is that it's a dual zip line, so you can keep going back and forth as many times as you want!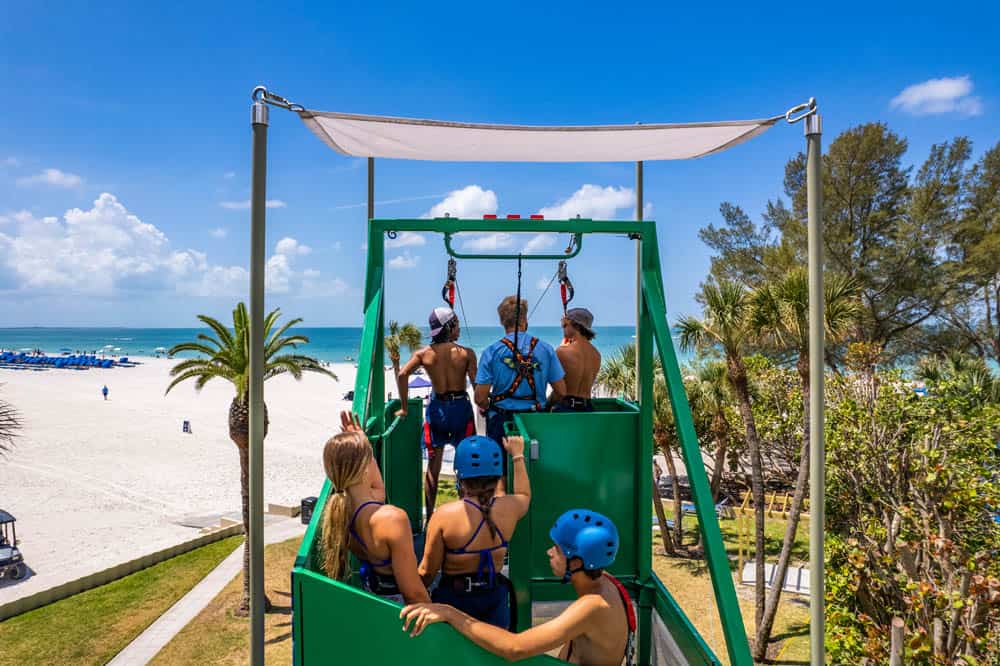 The kids also like the Surf WipeOut at RumFish Beach Resort. It's included with resort amenities.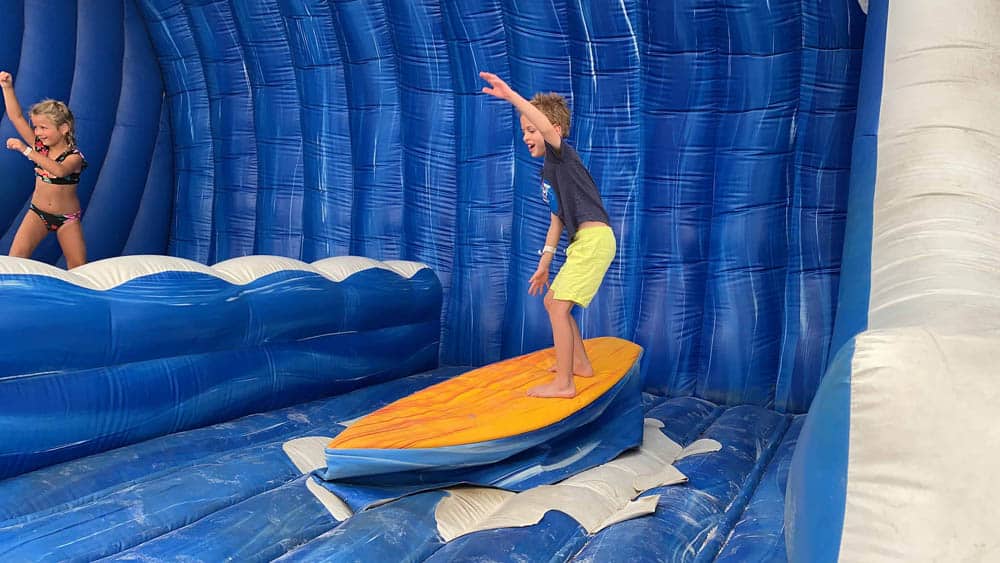 Other fun experiences our kiddos liked is the gem mining at the Treasure Gem Co. where they can sift through a bag of sand and gems to discover special treasures. There is also a Touch Tank on property where kids can get up close and personal to sea creatures, miniature golf, poolside crafts and more! You can learn more about all of the recreational activities at the Tradewinds Island Resort here.
Is there a kids club at TradeWinds Island Resorts?
You betcha! It's called the KONK Club and kids ages 5-12 are welcome. Registration is required so you can secure a spot for your kiddos. Be sure to check with the resort before your trip or book as soon as you arrive.
What are the rooms like at the TradeWinds?
The rooms have recently been renovated and feature mini kitchenettes with a microwave, sink, cabinets for food storage, and dish ware. There is also a mini fridge in the room. This feature earns the resort bonus points because we know families like the option of eating in the room.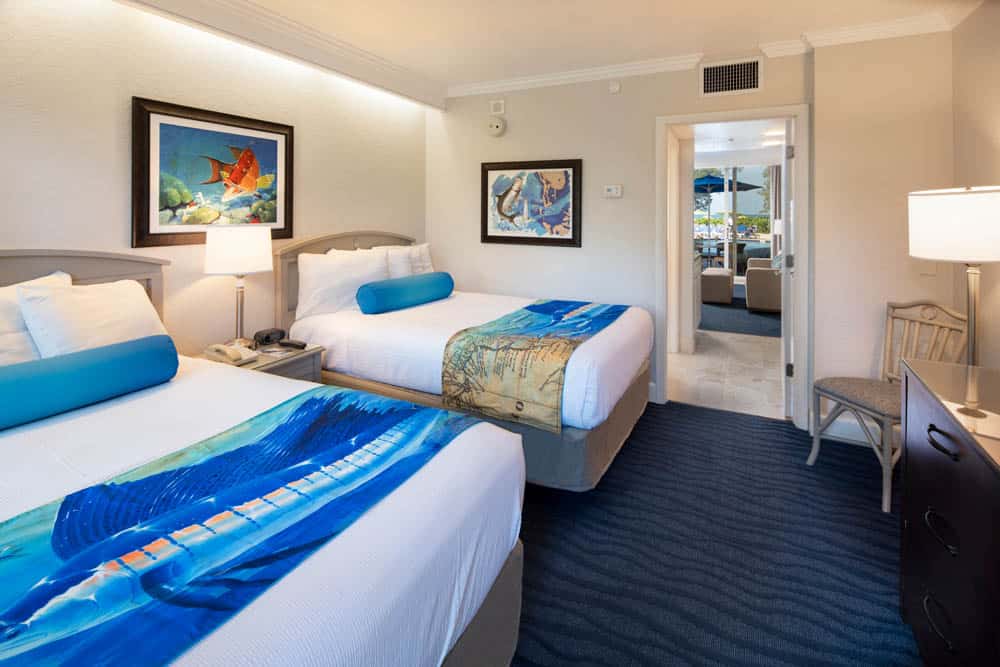 There are also seven 2-bedroom villas on the property if you need more space for the family and/or friends.
What is there to eat at TradeWinds Island Resorts?
There are several different dining options at TradeWinds Island Resorts, including the RumFish Grill, Flying Bridge and the Beachside Coastal Kitchen, so you don't have to go far to find something to eat.
The RumFish Grill is a cool place to dine with the kids –see if you can snag a table closest to the fish tank! The resort also offers opportunities to go snorkeling in this fish tank as well, so be sure to ask about the Swim with the Fish experience if it's something you and the kids would want to do. The tank was built on the TV show, Tanked. It's $45 plus tax per person.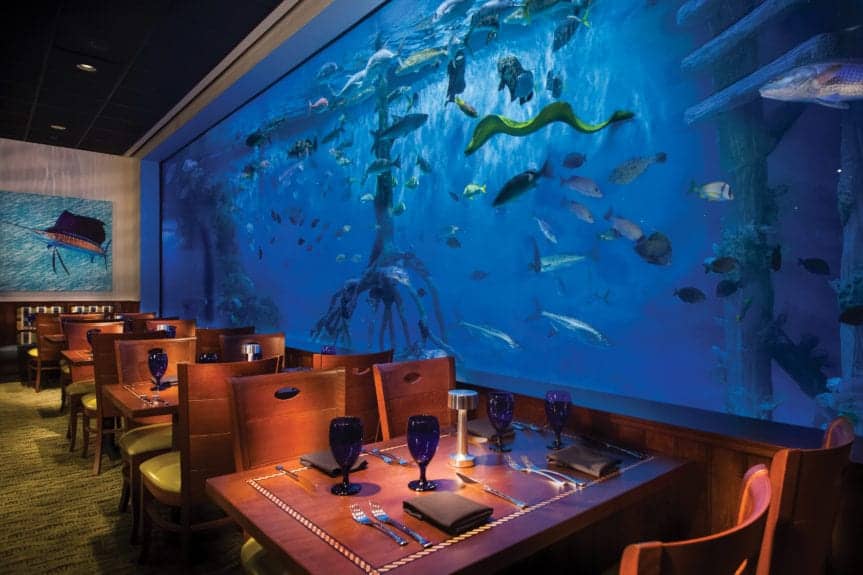 There are also plenty of restaurants around St. Pete Beach too and, of course, a quick meal in your room thanks to the small kitchenette area! If your kids are super picky, there is a Chick-fil-A nearby too.
TradeWinds Island Resorts Deals 
If you make your reservation by April 30, 2023, you will receive 20% off the best available rates and 23% all resort, food, beverage and activities with the Everything Everywhere All at Once Offer (for stays after April 16). And the Florida Resident special is available all year now. Both offers are based on availability, blackout dates apply and subject to change. Visit Just Let Go to learn more.
What else is there to do in the St. Pete Beach area?
If you are booking the TradeWinds as a staycation, it's a great time to explore St. Pete Beach since you are already there.
If you want to go even more upscale with your day, considering booking a ResortPass at the nearby Don CeSar, "The Pink Palace" while the kids play in the KONK Kids Club. And don't forget, there is an adult only pool for a quieter pool experience and a spa on property.
For a family outing, St. Pete Beach isn't too far from John's Pass Village in Madiera Beach. You can get there via the Suncoast Beach Trolley.There is some great shopping and places to eat and the kids will love a visit to the Alligator and Wildlife Discovery Center.
The Central Avenue Trolley will take you down to the amazing restaurants of Central Avenue in St. Pete and the St. Pete Pier.
One of our favorite family-friendly beaches, Pass-A-Grille, is also within a very short distance from St. Pete Beach. There is a cool sunset tradition of ringing the Sunset Bell each night that would be a cool experience for the family!
Are day passes available at the TradeWinds Island Resorts?
Not right now due to staffing which is impacting the hospitality industry as a whole right now. They want to ensure paying guests have the best experience possible. However, we did notice that a few beach experiences are available for non-guests for extra fees like the Floating Water Park and Zip Line.
Learn more and book your stay by visiting justletgo.com.
MORE amazing resorts and experiences to check out in Florida: