Tips and Tricks for the Best Character Dining at Walt Disney World
Walt Disney World is the stuff of childhood fantasy. Where else can you meet Mickey, sing along with Elsa, and hurtle through a galaxy far, far away, all in one day? For the ultimate Disney vacation experience, we highly recommend adding at least one Disney character dining meal to your itinerary.
After all, for many children, the highlight of visiting Walt Disney World is getting to see and even talk to their favorite characters. Why should the fun stop when lunchtime rolls around?
Character dining is a unique concept in which beloved Disney characters roam the restaurant, interacting with guests throughout the meal.
Whether you're going glam with Minnie in Hollywood, or going on safari with Mickey and friends, character dining is an unforgettable experience for the whole family. They offer an incredible way for your family to get away from the crowds and spend some precious time with the characters your children love most.
Ready to create some magical memories? Here are our must-have tips and tricks for booking the best character dining at Walt Disney World.
Where To Find Character Dining at Walt Disney World
Character dining is available at Walt Disney World restaurants, both inside the theme parks and at the various resort hotels. There are also a handful of hotels that are not owned by Disney that have Disney character dining.
Important note: You must have a valid park ticket and a Disney Park Pass in order to dine inside the parks.
Character Dining – No Theme Park Ticket Needed(!!):
Character Dining – Inside the Parks:
With that in mind, you can find the most up-to-date list of locations at DisneyWorld.com. Simply filter the results by "dining type" to see all character dining options. From there, you can further narrow your options down by cuisine, time of day, price point, and more.
The Best Character Dining at Walt Disney World
With multiple Disney character dining options out there, it can be hard to know where to begin! Disney is known for crafting memorable, once-in-a-lifetime experiences, but which ones are right for your family? Here are some of our favorites.
Breakfast at Topolino's Terrace is the newest character dining meal at Walt Disney World. Located on the top floor of Disney's Riviera Resort, the meal features Mickey and the gang as painters, dancers, poets, and more. If the characters alone aren't a big enough draw, the French-Italian-inspired cuisine, stunning rooftop views, and convenient theme park access via the Disney Skyliner are sure to seal the deal.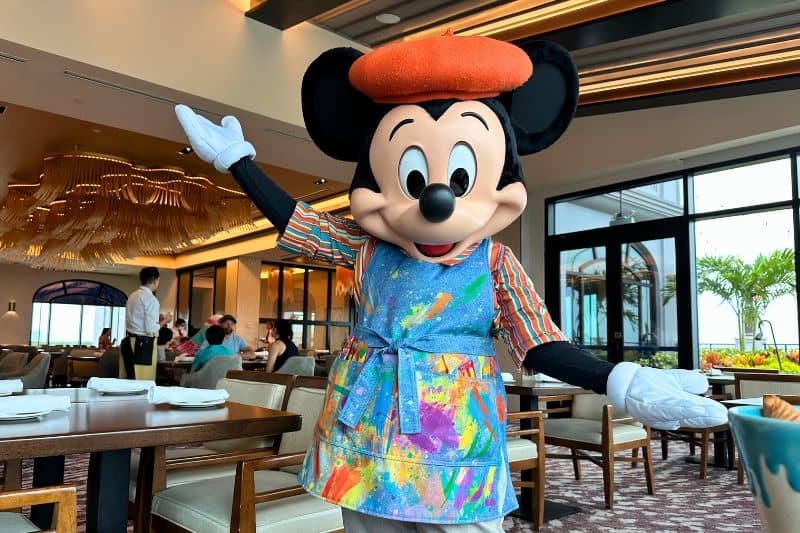 Discover 5 Reasons We LOVE the Character Breakfast at Topolino's Terrace.
Story Book Dining at Artist Point, a dinner experience featuring characters from Snow White, is Disney storytelling at its best. With a fun array of characters, a creative and whimsical prix fixe menu, and a breathtaking Enchanted Forest setting, dinner at Artist Point is sure to impress kids and adults alike. Keep in mind, younger children might be frightened of the Evil Queen.
Tusker House is a fun option featuring Mickey and the gang all dressed up in safari gear. Located inside Animal Kingdom, this is one of the only locations that has characters available for all meal periods–breakfast, lunch, and dinner!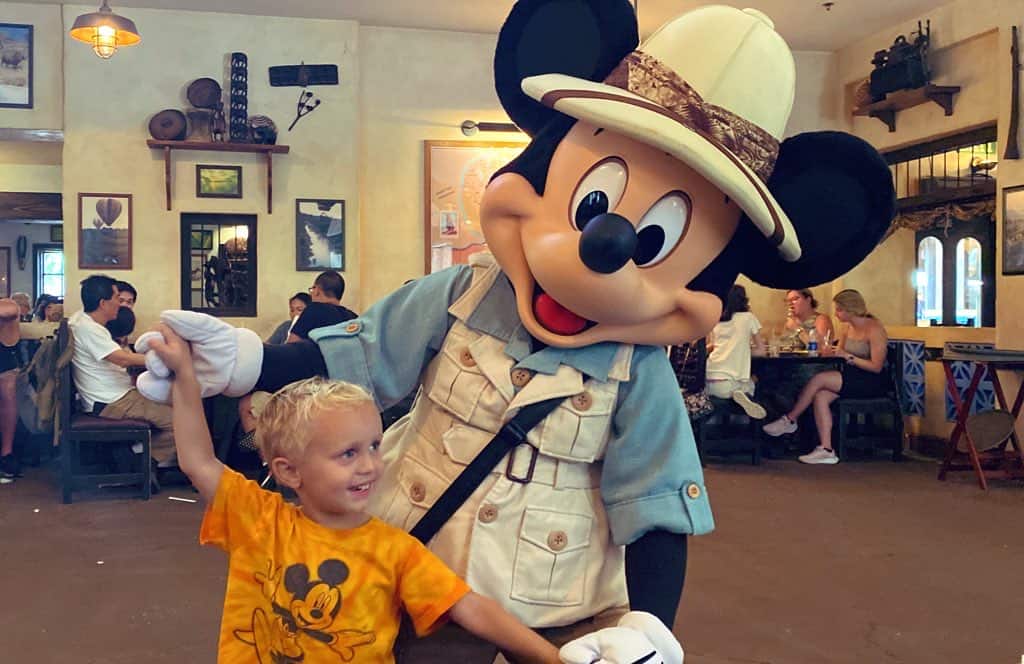 The lunch and dinner menus at Tusker House include bold, flavorful dishes like Moroccan-spiced beef, Cape Malay green curry shrimp, and spit-roasted herb chicken. Tusker House's prime location near both Kilimanjaro Safaris and Pandora: The World of Avatar, makes this an ideal breakfast spot for families who like to get a head start on their park days!
Here are 5 Reasons we LOVE Tusker House Restaurant for Character Dining
BONUS PICK: No character dining lineup would be complete without mentioning Cinderella's Royal Table.
A meal inside Cinderella Castle is a downright iconic experience for the young at heart. It can be very difficult to get reservations at Cinderella's Royal Table so keep reading for tips and alternatives.
Tips On Selecting Character Dining Options
Book as early as possible! This is super important, as the most popular reservations usually book up in a matter of minutes, if not seconds.
Reservations can be booked online or by phone up to 60 days in advance. Be sure to create a My Disney Experience account and link a credit card to secure the booking before the reservation window opens.
Online reservations open at 5:45 AM EST. Parties of 9 or more will need to call the reservation hotline, which opens at 7:00 AM EST, at (407) WDW-DINE (939-3463).
Bonus: If you're staying at an onsite resort, you can book reservations for up to 10 days once you are 60 days out from your check-in date! This is a great way to score hard-to-get reservations before they open to non-resort guests.
Include infants in the guest count when booking. Children under age 3 do not need a park ticket or a park reservation, but they do need to be accounted for when making dining reservations so there is enough room for everyone at the table.
It may seem like a no-brainer, but pick characters your kids love! Most of the character dining restaurants currently feature some iteration of Mickey Mouse and his friends. There are two exceptions: dinner at Artist Point features characters from Snow White, and breakfast at Hollywood & Vine features Disney Junior characters.
If you're going to the theme parks, snag an early breakfast reservation inside the park and get in before it opens for general admission. Start the day off with a little character magic, then go enjoy some of the most popular rides in the park before the lines get super long. Cinderella's Royal Table, for example, is right around the corner from the entrance to Seven Dwarves Mine Train in Magic Kingdom.
Avoid the expense and hassle of theme park parking–not to mention the nightmare of trying to quickly wrangle a packed stroller into the parking trams–when you dine at a resort with monorail or Skyliner access.
Dine at Topolino's and then hop aboard the Skyliner to visit Epcot or Hollywood Studios, or head over to Chef Mickey's before a day at Magic Kingdom. This is an especially useful strategy if you plan on staying for the nightly fireworks but prefer to avoid the mass parking exodus after the park closes.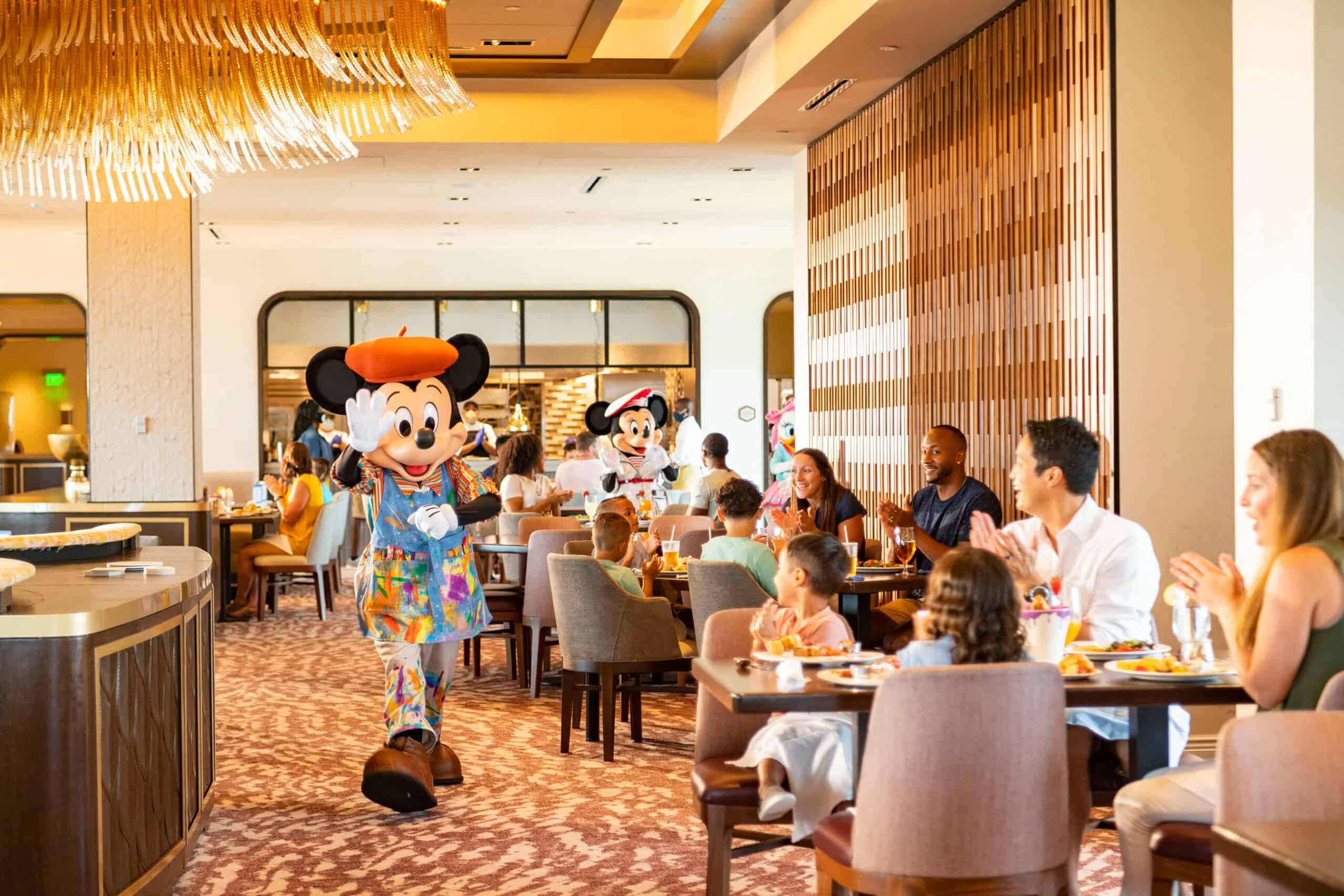 More helpful tips: New Ways to Avoid Long Lines at Walt Disney World
Dietary Needs
Picky eater? Tricky allergies? Kiddo who takes forever to pick something to eat? Not to worry. You can preview menus online to see what restaurant suits your family's needs best.
You can notate common food allergies like tree nuts, soy, and gluten when you book, and again when you check-in. Allergy-friendly menus are available online and in-person, making it a breeze to choose a meal that is safe and delicious for your kiddos.
What to Do If You Can't Get a Disney Dining Reservation
If your preferred Disney character dining location is fully booked, there's no need to panic. There's still a chance that you can score the character dining meal of your dreams.
Head over to our sister site, Orlando Date Night Guide, for ways to get Disney dining reservations even when they appear to be fully booked. This guide includes how to set up availability alerts and other methods.
Guests often shed their excess reservations a day in advance, even same day, in order to avoid a $10 per person cancellation fee for reservations canceled with less than 2 hours' notice. Their loss is your gain! We've scored several last-minute reservations this way, and it usually pays off to keep refreshing the page and see what happens!
You can also try to join a walk-up list (no reservation required!) on the day of your visit. You can preview approximate wait times for each restaurant on the My Disney Experience app, and join the walk-up list once you get closer to the restaurant. The list does fill up quickly, so it's a good idea to get there right when the restaurant opens for each meal period.
Where can I eat with Disney characters? Additional options
While you try the above-mentioned methods for getting a reservation, consider booking one of the following fun, kid-friendly meals as a backup option.
Check out Ravello at The Four Seasons Orlando for a stylish Saturday morning breakfast featuring Goofy & Pals. Not many people know that this character meal even exists, simply because it's not available for booking via My Disney Experience. Located on Disney property, this gorgeous third-party hotel offers a once-weekly prix fixe breakfast that can only be booked via OpenTable or by calling the hotel directly at (407) 313-6161.
Keep an eye out for the Beast as you dine in an enchanted castle in Be Our Guest Restaurant, the crown jewel of Magic Kingdom's Fantasyland.
Kids will love the highly immersive dinosaur-themed interior of T-Rex at Disney Springs, though the occasional asteroid impact might frighten younger children.
Pro-tip: Consider Landry's Select Club to earn rewards. Members often receive priority seating at restaurants owned by Landry's including T-Rex Restaurant.
Sci-FI Dine-In Theater at Disney's Hollywood Studios is a hit with families as you dine in a car shaped booth. Retro sci-fi movie clips play across the drive-in movie screen.
Also at Disney's Hollywood Studios is a NEW family-style restaurant at Toy Story Land. We love Roundup Rodeo BBQ as an alternative to character dining because it is full of fun interactions and Toy Story character decor.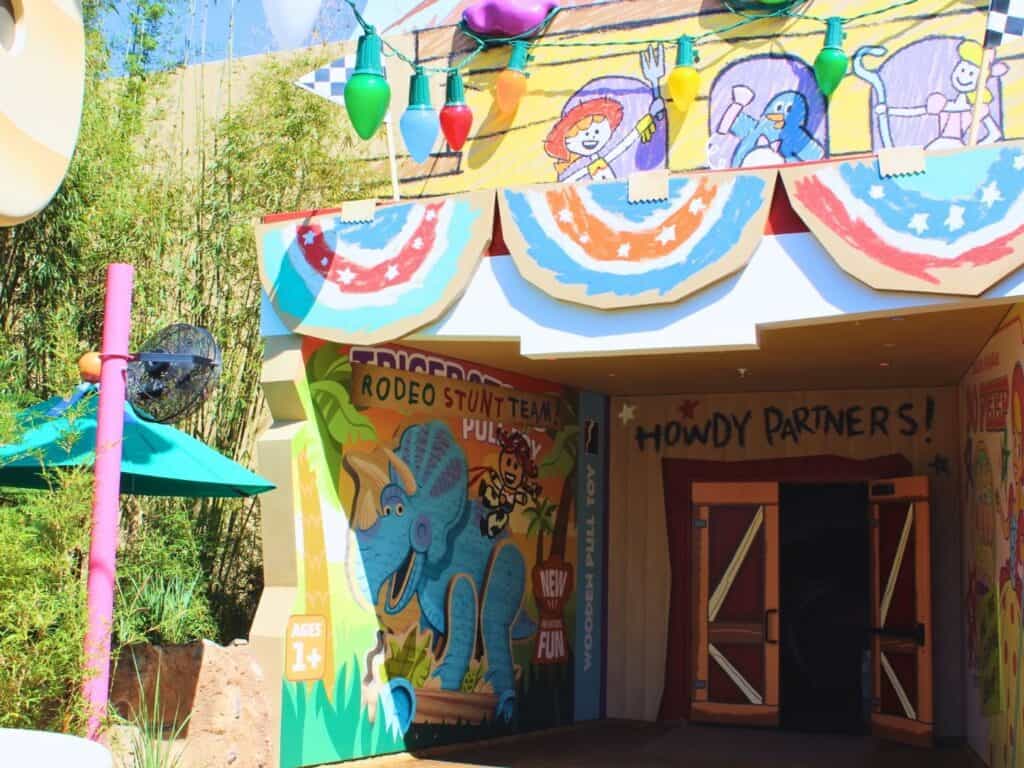 Space 220 at Epcot: dine at an out-of-this-world space station with views over planet Earth. Any kids that enjoy learning about outer space will enjoy the atmosphere, and there are kid-friendly items available.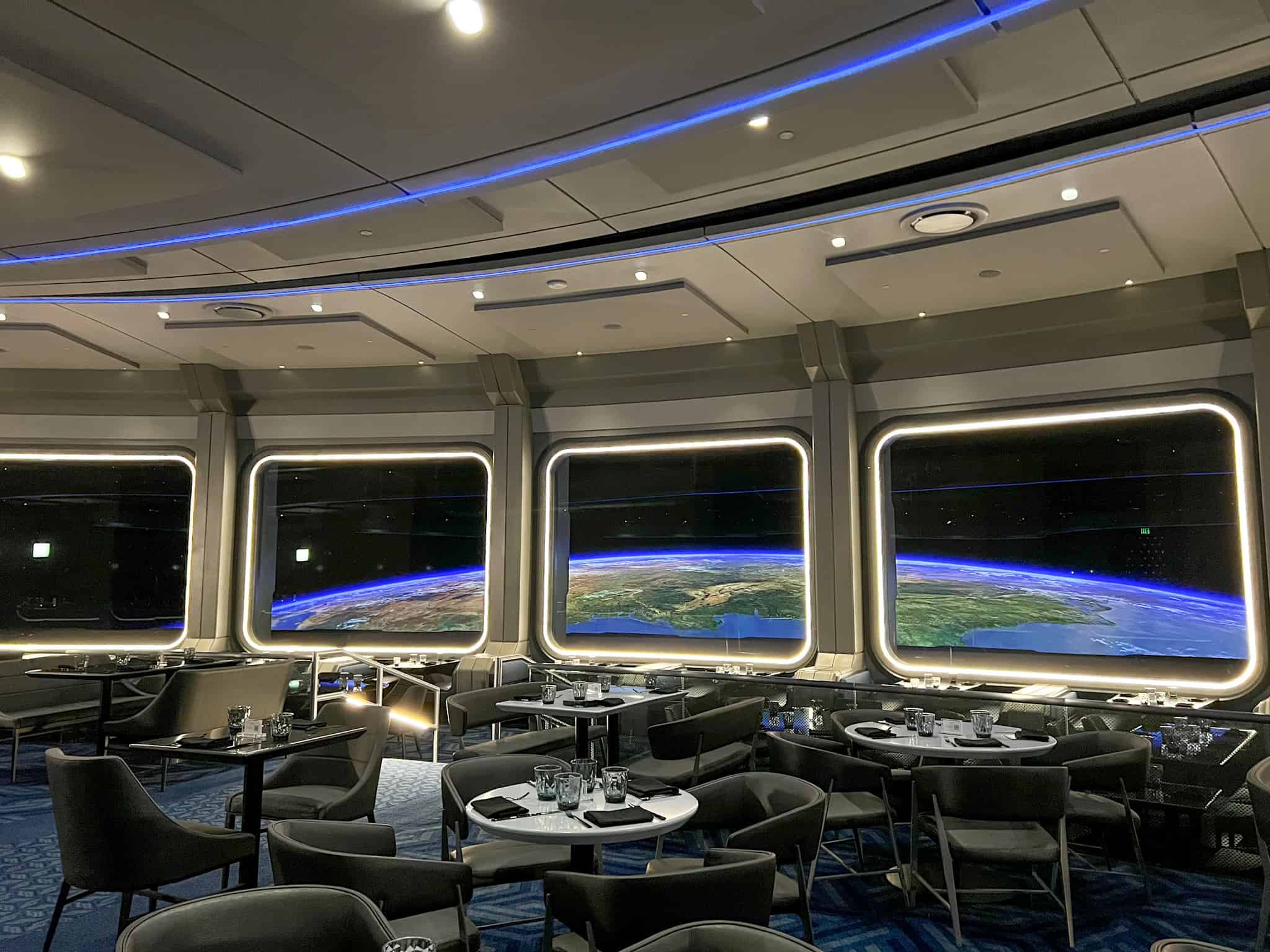 Speaking of out-of-this-world, view our Parent's Guide to the new Guardians of the Galaxy Ride.
Sanaa at Disney's Animal Kingdom Lodge: See exotic animals roam the savanna outside as you dine on African and Indian-inspired fare. This is the only restaurant at Animal Kingdom Lodge with views of the savanna.
Still hungry? Explore these Kid Friendly Restaurants in Orlando with Playgrounds and Play Spaces.