Dude Ranch Glamping in Florida at Westgate River Ranch & Rodeo
Glamping …in Florida… on a dude ranch? You betcha…especially when there is air-conditioning involved, y'all.
Westgate River Ranch Resort and Rodeo is one of the largest dude ranches east of the Mississippi River, but it's not your average dude ranch. It's a place where even the swankiest of cowboys and cowgirls can feel right at home as they rest their heads under the stars in a glamping teepee or luxe Conestoga wagon.
But, there's also some really cool history here too. Nestled in the heart of central Florida, the River Ranch area was once a gathering point for America's first cowboys–the Florida cracker cowboys–as they herded cattle from coast to coast of Florida.
"When the Spanish came into Florida –they were one of the first to discover America as far as we know– they brought cattle and that cattle grew in the swamp lands and the woods of Florida and then as Florida began to grow, they found they could catch that cattle and drive them on what is now the Florida Hiking Trail," Westgate River Ranch's general manager Ray Duncan told us.
He added, "It comes right through our property and [they would] move them wherever the Spanish ships were coming in on the east and west coast. They would take those cattle back to Puerto Rico and Cuba as a food source and that was done before Louis and Clark went west of the Mississippi.
Of course, we don't discount the western heritage we have here in America, but a lot of folks don't know we had the very first American cowboys here in Florida."
There ya have it–history and fun all packaged up in once place.
We're pretty sure you'd be hard pressed to find anything else like this resort on America's east coast. It's a place to disconnect from the business of the real world and reconnect with family and nature.
"It sounds kind of commercial and kind of cliché, but it really is one of the most unique places in Florida to get a vacation experience like nowhere else," said Duncan.
We just want to add that Duncan is pretty unique too and definitely NOT your average resort general manager. He was a few minutes late for our interview because he had to deliver a calf. That was a first for us! 
Now, Florida is no stranger to unique vacations–where else can you visit some of the world's best beaches, go on galactic getaway on the Star Wars Galactic Starcruiser at Walt Disney World, and/or go swimming with the manatees in Crystal River?
We were recently invited to experience the resort –and while they covered the costs of our overnight stay and experiences, our opinions are strictly our own and we don't share experiences we don't love, so there's that.
Related: Here's what it's like to go glamping with Timberline Tampa at Hillsborough River State Park
Saddle up friends, and let's get to it as we tackle some of the most common questions from families about this glamping staycation to help you plan your visit!
First things first. Where is Westgate River Ranch?
Westgate River Ranch & Rodeo is nestled in the heart of Florida in Polk County in the Lake Wales area in an unincorporated community called… River Ranch. It's about one hour south of Orlando and a little less than two hours southeast of Tampa Bay (this is on a good day of traffic, of course).
If you're plugging it into the GPS, the address is: 3200 River Ranch Blvd, River Ranch, FL 33867
The 1,700 acre property bumps up to the Kissimmee River where your family can experience an air boat ride and see gators up close. It's also surrounded by about 400,000 acres of environmentally protected land, so you there's no worry about big developments encroaching on this beautiful piece of natural Florida. It also means less light pollution, so be prepared to see more stars than you might at home in the big city.
Special Promo: S'Mores and Pours
Westgate River Ranch and Rodeo is offering a S'mores and Pours special promo right now — guests who book a Luxe TeePee or Luxe Conestoga Wagon will receive two complimentary s'mores kits and a bottle of Buffalo Trace Bourbon, a perfect pair at the campfire!
If you are a WOW (World of Westgate) Loyalty program member, you'll also get a $25 resort credit. It is free to join WOW and includes perks like early check-in, late check-out, member discounts and more. Cheers of bourbon to that!
Even if you're not a fan of bourbon, it really does pair beautifully with the sweet gooeyness of the s'mores as you sit back and relax around the campfire. Let the kids do the roasting while you do the sipping!
What is glamping like at Westgate?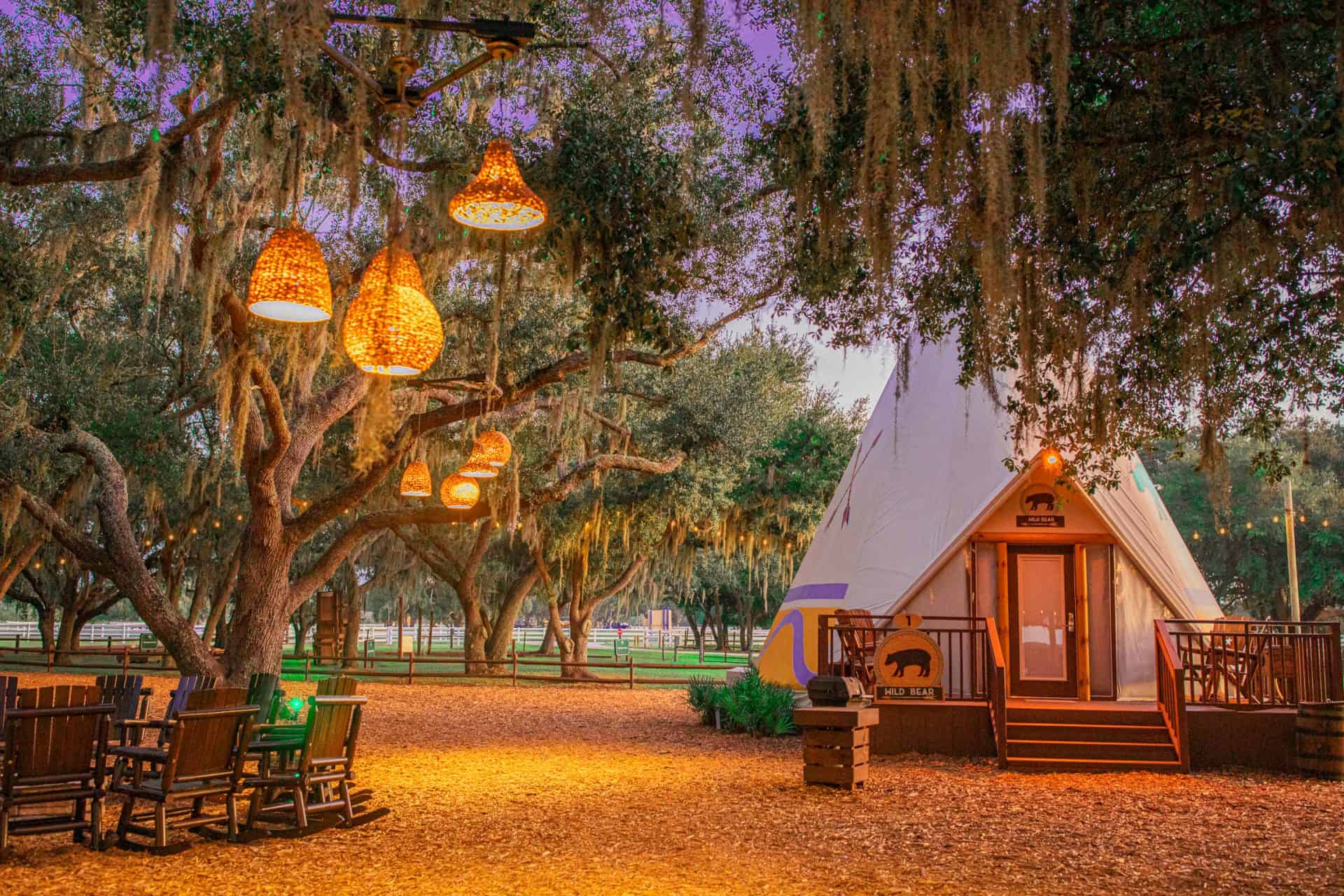 Glamping is actually…awesome! While you probably like the idea of experiencing a dude ranch, you were probably first attracted to Westgate River Ranch for its glamping experiences. Those glamping teepee pics got ya, huh? Us too.
We had a great time glamping at Westgate River Ranch & Rodeo and have so far stayed in the luxe glamping options: The Conestoga Wagon and Luxe Teepee. We're just not into camping, so these options were the best for our family.
There are a few tiers of glamping opportunities for you to chose from–from a fancy air-conditioned tent to a covered Luxe Conestoga Wagon, there's something for everyone.
Luxury Glamping options at Westgate River Ranch (as in, air conditioning and private bathrooms included):
There are essentially 'neighborhoods' for each glamping option which was intentional to help create a more intimate atmosphere. There are about 10 units in each neighborhood area.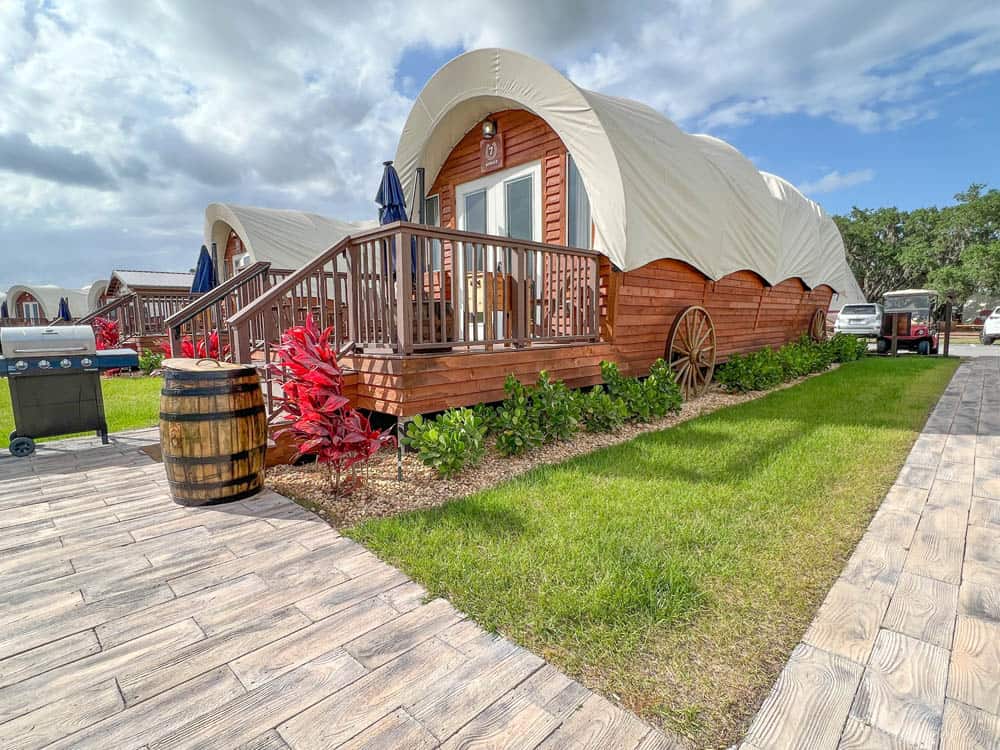 We're starting from the top because this is where we stayed over night. The Conestoga wagons are essentially the top tier glamping option. There is a full bathroom, kitchenette with sink, mini fridge, microwave, and coffee maker. For rest, there is King bed and Queen sleeper sofa in main suit area and then off to the back in a separate space, a twin bunk bed that has its own access to the full restroom.
The Conestoga wagons come with a golf cart for use during your stay, a personal glamping concierge who can help with any questions and needs you may have, morning coffee and pastry delivery, VIP tickets to the Saturday night rodeo, and campfire lit by staff every night. There is also a grill by your front porch and a menu where you can order fresh food to grill at your leisure.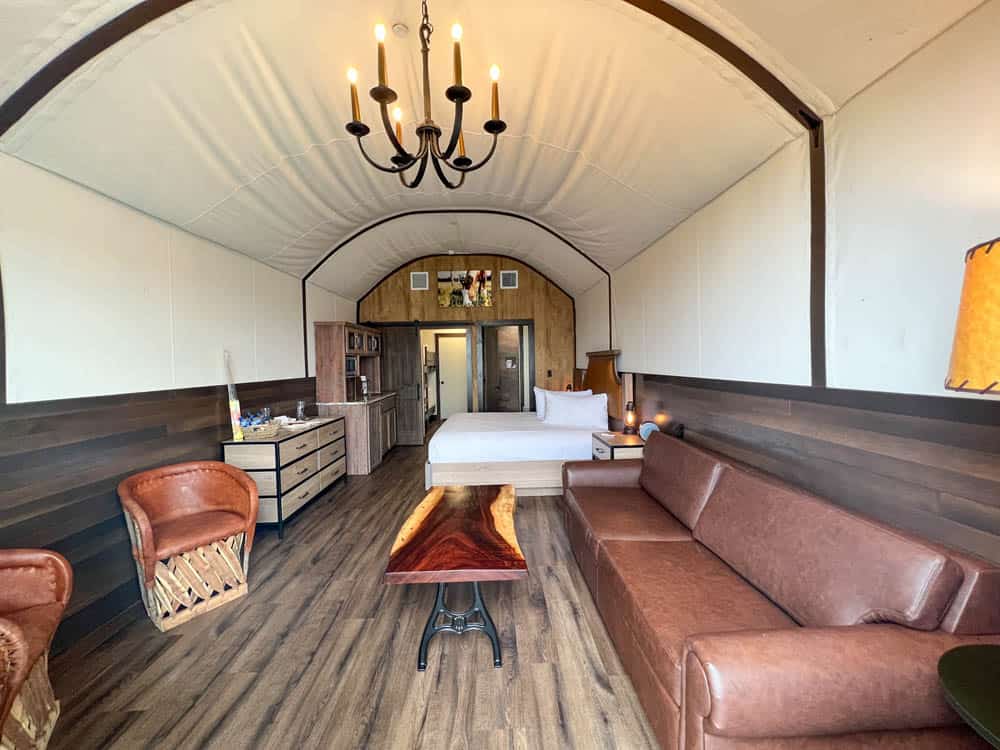 One interesting note–there is no TV which I loved and didn't miss. This was truly a chance to unplug. The view from the wagons is a pasture where buffalo and the animals roam which was beautiful to wake up to in the morning. Since this is the top tier option, it is also the most expensive with nightly rates at about $779 per night for a weekday stay in mid-July. (Rates vary, so this is a rough estimate as an example and it's for a quad occupancy–there are extra person charges.)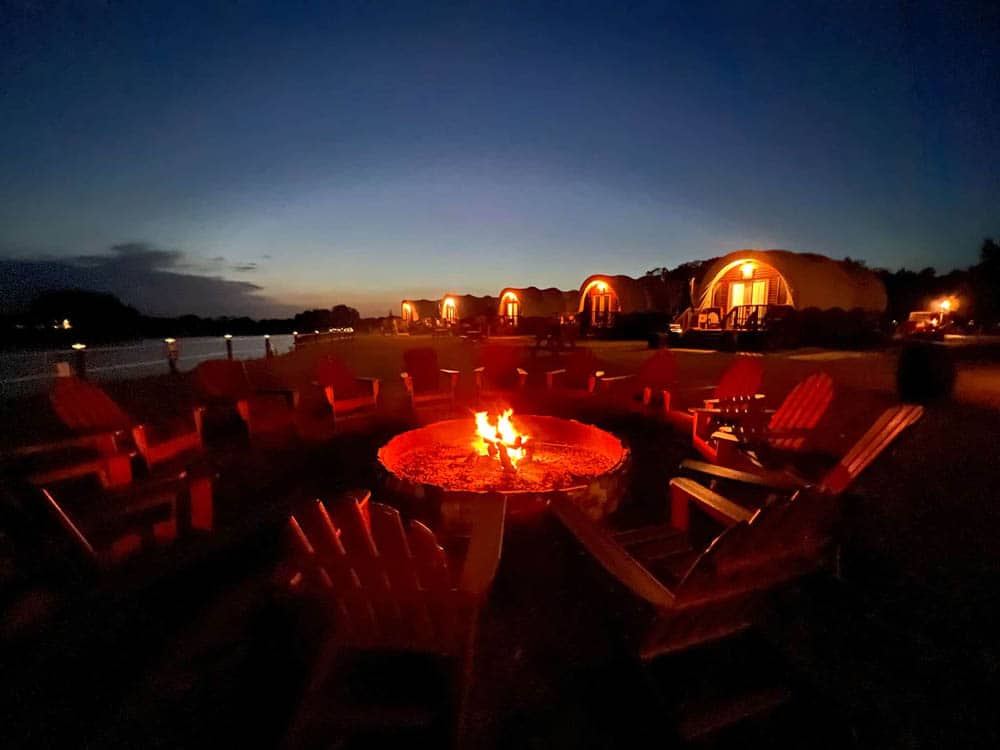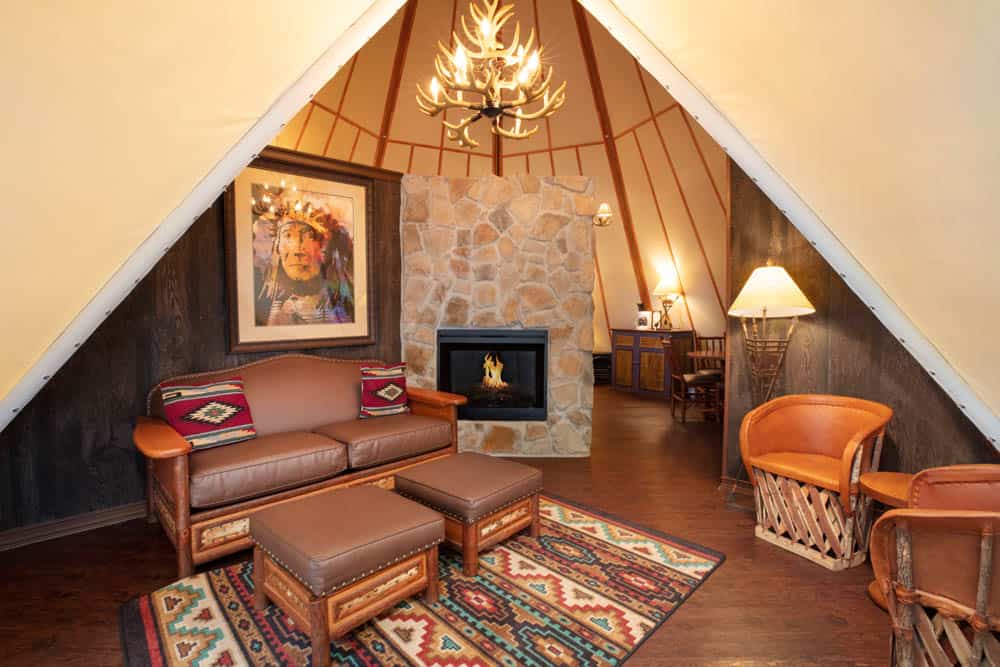 This is probably the picture you've seen that piqued your interest in Westgate River Ranch. The Luxe TeepPee glamping area is adorable and much more spacious than you would think. There is a King bed and double sleeper sofa along with a pretty fire place and dining area. It also has a full sized bathroom, mini fridge, microwave, and grill. The Luxe TeePee also includes the personal glamping concierge, VIP Saturday night rodeo tickets, and morning coffee service.
There are camp fires which are lit nightly and you'll also get access to the golf cart for your stay. Nightly rates are about $509 per night for a weekday stay in mid-July. (Rates vary, so this is a rough estimate as an example it's for a double occupancy–there are extra person charges.)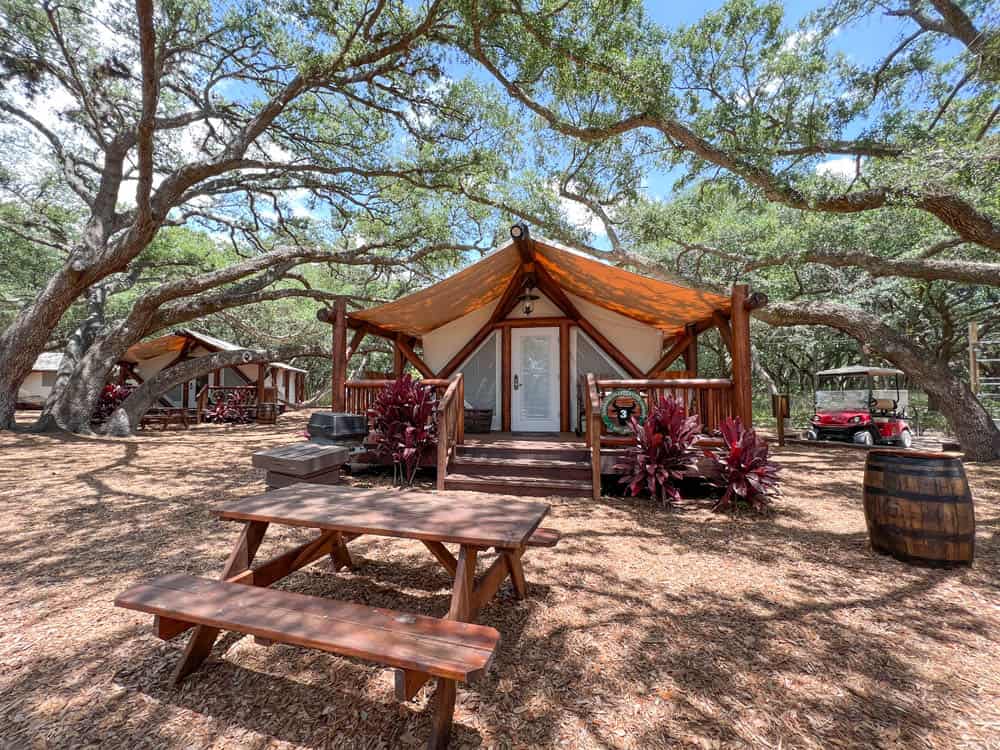 This is one of the first luxury glamping options Westgate River Ranch introduced and it's still wildly popular…and totally selfie worthy like other luxe options! The Luxury Glamping Tent as a King bed and Queen sleeper sofa. It also has an ensuite bathroom, mini fridge and a resort golf cart.
This option has a covered porch area where you can enjoy your morning coffee and pastry delivery, too. You also have your own propane grill. Nightly rates are about $389 per night for a weekday in mid-July. (Rates vary, so this is a rough estimate as an example.)
Glamping Tent | 384 square feet | Sleeps 4
This is an option if you don't mind walking to your own locked bathroom which is close to the tent area. There are a few bed options, but can you can get a King bed and 2 twin beds. The glamping tent also comes with a personal glamping concierge and morning coffee and pastry delivery. There is also a mini fridge, microwave, and dining table along with a front porch to relax on.
Nightly rates are about $279 per night for a weekday in mid-July. (Rates vary, so this is a rough estimate as an example.)
Cabins, Rail Cars, and other cool places to stay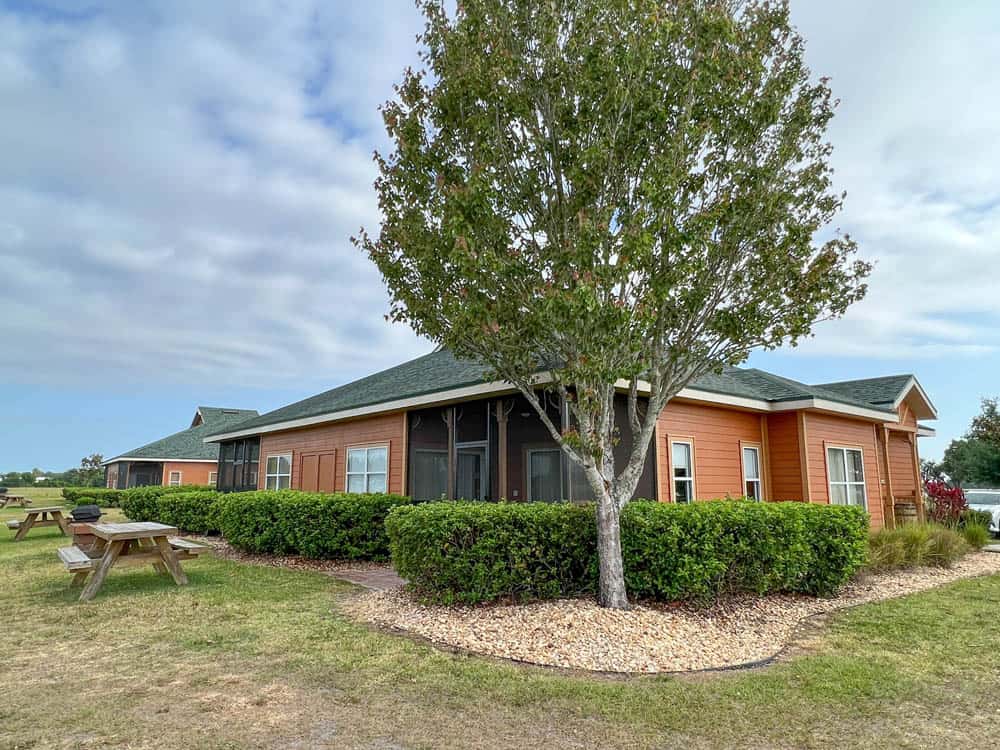 If you prefer a cabin or traditional hotel room, you have a few cool lodging opportunities! There are Cabins and Cottages and even cute Saddle Club Rail Cars which all have air-conditioning and full bathrooms inside. These are all great options for families if you need a bit of extra space with the kids.
The Lodge has regular rooms and suites.
Camping and RV site options at the Ranch
If rustic camping is more your jam, then you have a few different options here too! (We told you there is something for everyone here). If you'd rather have someone else pitch your tent, they've got you covered with a platform camping tent that can sleep up to 6 people. Restrooms are close by.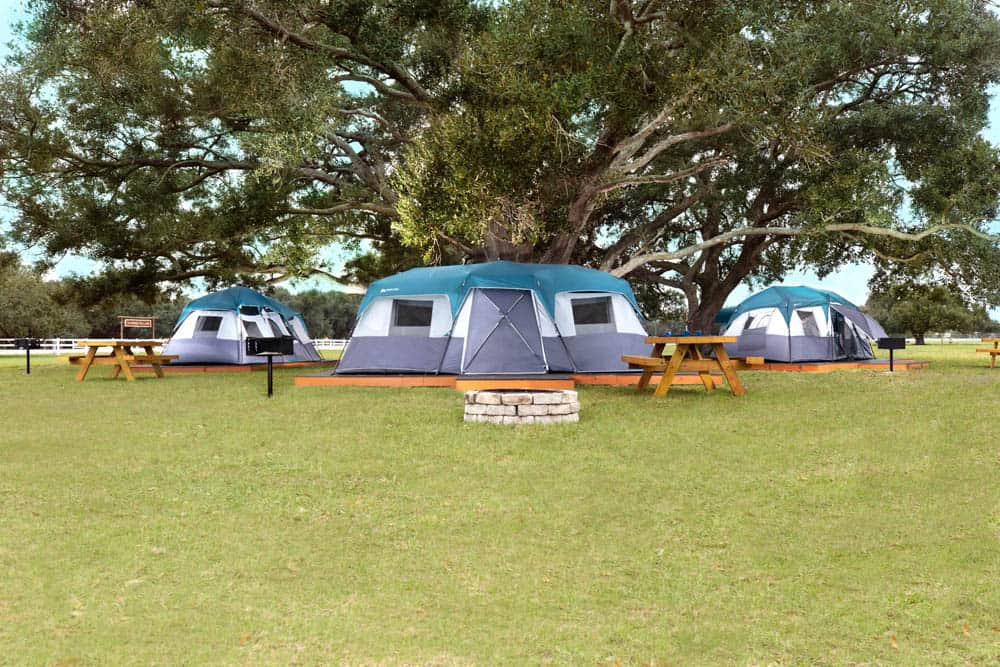 If you DIY camp, there is a grassy camp area to pitch your tent and RV parking spaces with access to water and electric. You can check out your Camping and RV options at Westgate River Ranch here.
Is Westgate River Ranch pet-friendly?
It sure is! In fact, when we were there, one of the influencers on the trip brought her adorable pup. It's still worth confirming ahead of time so there are no surprises.
What is there to do at Westgate River Ranch?
Westgate River Ranch is a place to unplug and you can do as much or as little as you want during your stay, but we think taking full advantage of all that this Florida dude ranch has to offer is ideal!
There are so many fun things to do including:
Horseback Riding: This is a dude ranch after all, so of course there are horseback riding opportunities! Kids must be 8 years-old or older to ride on the trail which will take you on a 45-minute guided tour around the resort, so don't forget to pack the long pants and closed toed shoes. The ride is walking only, so don't worry about going to fast if you've never ridden a horse before. Cowboy hats are optional, but kind of a must wear! There is a General Store with plenty of options! It's $60 per registered guest to ride. Non-guests can book a ride for $75 each.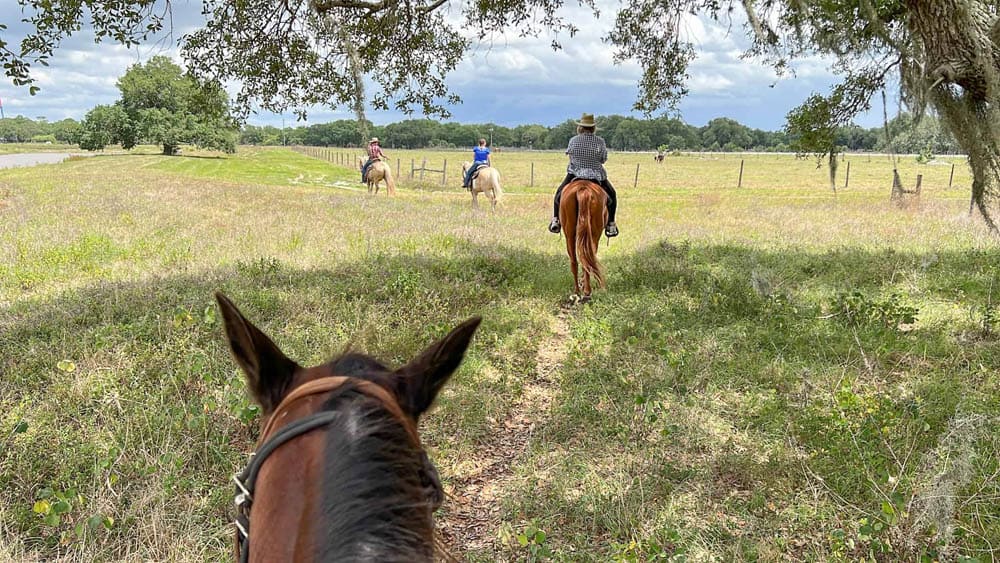 Saturday Night Rodeo: YEEHAW!! This is a real rodeo, y'all with athletes from across the country coming here each week to compete. There's trick riding, barrel racing, and bull riding. Tickets are $30 for adults and $15 for kids ages 5-12. If you booked one of the luxe glamping options, it may include VIP Saturday Night Rodeo tickets, making it an added bonus to go big! Be sure to stick around for the Street Party after the rodeo.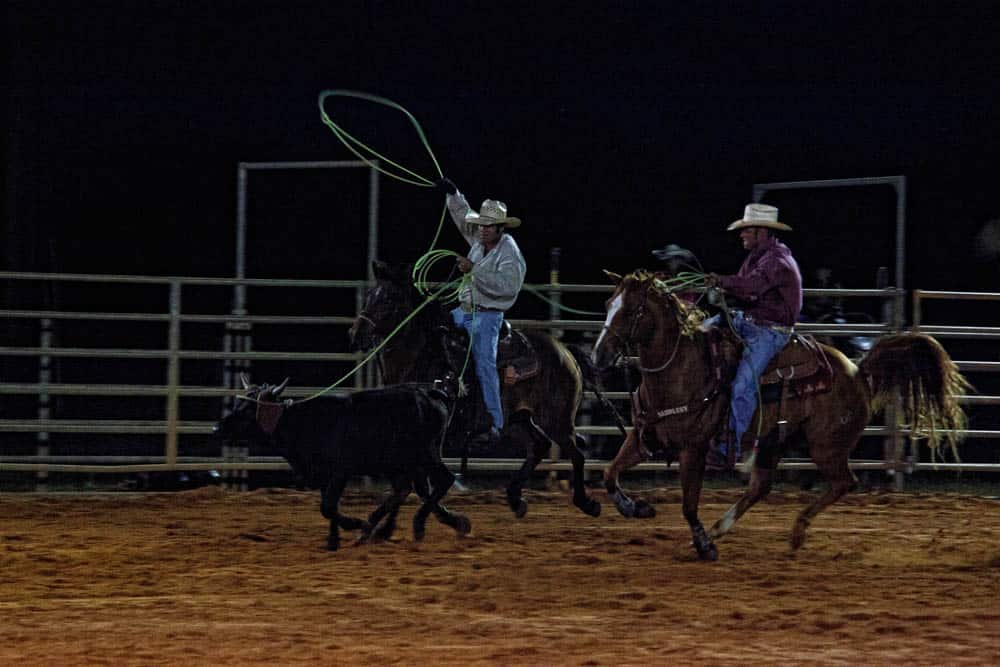 Air Boat Rides: If you've never been on an airboat before, this is a super cool experience as you glide over the Kissimmee River during the 45 minute tour. Keep your eyes peeled to be on the look out for gators-we saw several tiny baby gators during our ride.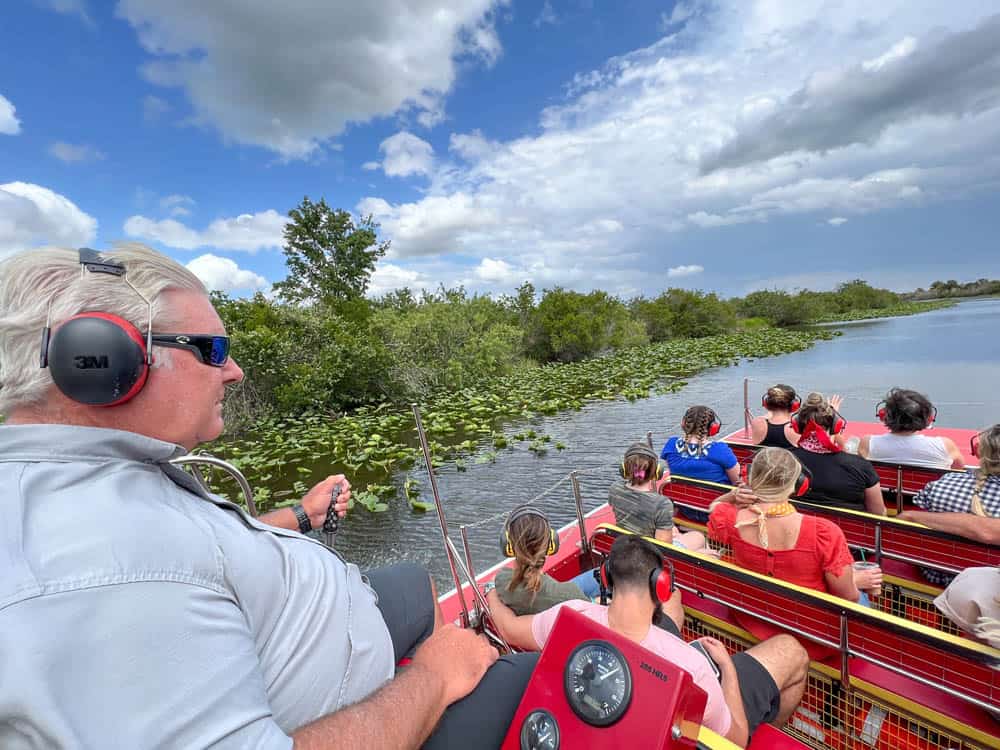 Fishing and Catch and Release Pond: If your kiddos have never been fishing before, the Catch and Release Pond is a perfect opportunity for them to make their first catch! There are other fishing opportunities too and don't worry if you don't have a fishing license, they can help you with that as well.
Petting Farm: We had to mention this one because we know the kids will love visiting the petting farm, especially the little ones. Here, you'll get to meet the wallabies, horses, cows, pot-bellied pigs, goats, and more furry and feathered creatures. It's free too!
Other fun things to do:
What is there to eat at Westgate River Ranch?
There is a new upscale dining option at Westgate River Ranch–the River Ranch Cattle Company Chophouse and Bar which has the most delicious hand crafted cocktails and steak. Menu items include appetizers like Wild Boar BBQ Ribs and Florida Gator Buffalo Dip.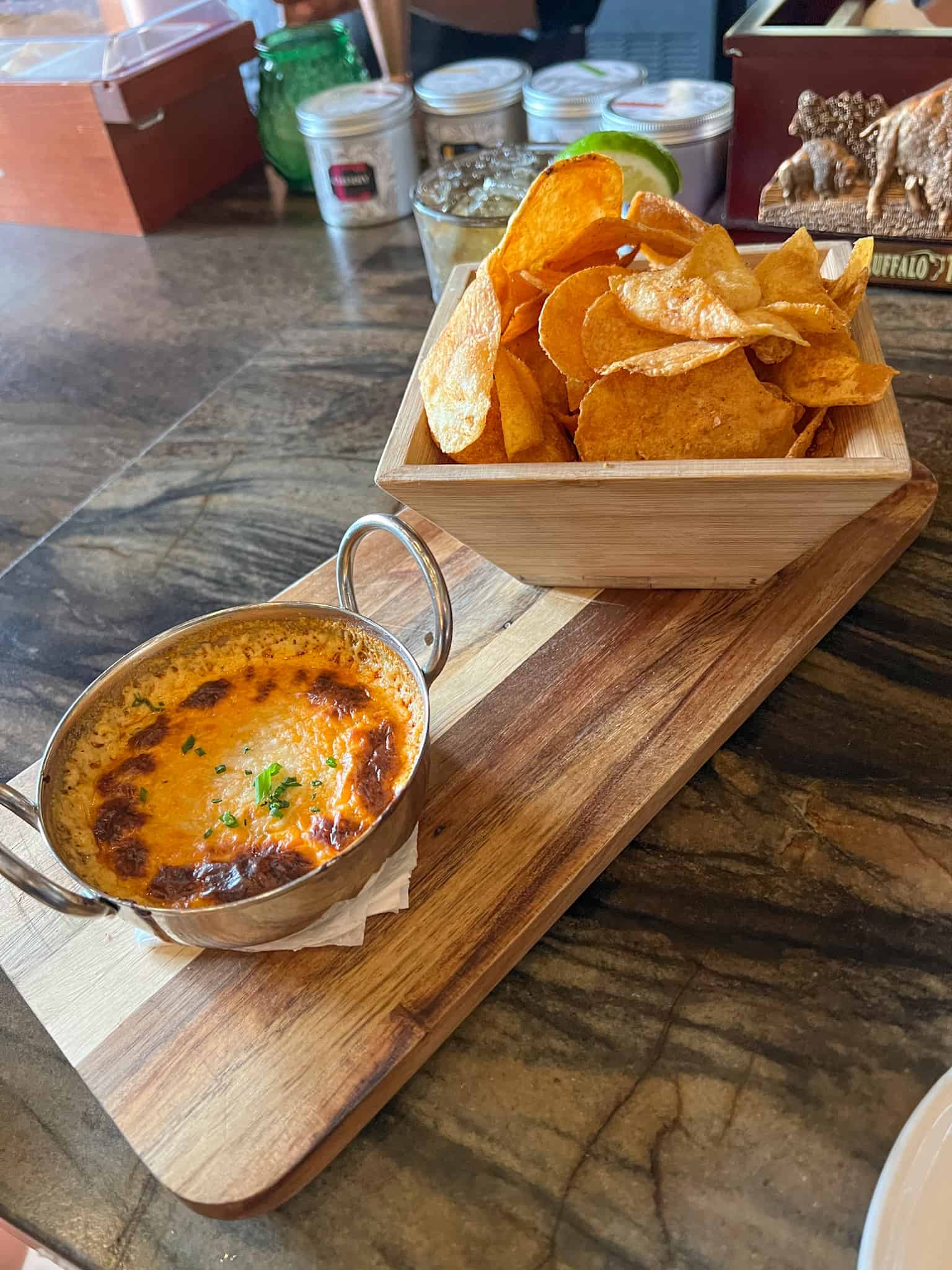 For the entree, the filet mignon was a hit at our table. The wine list has a great selection and for dessert, werecommend the table side s'mores since it was a fun activity!
For a more casual, waterfront dining experience, head over to the Westgate Smokehouse Grill. You can even stay close to your glamping tent and have food delivered as well, whether it's fully cooked or ready for YOU to cook on the grill.
There is also a General Store that has a deli, pizza, ice-cream and brews Starbucks coffee.
When is the best time to go?
Weekends are naturally more busy and so are the cooler months, so a weekday summer might be your best bet. And since, you most likely live in Florida already, the summer heat is something you're used to anyway.
We do recommend booking the experiences earlier in the day to avoid those afternoon Florida summer rainstorms.
How much does it cost to stay?
Rates are going to vary depending on time of year and which day you book. But in general, luxury glamping starts at about $279 per night if you book on a weekday in mid-July. As we mentioned above, the extra bells and whistles you get with some of the luxury glamping experiences make up for the added costs, but it will all depend on budgets.
They do offer group rates if you are booking several units, so that's something to consider if you are planning a trip with several other families and friends.
What else is there to do near Westgate River Ranch?
Westgate River Ranch is surrounded by 400,000 acres of protected land which makes you feel as if you are in the middle of nowhere, and to an extent…you are. But, you are also within about an hours drive of more fun things to do like a visit to Bok Tower Gardens which has an awesome children's play area and LEGOLAND Florida. Lake Kissimmee State Park is also close by–there is a Real Florida Reader Day Pass option that gets you free entry to state parks this summer using the power of your library card.
What is the best part about Westgate River Ranch Resort and Rodeo?
The glamping experience was pretty amazing, so this tops our list. We always knew Westgate hotels in Florida were a great option for families vacationing here in the Sunshine State, but this was a truly unique experience and one we'll never forget.
But honestly…getting to know the resort general manager Ray Duncan was a blessing (speaking of blessings, he's also the pastor at the non-denominational church on property).
As we mentioned at the start of this article, Duncan is not your average resort general manager. Remember that calf he had to deliver before our interview??
He tells us he got his start as a rodeo announcer and travelled across the country before ending up at what is now Westgate River Ranch Resort and Rodeo in the early 2000s.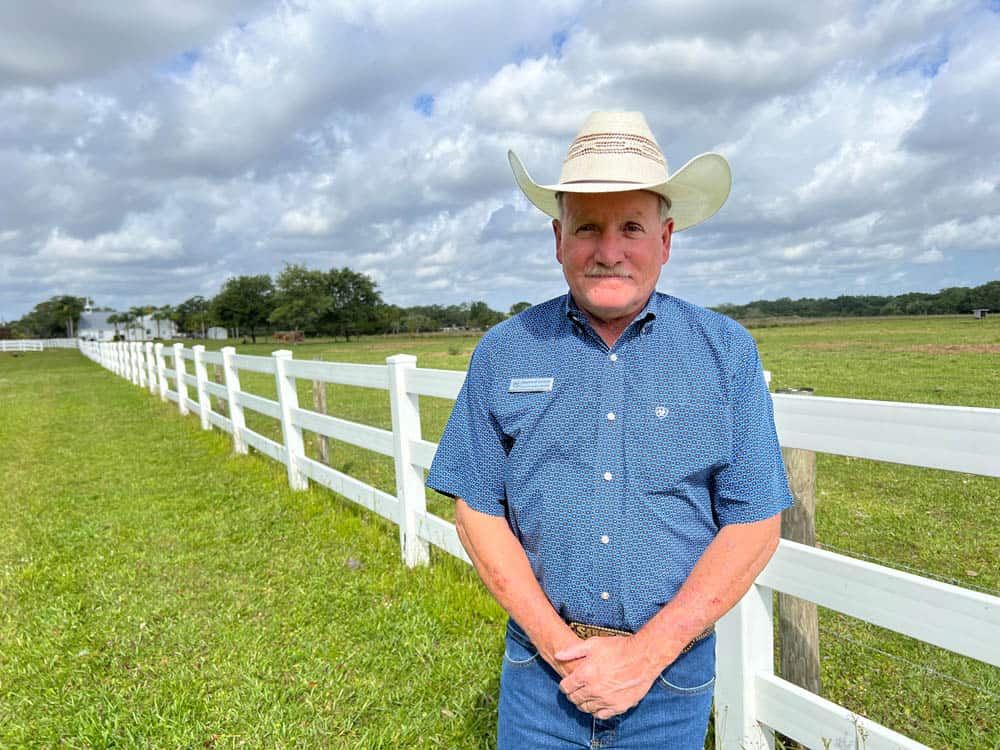 "I didn't come here with intentions of moving up and being a general manager of the property," he told us. "Actually, when I first came here I thought I was only going to spend one winter, so here we are 18 years later and I'm still here."
He grew up on a farm in Webster, Florida surrounded by a large family and that family farm life ties a lot into what he does today.
"The farm was the focal point for all of the cousins, aunts and uncles to come every holiday and it was always neat because it was just me and a couple of brothers and we got to stay on the farm and the other kids hated to go back home to the city, but we were the ones who knew which horses to ride and where the swimming holes were –and it's kinda neat—that's what I really do, day in and day out. That's what I tell my team, when the folks arrive as guests and by the time they leave they feel like they're part of a family, you've done your job," he told us.
It's also not lost on him that when families come visit here, they are creating forever memories.
"I tell my team, when you see that child kiss a small fish down at the catch and release pond, never take it for granted. That may be something you see everyday, but that's the first fish that little child has caught and those pictures and those memories-that's what makes this place so special is that we can give guests that experience," he said. "That stays with them it becomes part of the history of that family."
Pretty darn great, right??
The future of Westgate River Ranch and Rodeo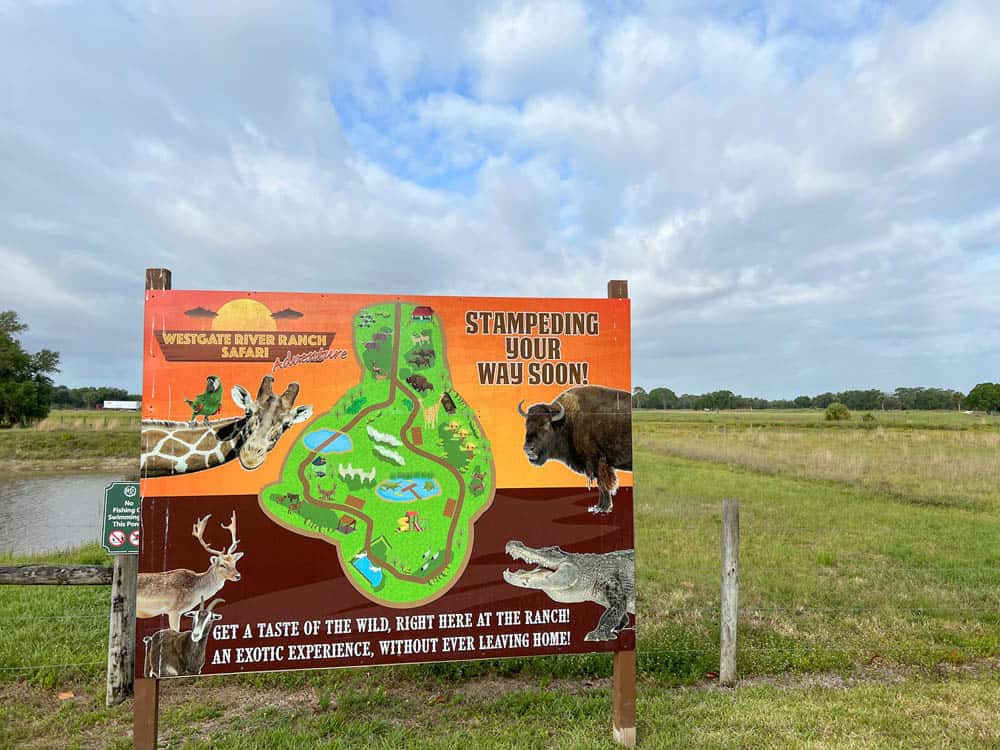 There's a lot more in the works for this Florida dude ranch, including more unique glamping experiences.
"Treehouses are in talks," Duncan told us, "We're going to tie that in to–we're developing a drive-thru safari. It may still be a couple of years out because a safari has a lot of permitting and we're making connections on getting giraffes and exotic deer. The treehouses are going to be in some of the beautiful live oak trees we have out there in that area.
We area looking at the possibility of doing container homes with a deck on top where you can do some star gazing at night. We're even talking about maybe a small western town or A-frames. The possibilities here are endless for what we can do. We are keeping these communities down to just 10 units in each little section," he went on to explain.
It's a pretty exciting future for this unique resort. We can't wait to see what's next!
---
Related stories we think you'll LOVE: