A Parent's Guide to Mickey's Not-So-Scary Halloween Party
Mickey's Not So Scary Halloween Party returns on select nights, kicking off on August 11 through November 1, 2023!
---
Mickey's Not-So-Scary Halloween Party is a spooktacular way to celebrate Halloween whether you take the kids or not! (Yes, this TOTALLY qualifies as a parents' night out, and YES, adults can trick-or-treat with zero judgment!)
It also coincides with EPCOT's International Food and Wine Festival which is a great pre-party option!
We admit this can be an expensive trip when all is said (spent) and done, but it's worth doing at least once with the kids, especially if you are big Disney fans like we are because Disney knows how to throw a ghoulishly good party!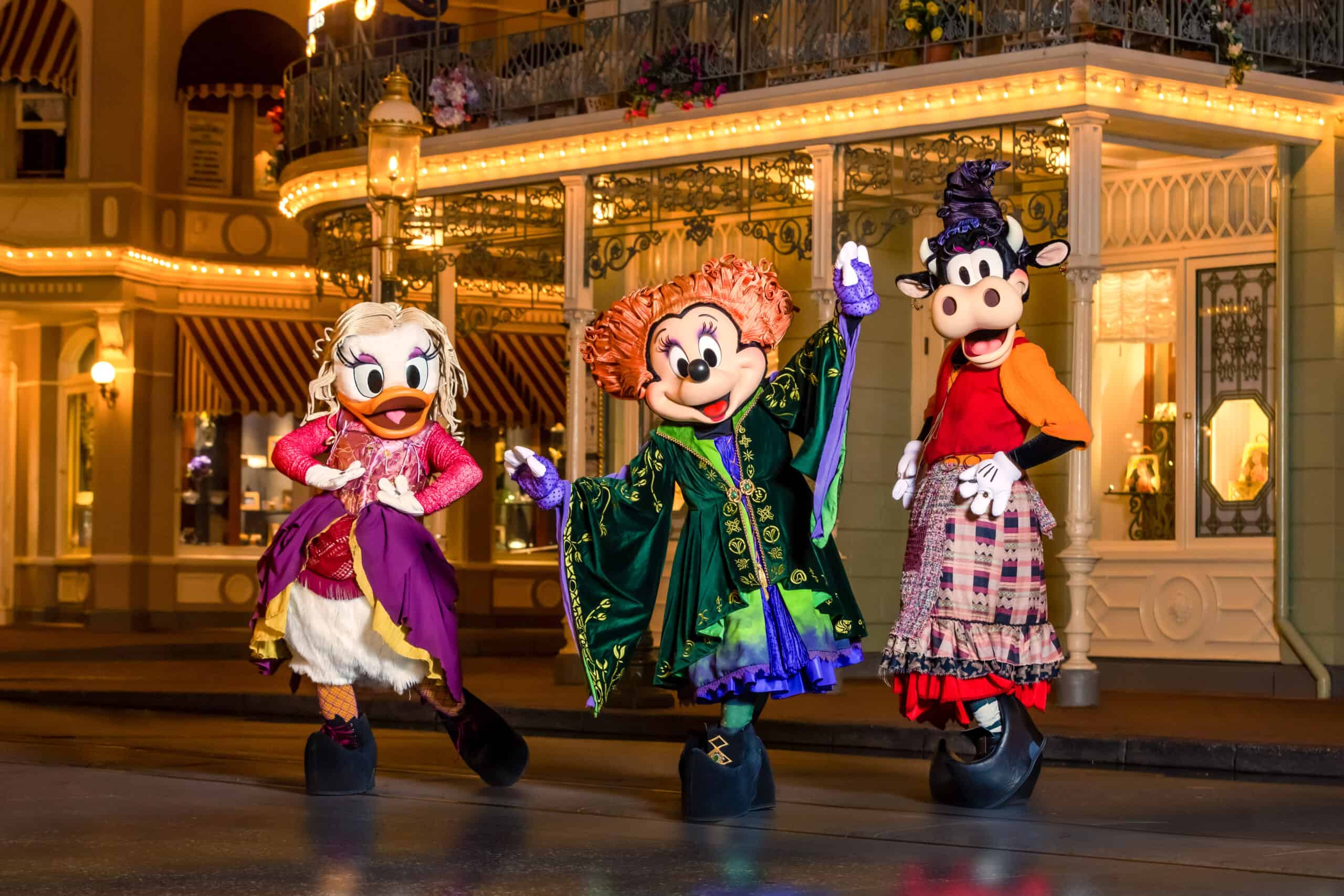 When is Mickey's Not-So-Scary Halloween Party?
The Not So Scary Halloween Party runs on select nights from August 11 through November 1, 2023 for a total of 38 nights.
August: 11, 15, 18, 22, 25, 29
September: 1, 4, 8, 10, 12, 15, 17, 19, 22, 24, 26, 28, 29
October: 1, 3, 5, 6, 9, 10, 12, 13, 15, 17, 19, 20, 22, 24, 26, 27, 29, 31
November: 1
The party begins at 7 pm and will continue through midnight. Even though Mickey's Not So Scary Halloween Party doesn't officially start until 7 pm, you can enter the park as early as 4 pm with your event ticket. You will not need a park reservation since it is a special event.
Related: The BEST Orlando hotels for families that are close to the theme parks
Just a heads up–this event sells out pretty quickly and last year, we saw a huge demand. We expect a similar demand this year.
How much are tickets for Mickey's Not So Scary Halloween Party in 2023?
Tickets for Mickey's Not-So-Scary Halloween Party range from $99-$189 for kids ages 3-9 and $109-$199 for ages 10 and older, depending on the night you go. Opening night on August 11 is $139 for kids and $149 for 10 and older and then the rest of the nights in August are $99/$109 as of right now. You'll see ticket prices go up from there as we get closer to Halloween.
Disney Annual Passholders and Disney Vacation Club Members can take advantage of a $10 discount on tickets.
What parents need to know about Mickey's Not-So-Scary Halloween Party 
Mickey's Not-So-Scary Halloween Party is NOT included with regular admission to the park. It is a separately ticketed event hosted on select nights after park hours August 11-October 31 from 7 pm-midnight.
Ticket prices go up the closer it gets to Halloween and on Friday nights and tickets are required for all guests ages 3 and older.  You can purchase your tickets here.
Can you day trip a visit to Mickey's Not-So-Scary Halloween Party from Tampa Bay?
Absolutely! We've done it a few times. And we've also stayed overnight. It really depends on whether you think you'll have the energy to make the drive back home to Tampa Bay.
There are some amazing hotel options on property. Some of our favorites include Disney's Animal Kingdom Lodge, Coronado Springs, and Contemporary Inn. We're sharing even more of our favorite hotels to stay near Disney World here.
The Gaylord Palms has an amazing pool and so does the Marriott World Center in Orlando.
Will toddlers enjoy the Not So Scary Party?
We first attended the Not-So-Scary party when our oldest son was about 18 months old with friends who also had toddlers, so when people ask us whether toddlers will enjoy the event, we can say from personal experience of bringing two toddlers over the years, YES, they will! The party has since become a beloved family tradition.
Kids younger than 3 do not need a ticket, so that's bonus too.
While babies and toddlers may not be able to rally for the entire night, a reclining stroller will be a necessity to give them a place to snooze while the rest of the family continues to enjoy the party.
Don't forget to take advantage of the Baby Care Center at Magic Kingdom–it's a quieter spot to change diapers, buy any extra items you might need like diapers or snacks, heat bottles, access to high chairs for feeding, and there is even a nursing room. It's right off of Main Street to the left near Crystal Palace.
Can you wear a costume to Mickey's Not So Scary Halloween Party?
YES! This is one of the best parts about the Not So Scary Party because even adults are allowed to wear a costume. There are some limitations though. Guests ages 14 and older cannot wear costume masks –and no matter how authentic-looking your costume may be, you may not pose for photos with other guests or sign autographs. Leave that to the pros.
Another big limitation is the weather. It has been very HOT and HUMID here in Florida with heat indexes exceeding 100 degrees this early August. It cools off a bit at night, but it's still very hot and sticky, so keep this in mind as you pick out a costume. Cotton and sweat-wicking fabrics will be your best bet.
You can read the full costume guidelines for Mickey's Not So Scary Halloween Party here.
People get super creative with their costumes, so be prepared for some pretty epic people-watching! We saw a family of Dalmatians, plenty of princesses, and even some dads who dressed up as Prince Charming for their little girls! Whatever you wear, make sure it's comfortable and breathable.
If you'd rather skip the costumes, as we did, Disney has some great themed options you can pick up in-store! Here's what we picked up in Disney Springs before the party a few years ago:
There are some pretty cool shirts and accessories for 2023. We are loving this year's merchandise offerings for the Not So Scary Party!
You can also opt to get your face painted at the park over in Tomorrowland–they have some cute themed options.
Yes, you can enter Magic Kingdom a few hours BEFORE Mickey's Not So Scary Halloween Party!
Here's the not-so-secret hot tip–YES, you CAN enter Magic Kingdom with your event ticket as early as 4 pm. In fact, we urge you to do this!
Head toward the special event line where you will tap your Magic Band or ticket just like you would any other day at the park and then get your party wristband so cast members inside know you're official.
They will be checking and do a very good job of clearing out the park for the party.
Grab your LET'S BOO THIS event guide map (or go digital and explore the guide on the My Disney Experience app) and get ready to party!
You can also pick up your reusable trick-or-treat bag beginning at 4 pm and even get your first treat, a full-sized bag of M&M's! Just follow the signs when you get there–it's off to your right before you start the walk down Main Street.
We love arriving early because it's a great time to go on rides and/or take photos with some of your favorite characters.
We also use this earlier time to eat dinner at one of the table service restaurants. We were able to get a 5:55 pm reservation at Liberty Tree Tavern this year.
Where to take pictures with Jack Skellington and Sally at Mickey's Not So Scary Halloween Party
The Town Square Theater is also where you'll find Jack Skellington and Sally starting at about 4:00 pm, so it's a great pre-party thing to do.
Photos with Jack and Sally are probably the most popular character meet and greet which also means it's the longest wait time. It's not unusual to see wait times for them to go up to 2 hours.
We did see the wait time dip to 1.5 hours when we checked in during the second Boo-to-You Parade. That was still way too long of a wait for us, so we skipped this character meet and greet.
More Event-Exclusive Characters You'll Find at Mickey's Not-So-Scary Halloween Party
We were super excited to see the return of Seven Dwarfs this year and we were even MORE excited to find out their photo opportunity is indoors over in Storybook Circus. There was a pretty long line though and you were able to check back in to come back at a later time.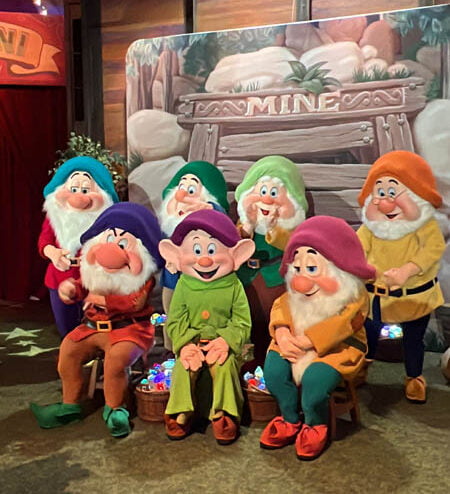 Winne the Pooh and Friends over by The Many Adventures of Winnie the Pooh Ride also had wait times exceeding 30 minutes.
Stitch in his Elvis costume in Tomorrowland was also popular and this was another character experience that was moved indoors. It was a nice respite from the heat and humidity, even after the sun went down.
We also spotted Jafar near The Magic Carpets of Aladdin ride, the evil stepsisters from Cinderella by the Carousel, Alice in Wonderland and the Mad Hatter by the Tea Cups ride, and Tweedle Dee and Tweedle Dum near the Tea Cups too.
Here's a list of the characters at Mickey's Not-So-Scary Halloween Party:
(Ask a cast member for exact locations and times; they will have a list on hand for you.)
Main Street, USA:
Jack Skellington and Sally: Town Square Theater
Mickey Mouse: Town Square Theater
Adventureland:
Aladdin, Abu, Jasmine, Jafar, Genie: Agrabah Marketplace near Aladdin ride
Captain Jack Sparrow: Caribbean Plaza near Pirates of the Caribbean ride
Frontierland:
Liver Lips McGrowl, Shaker, Wendell, Big Al: roaming
Liberty Square:
Madam Carlotta, Miss Renatta, Broome the Butler: Haunted Mansion graveyard
Fantasyland:
Alice, Mad Hatter, Queen of Hearts, Tweedle Dee, Tweedle Dum: Mad Tea Party ride
Anastasia and Drizella: roaming (we saw them near the carousel)
Ariel and Eric: Near Under the Sea- Journey of the Little Mermaid ride
Belle: Enchanted Tales with Belle queue
Donald Duck, Minnie Mouse, and Daisey Duck in Halloween costumes: Dumbo the Flying Elephant queue
Goofy: Near the Barnstormer ride
Seven Dwarfs: Pete's Silly Side Show in Storybook Circus
Winne the Pooh, Tigger, Eeyore and Piglet: the Thotful Spot near the Pooh ride
Tomorrowland:
Stitch in Elvis Costume: Indoors, across from Monster's Inc. Laugh Floor
Pro Tip: Eat dinner before the Not So Scary Party
This is super important, especially when attending the party kids. While there are some amazing snacks and treats exclusive to the Not So Scary Party, ensuring your child has had a well-balanced dinner beforehand will help make everyone's night a bit more pleasant.
You can book a dining reservation at one of the table service restaurants at Magic Kingdom prior to the party like Tony's Town Square for Italian or go for a Thanksgiving-inspired dinner at Liberty Tree Tavern.
You can also wait until the party starts for two table service options —Be Our Guest Restaurant and Cinderella's Royal Table both offer table service dining DURING Mickey's Not So Scary Halloween Party.
There are also quick-service restaurants around the park. Scroll through the dining options on the My Disney Experience app so you can plan ahead and even order via the app.
Other upgraded dining options at Mickey's Not So Scary Halloween Party
In addition to the table service experiences at Be Our Guest Restaurant and Cinderella's Royal Table, you can also upgrade to the Disney's Not-So-Spooky Spectacular Dessert Party with Plaza Garden Viewing or seating at Tomorrowland Terrace.
The upgraded party ticket includes a wide array of desserts and drinks along with spooktacular views of the fireworks. Tickets with seating for the fireworks show (Tomorrowland Terrance) start at $114 including tax and gratuity for guests 10 and older and $69 for guests ages 3-9. For the Plaza Garden Viewing, it's $99 for guests 10 and older and $59 for ages 3-9.
Check-in begins one hour before the fireworks start.
What is there to do at Mickey's Not So Scary Halloween Party?
There are so many event-exclusive things to do! It's the whole reason you're attending, right??
Trick-or-Treating at Mickey's Not-So-Scary Halloween Party
You will receive a complimentary bag to begin your candy-collecting journey! And don't worry…as we mentioned at the beginning, adults can absolutely go trick-or-treating at Mickey's Not So Scary Halloween Party!
In 2023, there were 14 treat stations located throughout the park offering several different kinds of candy including Skittles, M&Ms, Milky Way, and Snickers! Don't be discouraged if you see a long line because the lines move quickly.
If you attend on a warmer night, consider bringing some freezer packs for lunchboxes to keep the chocolate from melting too much. We didn't have any issues with this, but some people did.
Allergy-Free Trick-or-Treating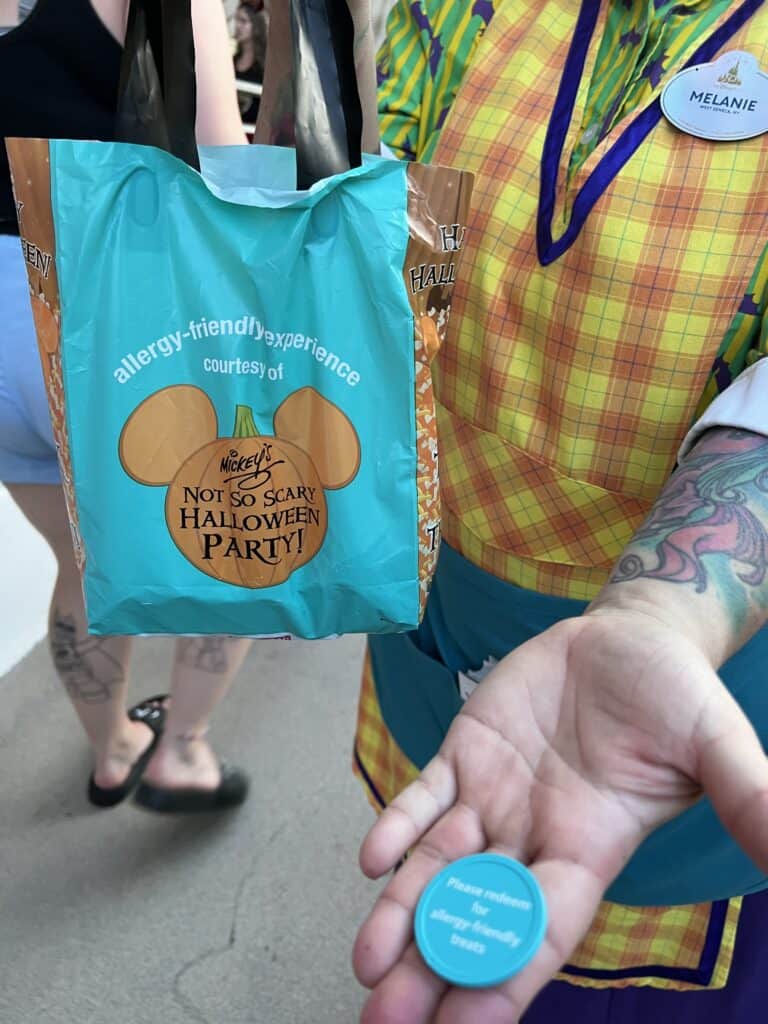 If your child has a food allergy, be sure to get a teal trick-or-treat bag from a cast member when you arrive at the park or at one of the Allergy-Friendly Centers at Town Square Theater or Heritage House. Your child will receive a special teal token at each of the treat stations which they can later redeem at the Allergy-Friendly centers for a fun treat!
Fun Fact: In 2019, 250 tons of candy were handed out during the 34 parties!!
Trick-or-Treat Trail Locations in 2023:
Main Street USA:
Market Street Welcome Trick-or-Treating
Adventureland
Walt Disney's Enchanted Tiki Room
Tortuga Tavern
Frontierland
Tom Sawyer Island Dock
Country Bear Jamboree
Liberty Square
Fantasyland:
Mickey's Philharmonic
Pinocchio Village Haus
Ariel's Grotto
Gaston's Tavern
Tomorrowland:
Walt Disney's Carousel of Progress
Monsters Inc Laugh Floor
Cosmic Ray's Cosmic Cafe
Near TRON
There are dance parties galore at Mickey's Not So Scary Halloween Party
Make sure you've got your dancing shoes on because your favorite Disney characters are ready to boogie down at several locations throughout the park during party hours from 7 pm-12 am!
The Storybook Circus Disney Junior Jam dance party is now indoors at Cosmic Ray's Starlight Cafe. It's an absolute must for little ones. They can boogie with their favorite Disney Junior characters like Timon from The Lion Guard, Vamparina, and Fancy Nancy. Characters are rotated throughout the night, so definitely stop
You'll find the ZOM-BEATZ BASH dance party outside at Rockettower Plaza in Tomorrowland, kids can boogie with zombies and cheerleaders inspired by the Zombies original movies on the Disney Channel.
We were sad that the Monstrous Scream-O-Ween Ball with Mike, Sully and friends from Monsters Inc. was not on the schedule this year, but due to the heat, we can see why this maybe isn't the best idea.
There are lots of Halloween Twists at some of your favorite rides at Magic Kingdom
In the past, you could meet real pirates in the Pirates of the Caribbean ride queue where they were locked up behind bars, but this year,  you'll find them outside the ride entrance chatting it up with guests!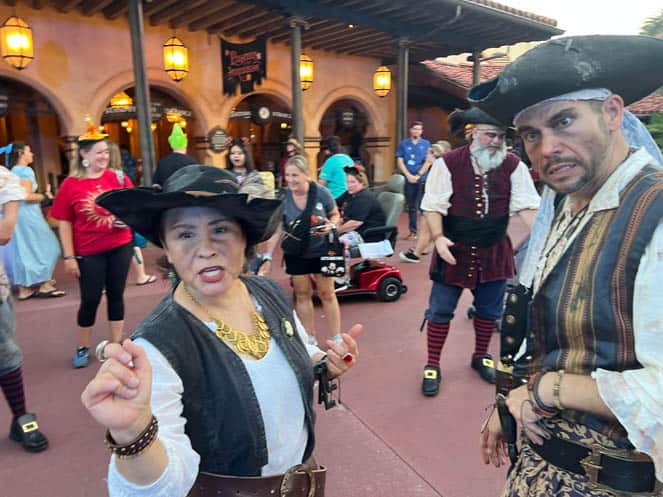 Space Mountain is spookier than ever with the lights going completely dark as you plunge into deep space to a spookier soundtrack!
The Mad Tea Party is even madder with crazy lights and a soundtrack that will make you spin with delight!
You'll love the Spooktacular entertainment at Mickey's Not So Scary Halloween Party!
Your inner tween is going to leap for joy when you experience Hocus Pocus Villain Spelltacular at the Cinderella Castle stage with the beloved Sanderson sisters and your favorite Disney villains. (This was one of my favorite movies as a kid, so I was personally super excited about this.  It's such a fun show! Disney does not disappoint here.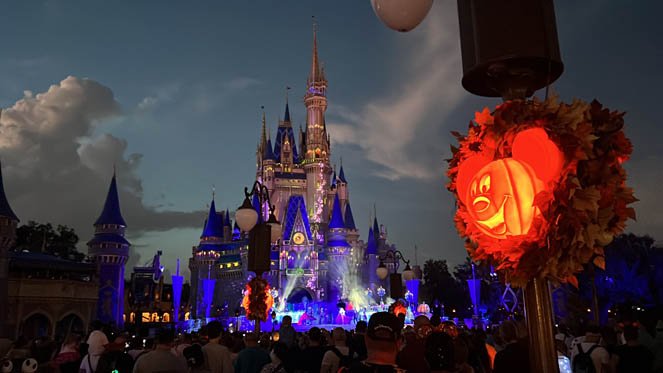 The Boo-to-You Halloween Parade is a scary good time featuring your child's favorite Disney characters dressed up in their finest Halloween attire as they dance and parade with ghostly floats and friends!
There are two parade times: 9:15 pm and 11:15 pm and both start as the Headless Horseman making his way down Main Street  and "Stand Out" dance party with Power Line Max returns after making his debut last year. It was super cute and a great way to pass the time before the parade starts.
Disney's Not-So-Spooky Spectacular: This fireworks show features cool projections and laser lights. It stars Jack Skellington from The Nightmare Before Christmas as he tells the tale about Mickey and his best pals as they find their way into a haunted house. Oh, boy! The show starts at 10:15pm.
Special appearances by your favorite Disney Characters
There are 13+ characters you'll only see at Mickey's Not-So-Scary Halloween Party! Two of the most popular are Jack Skellington and Sally from "The Nightmare Before Christmas" at Town Square like we mentioned earlier and Stitch in his Elvis costume in Tomorrowland.
You'll see more characters exclusive to the party during the Boo-to-You Halloween Parade like Big Al of the Country Bears, Jafar ("Aladdin"), Lotso (Toy Story 3), Captain Barbossa (Pirates of the Caribbean), Dr. Facilier (The Princess and the Frog), Oogie Boogie (The Nightmare Before Christmas), Shenzi, Banzai and Ed (the three hyenas from "The Lion King") and…of course…three hitch-hiking ghosts from the Haunted Mansion.
There are at least 18 character spots throughout the park, so keep your camera ready and also be ready to take advantage of Disney Photo Pass opportunities. It's worth the upgrade since their cameras are programmed for the lighting and there are special event only enhancements too.
Attractions and rides open at Magic Kingdom during Mickey's Not-So-Scary Halloween Party in 2023:
One of our other favorite things about the Not-So-Scary Party is the rides–you don't have to wait as long. Just like every other year we've attended, we didn't wait longer than 15 minutes to get on a ride. We don't usually ride Space Mountain or the Seven Dwarfs Mine Train, so my guess is, those will have a higher wait time.
You can't use Genie + during the party, so you'll have to wait in line just like everyone else. It's still not as long and not as hot since it's at night.
Adventureland
Frontierland
Liberty Square
Fantasyland
Storybook Circus
Tomorrowland
TRON Lightcycle/Run -by virtual queue access only
What to bring to Mickey's Not-So-Scary Halloween Party:
A full belly. Eat a healthy dinner before you go. This is the same trick we encourage on Halloween night to help cut down on the amount of candy the kids will want to eat because, trust us, you'll get a TON of candy while trick-or-treating during this event. We made 3 stops which was plenty for our 4 and 2-year-old boys. You will get a bag for trick-or-treating at the entrance, but feel free to bring your own or even purchase one of the adorable Mickey pumpkins! We have them and have used them for a couple years now.
Glow sticks and light up toys. We stopped by our local craft store to pick up a lighted bracelet and Halloween glow toys for our kids to play with at the park. Disney offers Halloween-themed toys at the theme park, which we have purchased in the past, but figured we'd save a bit here since our kids can be really hard on their toys.
A rain poncho. It's Florida. It rains sometimes. In fact, it rained the night we brought our kids, but they LOVED it! Our puddle jumping 4 year old thought it was the best thing ever. Silver lining, folks. Ponchos are also much more courteous than umbrellas when you are in a crowded environment. Save the eyeballs.
A change of clothes for the kids. At some point, they MAY want to get out of their costumes, so have a shirt and shorts handy just in case.
A fully charged camera. Whether you are using your cell phone or camera, make sure the batteries are fully charged because there are photo opps around every.single.corner.
A backpack. This is a MUST if you don't use a stroller to schlep your family's stuff. It's much easier to navigate the park when you've evenly divided the weight of your stuff across your shoulders.
The Treats and Food you'll find at Mickey's Not-So-Scary Halloween Party
The Disney chefs have been hard at work whipping up some ghoulishly good treats for you and even some tricks!
There are more than 30 sips and treats on the party menu this year. You can read all about it here.
We also love the popcorn buckets–we use these as Halloween decorations at home.
Get ready to capture lifelong memories with Disney Photo Pass opportunities 
There are so many event-exclusive Disney Photo Pass opportunities located throughout the park. Take as many photos as you want and then go through them on your My Disney Experience app and pick and purchase your favorites for download.
You can follow Disney Photo Pass on Instagram at @DisneyPhotoPass to learn more about Disney Photo Pass options at all of the parks.
Final thoughts:
Would we go again? Absolutely! Would we recommend it? Absolutely! Will I make my husband dress up again in the future? You betcha I'll try even if I've failed the last two visits. (Photo from 2018 visit to Mickey's Not-So-Scary Halloween Party)
Mickey's Not-So-Scary Halloween Party 2023:
---