10+ Florida Springs Your Family Needs to Explore
Looking for a day trip to get out of the house for a bit or to maybe take a weekend family "drivecation"? Look no further than the natural Florida springs that are nestled all over the state.
Take a look at the top 10+ Florida springs that we are just itching to go explore! 

Ichetucknee Springs. Photo courtesy of Florida State Parks.
Ichetucknee Springs:
A fun weekend trip away from the city, Ichetucknee Springs is nestled between Jacksonville, Gainesville and Tallahassee. While this area is well-known for the warm weather tubing, it is also known for being a wildlife haven. Enjoy swimming in the warm waters or hiking along the many trails in this six mile long river. This oasis is open 8 a.m. to sunset. Tickets can be purchased at floridastateparks.org.
Homosassa Springs:
Located an hour north of Tampa, Homosassa Springs is the perfect location to take your kids out for a fun day-trip. Take them for a Wildlife Walk around the area or go visit the upper deck of the Underwater Observatory to see a plethora of fresh & saltwater fish. Manatee feedings are also available from 11am, 1:30 p.m., and 3:30 p.m. Visit this area from 9 a.m.- 5:30 p.m. Tickets are available on the website at floridastateparks.org. 
Silver Springs: 
Silver Springs is widely known for their use of glass bottom boats- a fun experience for the whole family! This 30 minute boat ride allows you to experience the beauty of underwater life without getting wet.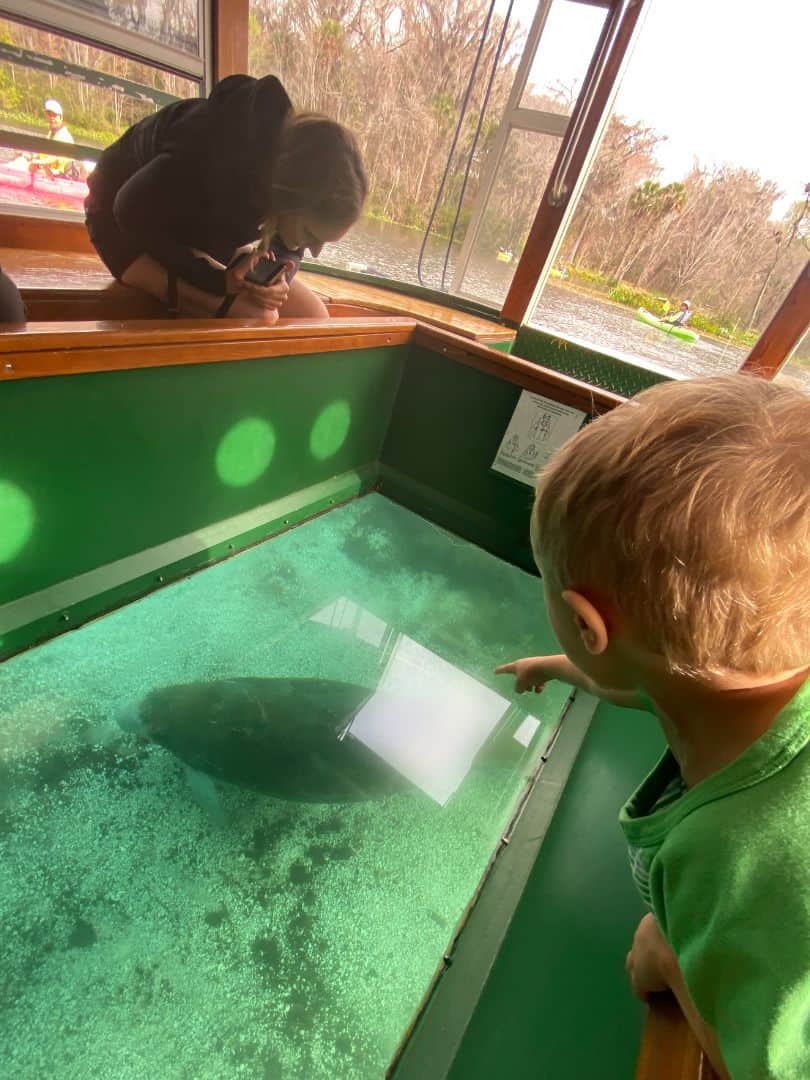 Wanting some more adventure? Try out the canoe and kayak rentals for a closer in-person experience.
Book reservation at silversprings.com
Fanning Springs:
This spring is located along the Suwannee River and offers an abundance of activities. Kids can swing and run around the playground while parents can cook out under the live oaks surrounding the area. Fanning Springs are located around two and a half hours north of Tampa so visiting this place can either be a long day trip or a fun weekend getaway. Visit the springs 8 a.m.- sundown, 365 days a year. Tickets are available at floridastateparks.org.
Juniper Springs:
Located right in the Ocala National Forest lies Juniper Springs. Known for being one of the oldest recreation centers on the east coast this place has it all. Take the kids out to go swimming, picnicking, bird-watching, paddling or even hiking in the day time and at night cozy up under a tent in the historic campground. The park is open 8 a.m. to 8 p.m. Call +1 (877) 444-6777 or go online at recreation.gov to book reservations. 
Alexander Springs:
A little north of Orlando lies Alexander Springs. A beautiful little oasis, Alexander Springs has a constant temperature of 72 degrees so it makes it a perfect temperature to explore the crystal clear water. Enjoy a bundle of activities including biking, swimming, hiking, fishing, and much more. Open 8 a.m. to 8 p.m. daily. Reservations can be made through recreation.gov.
Wekiwa Springs:
Only minutes from downtown Orlando is the gorgeous Wekiwa Springs. You can explore the miles of trails on foot, horseback or by bicycle or you can explore the springs upfront and personally by canoe or kayak. Open 8 a.m. until sundown and tickets can be found at floridastateparks.org.
Silver Glen Springs in Ocala:
Another great location to take the kids is Silver Glen Springs. Located inside Ocala National Park, this place is a great area for recreation while also being an important archaeological site. Activities at this spring include swimming, non-motorized boating, hiking, and outdoor learning. Open 8 a.m. to 8 p.m. For more information go to fs.usda.gov. 
Rainbow Springs in Dunnellon:
Only an hour and a half north of Tampa is Rainbow Springs. This particular spring is unique because it connects into Rainbow River. Enjoy activities such as swimming and snorkeling while also enjoying the hikes to some of the tallest waterfalls in Florida. If you are wanting some more adventure, make sure to go tubing down Rainbow River- the whole experience only takes two hours! For more information visit their website at rainbowspringsflorida.com. 
De Leon Springs near Deltona and Orange City:
Get away from the bustling city life to adventure at De Leon Springs. Known for its clear waters and lush forest, this area also has a history dating well back to the Civil War era. Perhaps most famous of all is the Old Sugar Mill Restaurant where you can make your own pancakes. 
Go swimming in the clear blue water or hop on a boat cruise that will take you through the De Leon State Park as well as the Lake Woodruff National Wildlife Refuge. Open 8 a.m. until sunset, 365 days a year. For more information visit floridastateparks.org. 
Weeki Wachee Springs:
This is a long time family favorite in Tampa Bay. Weeki Wachee Springs is a classic Florida attraction. The mermaid shows are certainly the most famous part of the park, but don't overlook Bucaneer Bay, natural water park.
Effective Feb. 20-March 10, 2023: Mermaid shows are offered at 11 a.m. and 3 p.m. Seating is first-come, first-served.
Kayak tours of the springs are an absolute must! weekiwachee.com
The beautiful springs are not accessible at the spring itself in the refuge. You will need to rent or launch a kayak from Kings Bay or Hunter Springs Park in Crystal River and then make your way over the Three Sisters Springs. It is sooo worth the effort! If you'd rather skip the kayak, you can also walk the boardwalk at Crystal River National Wildlife Refuge. Plan your day by visiting here. 
Related stories we think you'll love: