A Cool Day at Weeki Wachee Springs State Park
About an hour north of Tampa, you'll find a little nostalgic Florida gem, Weeki Wachee Springs State Park and Buccaneer Bay. As Florida's one and only, spring-fed water park, this would make for a perfect family day trip!
Weeki Wachee Springs State Park and Buccaneer Bay is such a fun spot to discover and enjoy one of Florida's crystal clear springs. There's so much to do at Weeki Wachee, including catching one of the iconic live mermaid shows, but the fun doesn't stop there!
Related: What you need to know about kayaking on the spring-fed Weeki Wachee River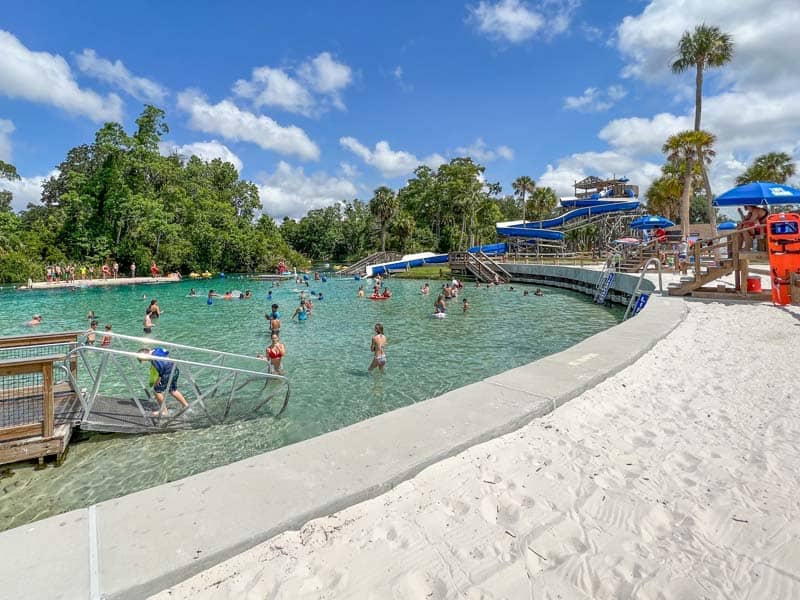 Keep your cool at Buccaneer Bay Water Park
Note: Buccaneer Bay opens for the season on March 11, 2023. All of the water rides will be open March 11-19 and then from March 20-May 26, the rides, kiddie pool and lazy river will be open on Saturdays and Sundays. The swimming area will be open daily.
Inside Buccaneer Bay, families can swim, float, snorkel and even slide directly into the spring. There are two waterslides kids can enjoy while visiting, the Cannonball and Pirates Revenge.
The waterslides do have a height requirement of at least 42 inches for one and 48 inches for the other, so a quick height check would be a good idea before planning the visit.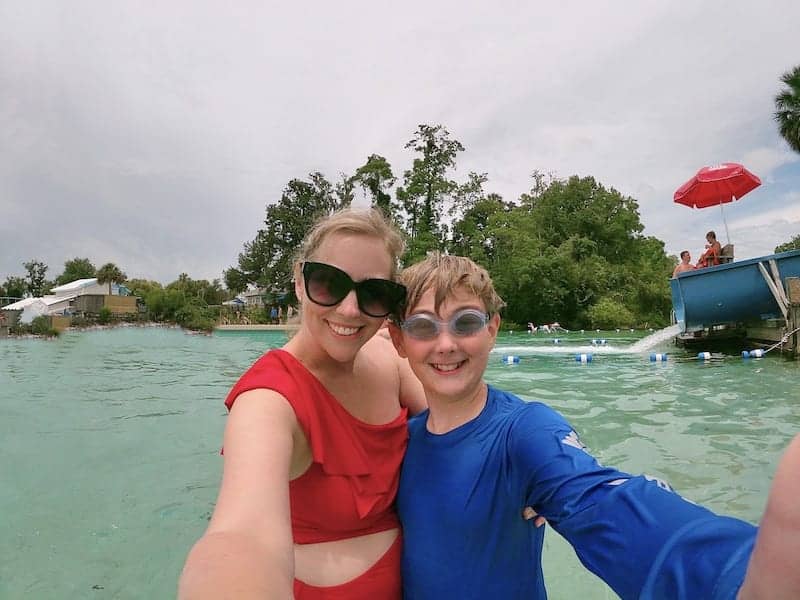 If a lazy river along the chilly spring waters is more your speed, you can do that too! Tubes are available for an additional fee to relax and float down the lazy river of the state park.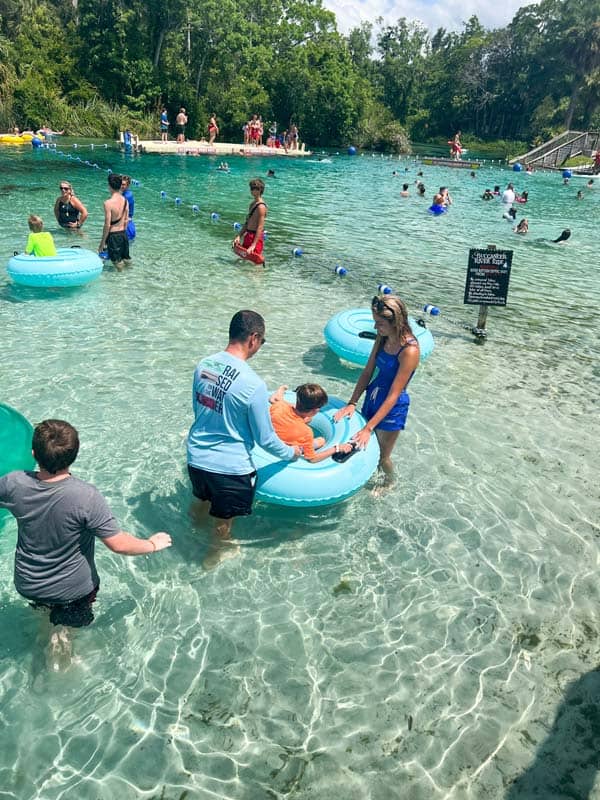 We spotted turtles and fish swimming along beside us while we floated in our tubes. If you have little ones, there's even a fun swimming area for the tiniest members of the family.
Once you've played in the spring water, you can break for lunch! Families can bring a cooler with packed lunches or enjoy one of the four dining options at the park. Our family enjoyed grab and go options from Pirate's Grubb and ate on one of the many picnic tables near the beach area.
After lunch and when you've warmed up from the cool spring water, families can reserve tickets ahead of time to watch one of the live mermaid shows at the park! The live mermaid shows are an iconic part of Weeki Wachee history.
Additional activities like kayaking or paddling are available, but require reservations in advance. Families can book through Weeki Fresh Water Adventures.
A few tips for planning your day trip to Weeki Wachee Springs State Park:
Plan to arrive early, as in before the park opens. The park reaches capacity early in the day and once it does, they do not sell additional tickets for the day.
Pack for a beach day! There is a sandy beach area for building those sand castles and a few beach chairs up for grabs, but they do fill up quickly. It's a good idea to bring your own or a beach blanket.
Tubes are available for rent for the lazy river, so you aren't allowed to bring your own floats. Children's flotation devices are permitted at the park.
Bring your snacks! Food is permitted at the park, but not in the theater during any of the live mermaid shows.
Related: Yes, mermaids are REAL and you can meet them at Weeki Wachee Springs State Park!
I hope you'll get inspired to pack the cooler and the family and head to Weeki Wachee Springs!
Fun Facts at Weeki Wachee Springs State Park:
Weeki Wachee Springs is one of the deepest naturally-formed underwater caverns in the United States. It is so deep, the bottom has never been found!
More than 117 million gallons of water flows up from the caverns EACH DAY!
The spring is the start of the Weeki Wachee River which flows 12 miles to the Gulf of Mexico.
Weeki Wachee is Seminole Indian for 'winding river.'
Get social with Weeki Wachee Springs State Park:
Facebook: Facebook.com/WeekiWacheeSprings
Instagram: @weekiwacheesprings
Twitter: @WeekiWacheeSpgs
weekiwachee.com
---
More stories we think you'll LOVE:
---
Related stories we think you'll LOVE: