40+ BEST Free Things to Do with the Kids in Tampa Bay
You don't have to be a penny pincher to want to take advantage of a free or cheap deal every now and then.
We don't have to tell you that raising kids is expensive! The USDA's report on "The Cost of Raising a Child" suggests you'll spend $284,570 (when inflation costs are factored in) if your child was born in 2015. That's just an average estimate, so we think you deserve a deal!
Lucky you for calling Tampa Bay home (or for visiting us–welcome!), because there are plenty of free things to do in Tampa Bay with the kids, including some cheap things.
We're sharing some of our favorite budget-friendly ways to get out and explore all that Tampa Bay has to offer and we're not just talking about our favorite family-friendly beaches which are a pretty obvious free/cheap thing to do if you don't include parking.
As always, check with each location before you go just in case things change. We'll keep adding to this list too as we explore new free and cheap experiences in our area!
Need MORE ideas? We're sharing our favorite things to do in Tampa Bay with the kids here!
Know someone in Orlando? Here are 25+ FREE Things to do in Orlando with Kids from our sibling site, Orlando-Parenting.com
Our favorite FREE and CHEAP things to do with the kids in Tampa Bay:
Go on a ride on the TECO Line Street Car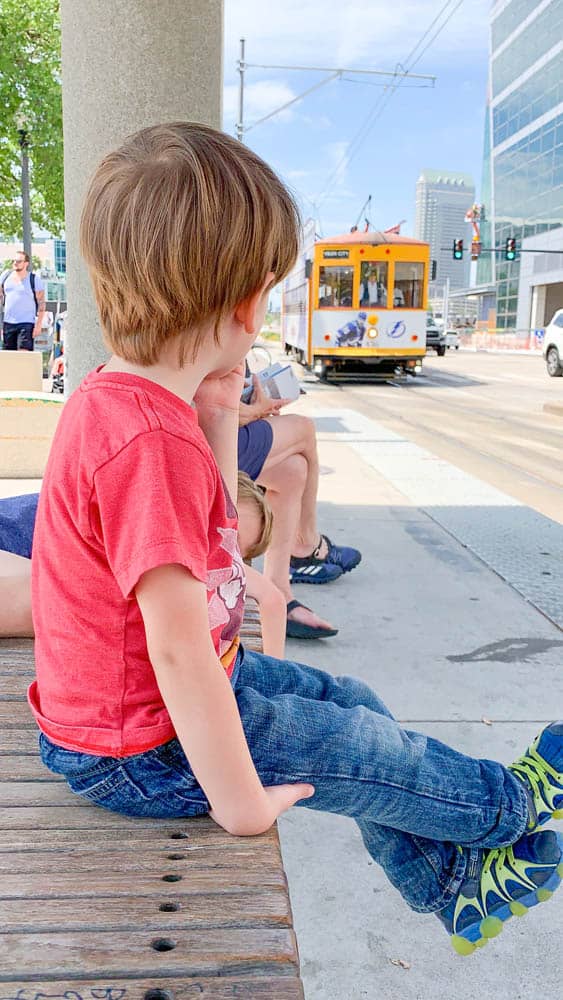 We're listing this first because it's one of our favorite FREE things to do in Tampa Bay with the kids. It's free to ride the TECO Line Street Car and a great way to explore the city. The route essentially connects Ybor City with downtown Tampa and there are plenty of fun stops in between.
As far as "free things to do" stops, we suggest getting off at Stop 9/HSBC Station at Morgan and Old Water Street (right behind Amalie Arena) to play Cotanchobee Park.
If you have a membership or annual pass with other museums and aquariums, consider popping into the Tampa Bay History Center and the Florida Aquarium and take advantage of reciprocal discounts on admission. This includes visitors too since many of the reciprocal programs are national.
There is also a new amazing Publix GreenWise Market not too far from Stop 9 if you decide to pick up a few sandwiches for a picnic lunch.
You can check out the TECO Line Street Car map here and even read more about planning a day on the TECO street car.
Splash and Play at the NEWLY Transformed Coachman Park in Clearwater
Coachman Park recently underwent a massive makeover. The Downtown Clearwater park is equipped with renovations that include a new park space, gateway plaza, pedestrian promenade, scenic overlook, playground, splash pad, and performing arts venue.
Kids of all ages will love the pirate-themed playground! The structure features an assortment of different-sized open and closed slides, climbing structures, and a wooden bridge. The playground is surrounded by sand, giving it a true pirate island-style feel. Parents can relax in the lounge chairs in the sand under the awnings while kids play.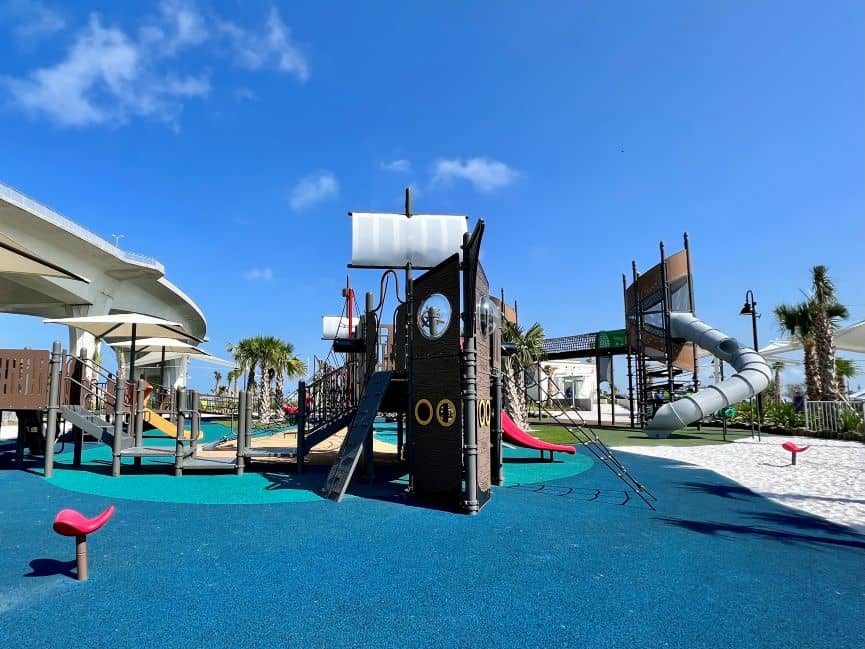 After their adventures on the playground, kids can cool off by running through the large splash pad area or play a game of giant checkers or chess. The great lawn area is perfect for running around, playing tag or catch, or watching a free show on the stage at The Green. 
Explore the Tampa Riverwalk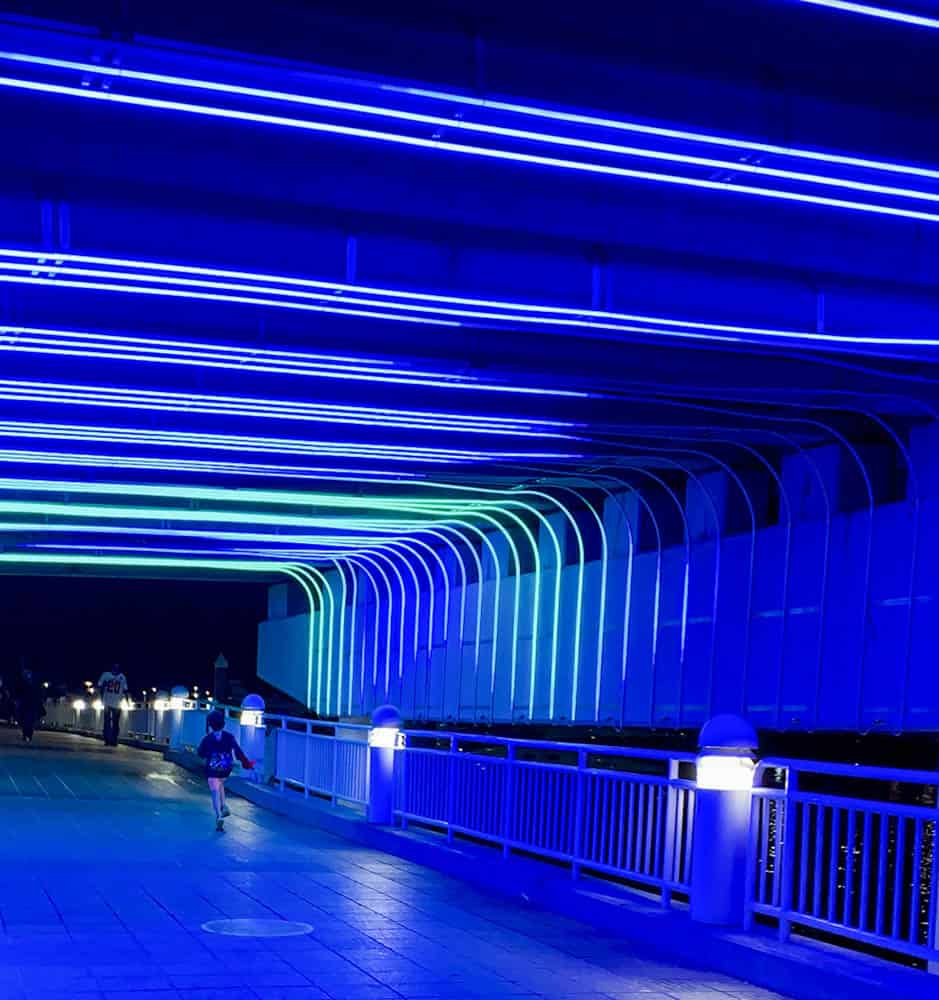 The Tampa Riverwalk is a 2.6-mile-long multi-use trail that connects the area of Sparkman Wharf with Armature Works along the Hillsborough River. You can walk, stroller, scooter, or bike as a family. There are so many things to see and do along the way. It's also really pretty at night as the Riverwalk and bridges light up. One really cool spot to walk under is near the Sail Pavilion/Tampa Convention Center where you can walk
There are several FREE events hosted along the Riverwalk throughout the year including RiverFest in May, July 4th fireworks, lighted boat parades during the holidays, trick-or-treating, and more!
While you're on your Riverwalk adventure, be on the lookout for the bronze busts of historical figures in Tampa Bay which are part of the Historic Monument Trail. There are 30 honorees who you can learn more about here.
Of course, since this is Tampa Bay, there are works of art to see as well. This is the full guide to bring with you, but a few favorites are the mosaic on the front of Glazer Children's Museum and the interactive art and music displays in front of the Straz Center.
If you don't mind spending a bit to upgrade your day, consider the Tampa Riverwalk Attractions Pass which will get you 50% admission to top attractions like Glazer Children's Museum, the Florida Aquarium, and Tampa Bay History Center.
Play! Glazer Children's Museum Free Tuesdays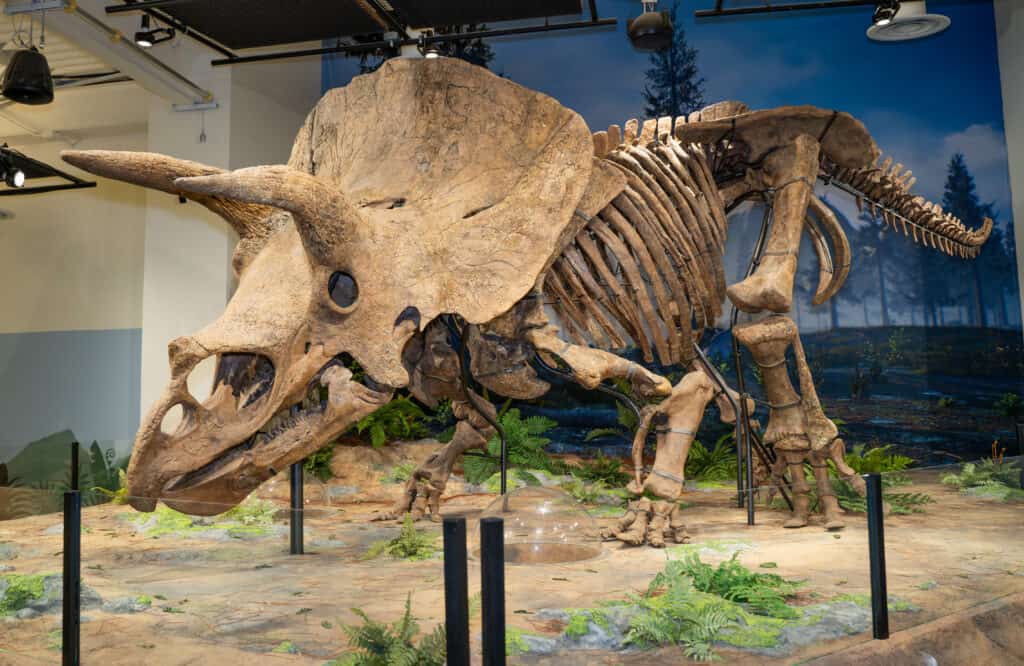 In partnership with the Children's Board of Hillsborough County, Glazer Children's Museum hosts FREE Tuesdays on the first Tuesday of every month. This is a great way to explore the museum with your little one as you decide whether you'll purchase an annual pass to come back year-round–this is a great deal, by the way. Registration for FREE Tuesdays at Glazer Children's Museum is highly recommended since it can get busy, as you'd imagine.
The museum also hosts Sunshine Sundays on select Sundays each month, designed for kids with special needs. The lights are turned down and it's a bit quieter. Admission is $5 which is less than the daily rate.
Visit Bok Tower Gardens this summer on select Thursdays and Fridays for FREE compliments of Wawa
Wawa is partnering with Bok Tower Gardens for Wawa Summer Fun Days this May through September to gift you free admission on the last Thursday and Friday of the month. Pre-registration is required. See the beautiful singing tower, walk the gardens and nature trail, and play in the Hammock Hollow Children's Garden, a must-explore with the kids.
If you decide to go on another day, check for reciprocal admission discounts if you are a member of the Florida Aquarium, MOSI, Tampa Bay History Center, Tampa Museum or Art or Great Explorations.
Visit a City, County, or State Park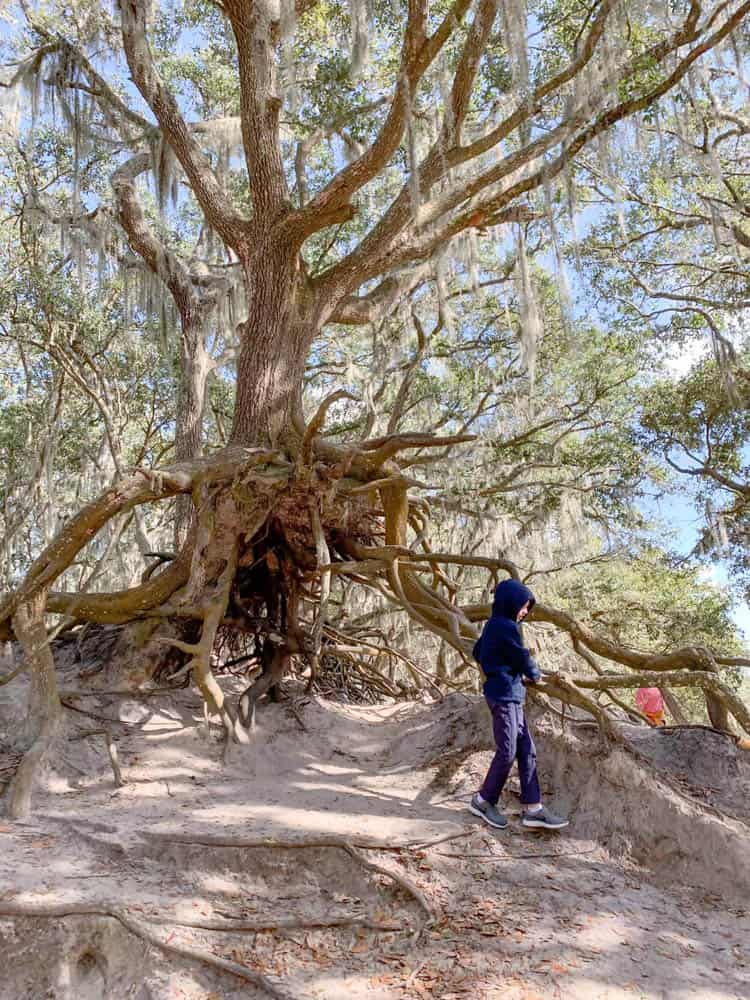 The city and county parks are free (or super cheap) to visit and there are so many to choose from. If you're looking for a park like you've never seen before, head on over to Edward Medard Conservation Park in Plant City. It will cost you $2 per vehicle, but it's worth it. There are hiking trails, kayak, and canoe rentals, and the coolest part is an area called Sacred Hills which is located in the woods behind the playground. This is where you can walk among the gnarly exposed tree roots, a result of erosion of the old phosphate mine where the trees were planted many decades ago. It's a cool spot for kids to explore and feels other-worldly.
One of our favorite places to play in Hillsborough County is Julian B. Lane Riverfront Park in Downtown Tampa because there are so many things to do here. There's a great playground, splash pad, basketball courts, pickleball and tennis courts, and even an awesome dog park. This is a great park to picnic as well and let the kids run in the wide open fields, so bring a soccer ball, football, or frisbee!
We also love Honeymoon Island State Park for some beachy fun in the sun and hiking!
Related: Go Outside with The Florida Junior Ranger and Every Kid Outdoors Programs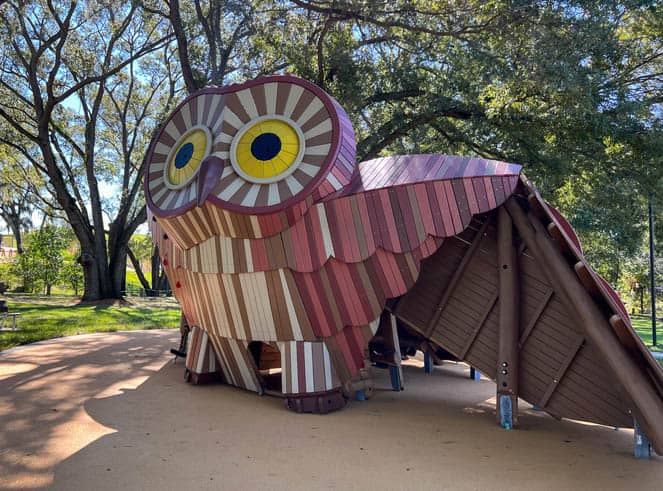 This brand-new place to play is only about eight minutes from I-4's exit 28/US-92 making it a great pit stop to get the wiggles out or just play for the day.
It is free to go to the park even though it was privately developed. It's a gorgeous 168-acre space that features several playgrounds and boardwalks and is even home to the new Florida Children's Museum.
Check out the TECO Manatee Viewing Center in Apollo Beach
Since we're sort of on the topic of cool parks and hiking, the TECO Manatee Viewing Center in Apollo Beach is another must-visit free activity in Tampa Bay! It's open during our area's coldest months, November 1-April 15.
This is also the time of year when you'll see a ton of manatees huddling together in the warm water coming from the power plant (don't worry, the water is clean). It's really cool to walk around the boardwalk and then to the overlook to watch the manatees as they swim in the water.
On the first floor, under the boardwalk area, you'll find the Rays Touch Tank in partnership with the Florida Aquarium–the sting rays from the Tampa Bay Rays stadium live here at the Manatee Viewing Center in the off-season! We also recommend stopping in the newly renovated educational center where you can learn more about the manatees and other wildlife.
To help save money, pack a picnic since there are plenty of picnic tables near the manatee viewing area.
Once you've had a bite to eat, burn off some energy with a walk on the boardwalk above the marshland and hike up to the top of the 50-foot wildlife observation tower. It won't disappoint!
Play at the St. Pete Pier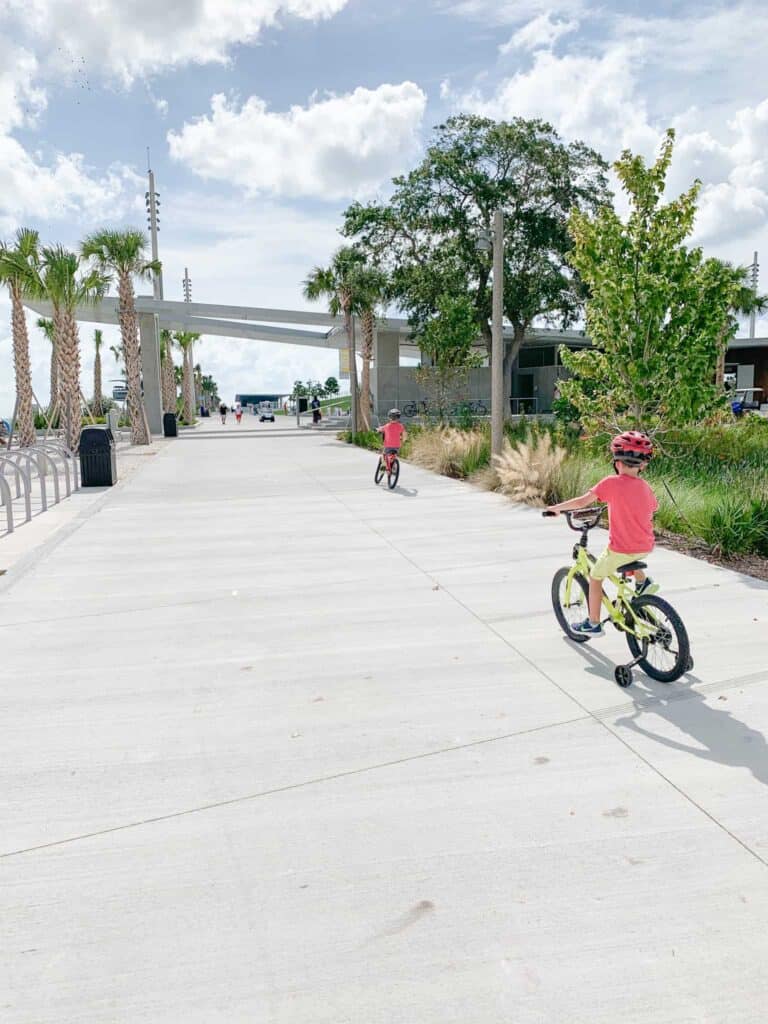 We'll skip over the bay for a bit to talk about another favorite free place to visit with the kids! The 26-acre St. Pete Pier Park area is free to explore, but it might cost you to park, so keep this in mind. Free parking can be hard to find these days, right??
Our favorite spot at the St. Pete Pier is the Glazer Family Playground which has play spaces for kids of all ages. We also love biking and scootering along the Pier and the trails. The beach is also beautiful.
You can pack a picnic and eat near the beach or on the lawn under the beautiful 'Bending Arc' hanging art display. There are also plenty of restaurants nearby if you decide you'd rather eat out instead.
Go on Mini Train Rides with Largo Central Railroad and Central Pasco & Gulf Railroad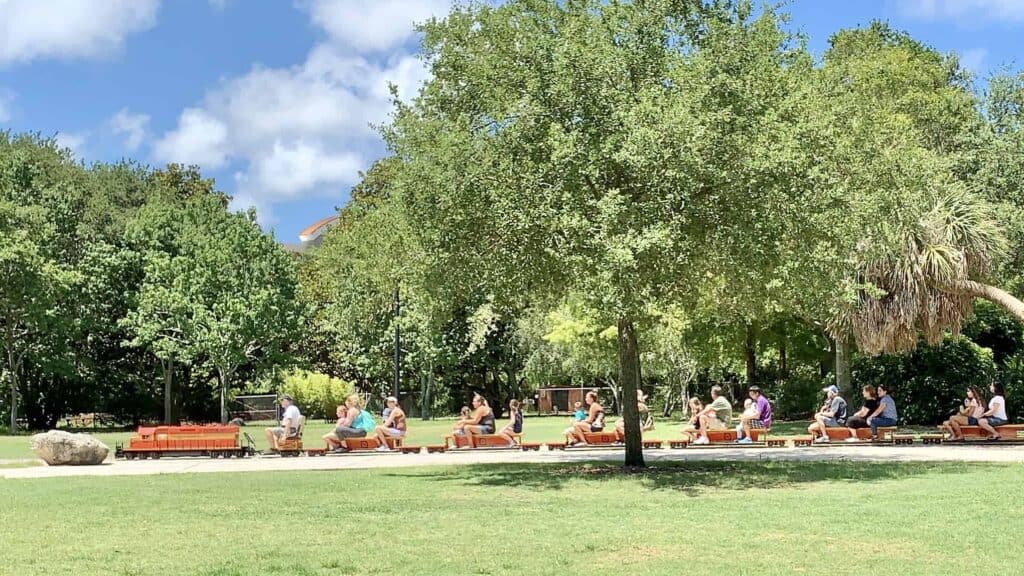 This is another top pick of free things to do because it's so cute and honestly, something you can do at any age! The first weekend of each month, Largo Central Railroad hosts families for a free mini train ride around the beautiful Largo Central Park. While it is free, a small donation is appreciated to help keep the program going. During the fall and winter holidays, they offer themed rides as well which are usually ticketed events, but something to keep in mind.
Stay and play at the park, and again, pack a picnic since there are plenty of areas to sit down and enjoy your lunch. We also bring a soccer ball or football for the kids since there is a large lawn area too.
Up in Pasco County, Central Pasco and Gulf Railroad operates train rides on the second Saturday of each month through Crews Lake Park. A small donation of at least $1 is appreciated. They also host holiday-themed rides in the fall and winter.
Experience Sunsets at Pier 60 Festival in Clearwater Beach
There's a party every night at Pier 60 in Clearwater Beach–and what better way to celebrate the end of another gorgeous day in Tampa Bay, right?? The event itself is free, but bring some money in case you find something really cool at one of the vendor tents. The Sunsets at Pier 60 event is held two hours before sunset and two hours after sunset, weather permitting of course.
There is a playground by the beach, and of course, nature's playground…the beach!
Take advantage of the Free Preschool Pass at Busch Gardens Tampa Bay and Adventure Island
Around the start of each year new year, the registration window for a Busch Gardens FREE Preschool Card opens up for kids ages 3-5! When you register, your child gets free admission to the park for the entire year and free admission to Adventure Island as well! Sea World and Aquatica offer a similar free preschooler pass. You need to register online first and then redeem the pass by a specified date as well.
Listen to the tunes at Rock the Park Tampa
Rock the Park Tampa is a free monthly music series hosted in downtown Tampa at Curtis Hixon Waterfront Park. Pack a blanket and chairs and find a spot under the stars as you enjoy live music from local musicians. The concerts are held the first Thursday of each month and start at about 6:30 pm.
Explore Tampa Bay's Nature Preserves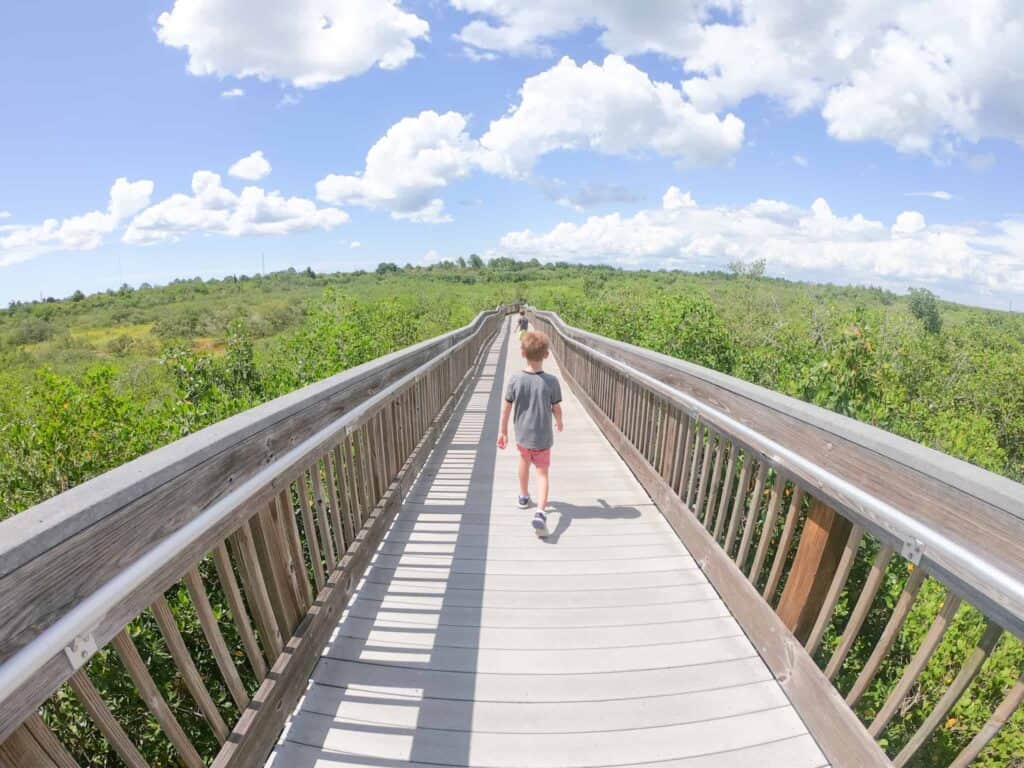 Nestled between the concrete blocks of the downtowns are some beautiful nature preserves in Tampa Bay that are the perfect quiet getaway for long walks, bike rides, and even kayaking.
One of our favorite nature perseveres to bring the kids in addition to the Edward Medard Conservation Park we mentioned earlier is Weedon Island Preserve in St. Pete. It's right near the St. Pete side of the Gandy bridge, so it's fairly easy for people on both sides of the bay to get to. Admission to the preserve is free, but donations are appreciated.
It's a huge preserve at 3,190 acres. We love it for the boardwalks and observation tower which are easy for kids to navigate. The boardwalk is also stroller-friendly. There is a Cultural and Natural History Center on site as this has been a gathering site for people dating back to prehistoric times. You can also go kayaking among the mangroves at Weedon Island Preserve for an extra cost–it's a top pick of places to go kayaking in Tampa Bay. 
Step back in time at Heritage Village in Largo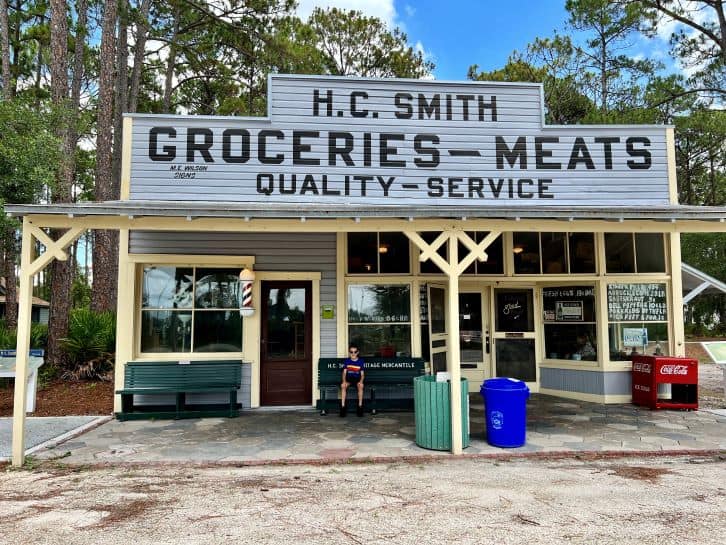 This is your chance to step back into the time of Pinellas County's earliest settlers. Heritage Village is a living museum that sits on 21 acres and contains 30 of the county's oldest buildings including a log cabin, replica schoolhouse, general store, and even an outhouse! Kids can see history in action and even learn about old games kids used to play a century ago.
There is a pretty nature trail to guide you through the village. It is open Wednesdays-Sundays. While it is free to go, donations are always appreciated it.
Wander through the Florida Botanical Gardens in Largo
While you're at Heritage Village, make time to visit the Florida Botanical Gardens as well since they're located on the same property operated by Pinellas County. It is free to visit the Florida Botanical Gardens, but donations are always appreciated especially as they build a new children's garden, the Majeed Discovery Garden which is slated to open in 2023.
There are several different gardens to explore like a Jazz Garden, Cactus/Succulent Garden, Herb Garden, Native Plant Garden, and even a Butterfly Garden kids love. This is a must-visit during the holidays as well when the gardens are filled with thousands of holiday lights. 
Explore the stars at Sky Watch at MOSI
Sky Watch at MOSI is a popular program! Once a month you'll be able to join experts and look through their telescopes to see the stars, moons, planets and more! The events are free and weather permitting and are held in the Whitney Andrews Lang Center parking lot on the east side of MOSI.
Go Biking on a Tampa Bay Trail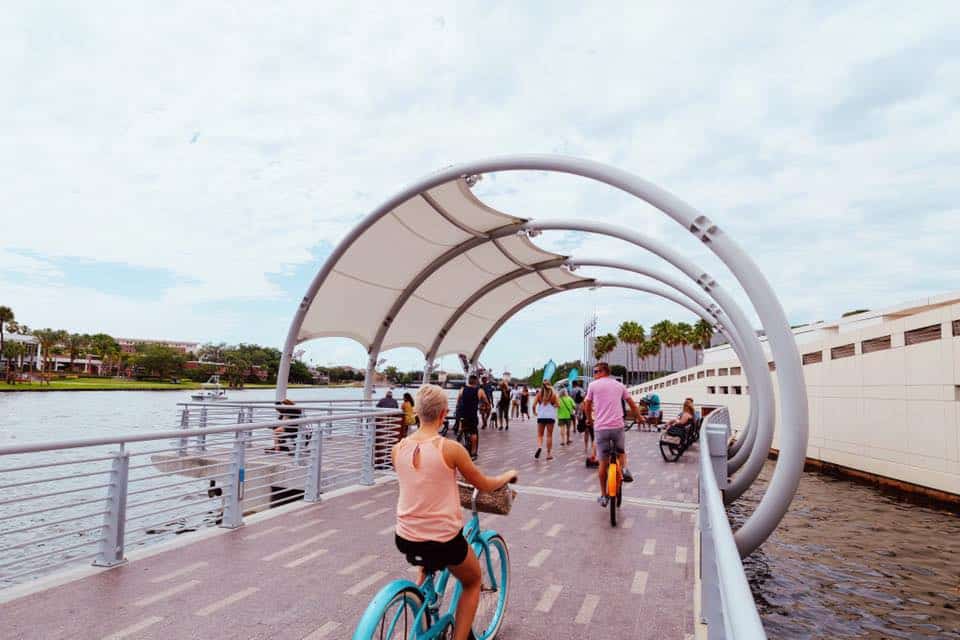 It doesn't cost anything to use the area's many trails including the Upper Tampa Bay Trail and Suncoast Trails. These are great for kids on bikes or scooters since they're paved and a relatively smooth ride.
Pinellas Trail: 38-mile long trail connecting St. Petersburg to Tarpon Springs on an old railroad route.
Upper Tampa Bay Trail: 7-mile long trail located in northwest residential Hillsborough County, it eventually connects to the Suncoast Trail.
Suncoast Trail: 42-mile long paved trail from Hillsborough County through Pasco County and ends at Hernando County.
Bayshore Blvd in Tampa: Bayshore Blvd is considered one of the longest continuous sidewalks in the country at 4.5 miles long. It's a great spot for biking and walking.
Tampa Riverwalk: The Tampa Riverwalk is 2.4 miles long, connecting the area of Armature Works to the area of Sparkman Wharf in Tampa with plenty of fun stops along the way!
Attend a FREE Event Tampa Bay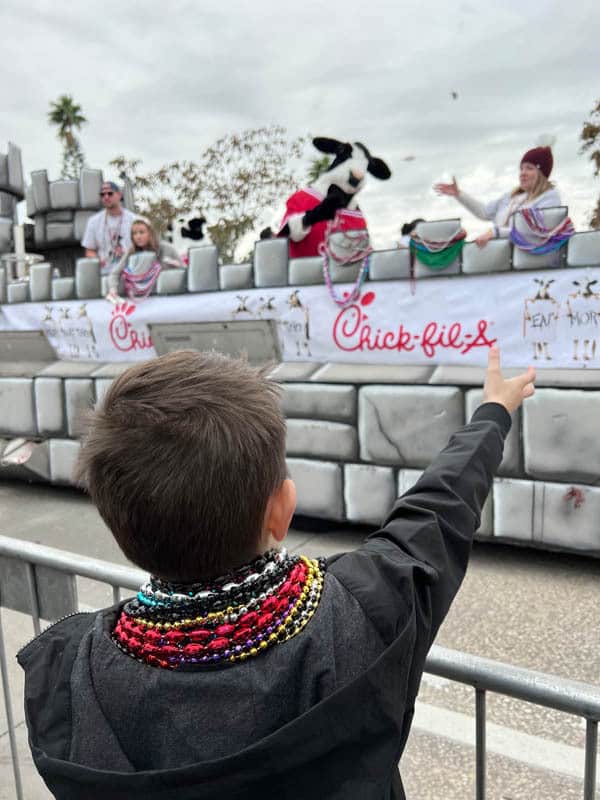 Tampa Bay plays host to several awesome free events that are family-friendly. Perhaps the one we're best known for is Gasparilla! There is a day-long celebration and parade just for pint-sized pirates known as the Gasparilla Children's Parade.
The Fourth of July in Tampa Bay is a big celebration with a ton of places to see fireworks and celebrate the holiday!
MacDill Air Force Base also hosts the Tampa Bay Air Fest which runs every few years or so.
Tampa Bay also has several annual parades throughout the year including holiday parades, holiday boat parades, and the Outback Bowl parade which is now known as the ReliaQuest Bowl.
Fourth Friday is hosted the fourth Friday of each month in Tampa. While it is mostly adult-oriented with cocktails and drinks along the way, kids can enjoy it too. It includes free admission to the Henry B Plant Museum, live music, and more discounts and specials as you sip and stroll along the Riverwalk.
Visit Tarpon Springs + Sponge Factory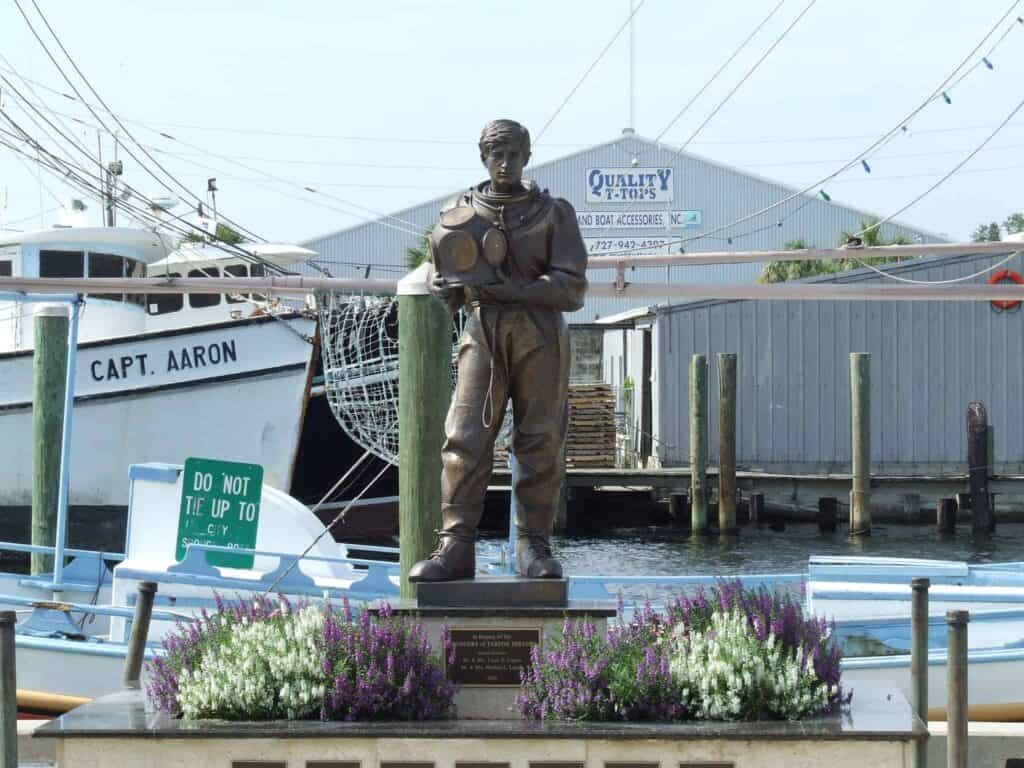 Learn about Tarpon Springs' Greek heritage and learn about the city's sponge divers with a stop by the Historic Sponge Docks. Tarpon Springs is a great day trip destination where you can indulge in delicious Greek cuisine, learn about the city's history and walk around enjoying the sights. Make sure to stop by the Sponge Factory (you can't miss it) to check out the sea sponges plus handmade soaps and other wares.
Learn about Tampa's Firefighting History at the Tampa Firefighters Museum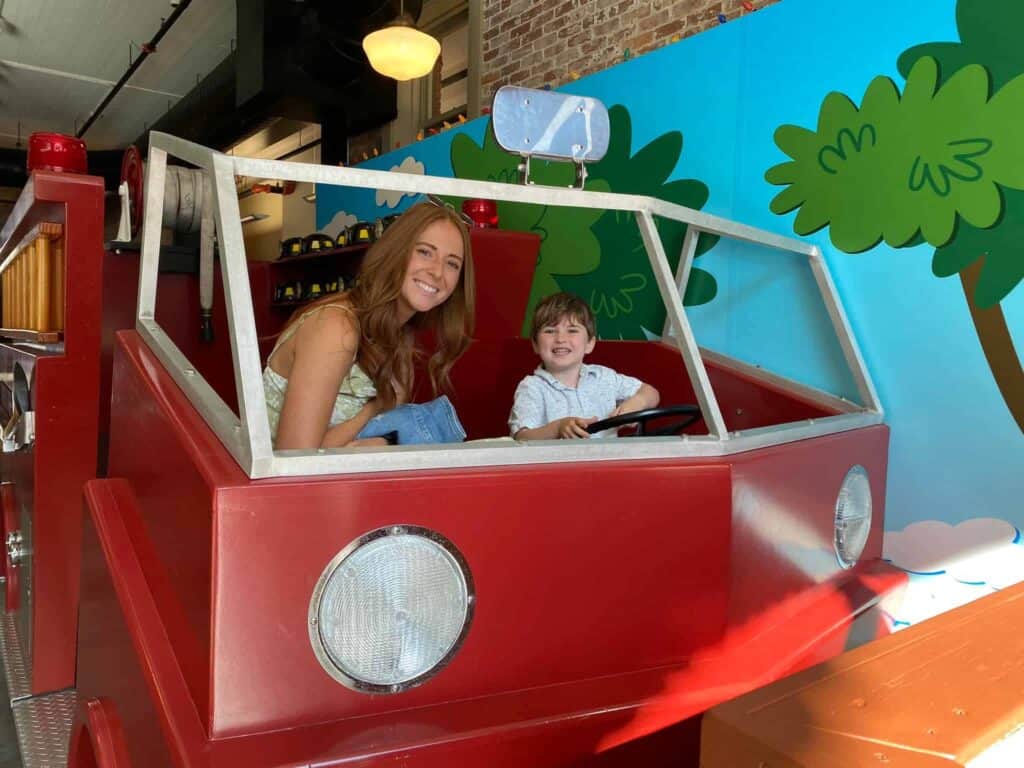 With a mission to "preserve the heritage of the Tampa Fire Department and promote life safety education and fire prevention within the community," the Tampa Firefighters Museum is a free and educational place to discover. The museum itself is housed in a renovated firehouse and the building's brick walls, fireman's poles, and more compliment the exhibits. Kids will love learning about fire safety in their interactive exhibits too!
Visit the Dr. Carter G. Woodson African American Museum in St. Pete
The Dr. Carter G. Woodson African American Museum in St. Pete honors the past, present, and future of the contributions of African Americans in our community and to educate the community. It is also home of the Black Lives mural painted on the street in front of the museum. The museum is open Tuesday-Friday from 12 pm-5 pm or by appointment. Donations are appreciated as they work their way to building a new Woodson Museum.
Head to Sarasota for Ringling Museum of Art Free Mondays
Score free admission to The Ringling Museum of Art every Monday! The museum is home to 21 galleries plus a spacious courtyard filled with sculptures. Note: free admission only applies to the Museum of Art, not the Circus Museum or Ca'd'Zan.
Visit even more museums for free during Smithsonian Magazine's annual Museum Day in September
While this annual event hosted by Smithsonian Magazine only happens once a year, it's worth mentioning, especially since several Tampa Bay museums participate. Held annually, Museum Day grants you free admission for two to museums throughout the country. Past participating museums in Tampa Bay include the Florida Museum of Photographic Arts, Henry B. Plant Museum, Imagine Museum, The Ringling, and more. *Museum Day will not be taking place in 2023 but will resume in 2024
Experience Christmas all year long at Robert's Christmas Wonderland in Clearwater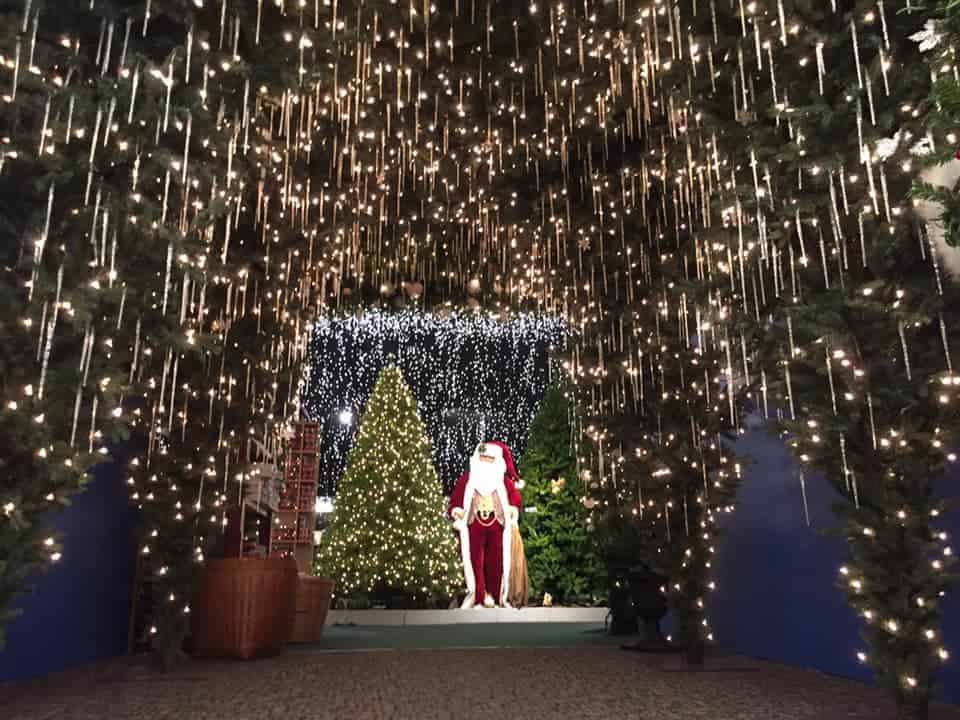 Robert's Christmas Wonderland is a gem of a store that has been a go-to for generations of Tampa Bay residents. It is open year-round Monday-Saturday. You'll see thousands of holiday lights and you can wander through the indoor holiday forest which has 200 Christmas trees on display. It's truly a magical place. While it's free to go to the store, you might end up buying a unique ornament or two.
Experience a free concert with a Classical Kids and Teens Ticket from the Florida Orchestra
The Florida Orchestra's Classical Kids and Teens program reserves a certain number of free tickets for Masterworks concerts throughout the year for kids ages 5-18. One paying adult is required for each order.
Explore the Hammock Park Butterfly Garden in Dunedin
This hidden gem in Tampa Bay is a must-visit for nature-loving kids. There are 11 garden beds within the butterfly garden that are home to 35 different species of butterflies. The playground and restrooms aren't too far from the Hammock Park Butterfly Garden is located near the main entrance. There are also several nature trails to hike and you can even pick up a Bird Watching Backpack with your library card at the Dunedin Library.
Take advantage of cool services at your local public library.
Your library is actually a really cool place that is more than a place to check out books–which is still pretty cool! In Hillsborough County, you can also check out GoPro Cameras, educational games and tools, time in a video recording studio, and even a ukulele kit!
If you're in Pinellas County, the Safety Harbor Public Library even has a Tool Library which is a first of its kind in Florida. It also has a Seed Library to encourage gardening. There are a ton of cool ways to use the Pinellas County Library this summer, so be sure to check out all of the resources available to you. Pasco County's Public Libraries offer adaptive toys and a Seed Library too! Pretty amazing, right?
We highly encourage you to visit your local library branch to explore the many different services and classes available to you. Almost all of the libraries offer robust programming for kids from infants to teenagers.
Libraries also offer museum passes too to get you free admission to select museums and attractions around town. They're often in high demand, so don't get discouraged if one is not available right away. Every county library system is different in what they offer.
Tour the J.C. Newman Cigar Company in Ybor City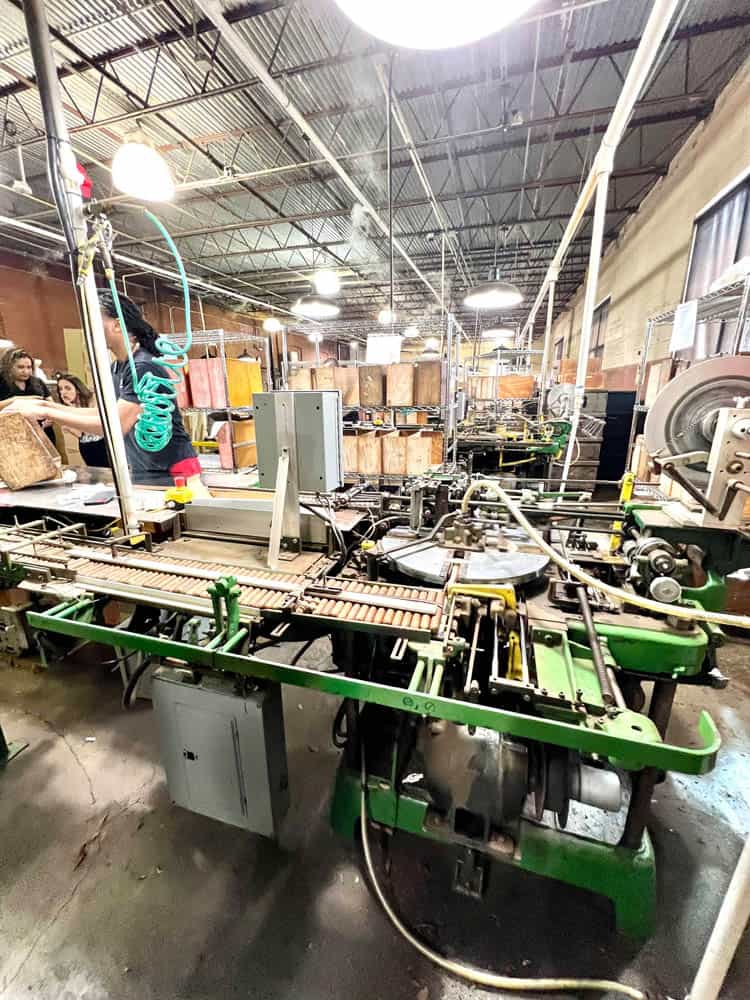 An important piece of Tampa's history and identity ties back to the cigar industry, which was booming in Ybor City from the late 1800s-early 1900s. Today you'll find dozens of cigar shops throughout Ybor City, but there's only one factory still actively producing cigars in Cigar City: J.C. Newman Cigar Co. The recently restored factory, which includes a three-floor museum, is free and open to the public. But, consider the splurge for a guided 1-hour behind the scenes tour to learn more about this slice of Tampa history.
Get building with free workshops for kids from Lowes and Home Depot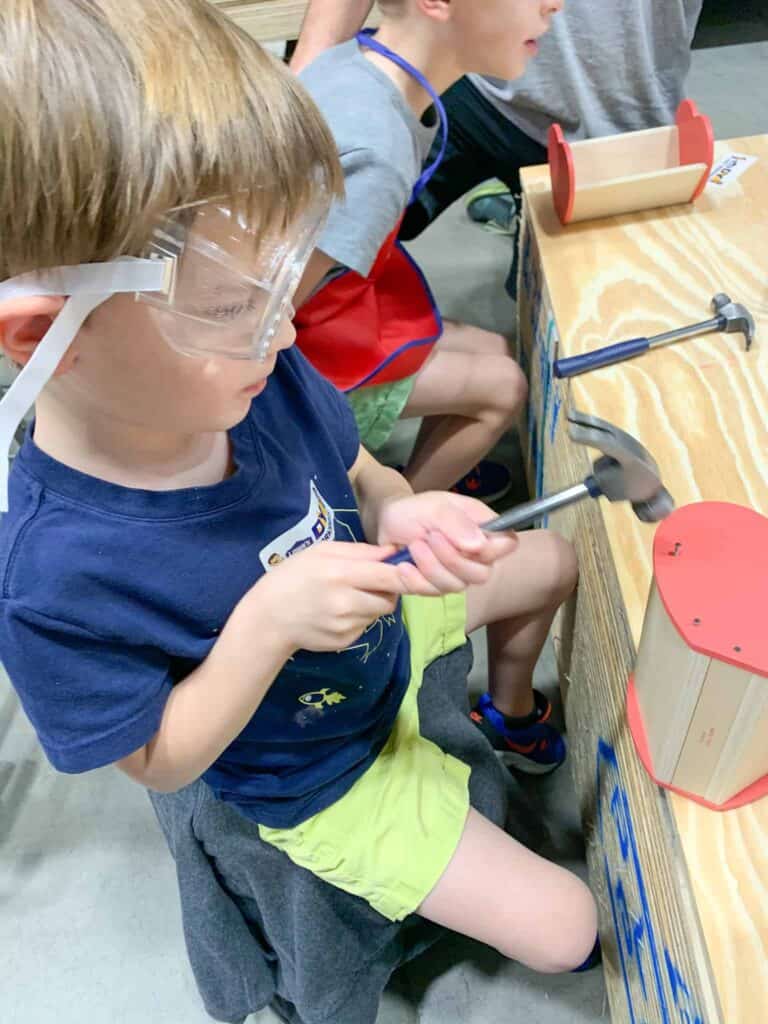 In-person workshops for kids are finally returning to Lowes and Home Depot on select days. Projects rotate each month and you might have to pre-register at your store, but it's well worth going. Kids will get an apron, safety goggles and all the tools they'll need to build their project. Learn more about Lowes free workshops for kids here and Home Depot's free Kids Workshops here.
Go on a self-guided mural tour in Tampa or St. Pete 
Get your art fix by embarking on a self-guided tour of Tampa Bay's impressive murals. The City of Tampa has a helpful list of murals and their locations, and Tampa Downtown Partnership's Downtown Mural Tour lists even more murals around town. But Downtown St. Pete is the best place to discover colorful murals and snap a few new photos with your boo. Go on a self-guided adventure for free with this mural map or spring for an organized walking mural tour of the area (this option isn't free, but worth the splurge if you're interested).
Head to a local restaurant that offers Kids Eat Free Days
There are several spots around town that offer free meals for kids on select days. We've compiled a list of restaurants where kids eat free in Tampa Bay here.