Where to Meet Mickey, Disney Princesses, and MORE at Walt Disney World
It doesn't matter how old you are. Whenever you see Mickey Mouse, you can't help but smile. Interacting with and meeting Disney characters is a must when visiting Walt Disney World. However, finding them can sometimes be challenging.
Get your camera and autograph book ready because we did the work for you, breaking down where you can meet Mickey Mouse and other popular characters.
Do check the My Disney Experience app when you visit the parks because the character interactions can change. The app also will tell you current wait times.
But, first…we want to share a NEW character meet-and-greet that debuts this September and October! 
Mirabel from Encanto Debuts at Magic Kingdom and EPCOT
Fans of the hit movie "Encanto" have been waiting for a miracle in hopes more experiences featuring the new characters they love would begin appearing at Walt Disney World.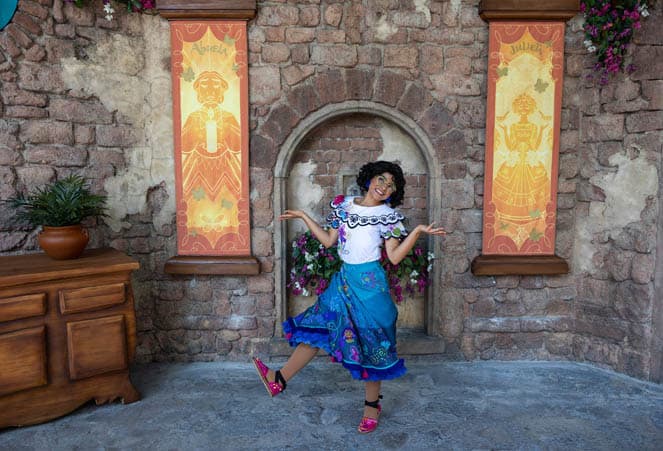 Mirabel at Magic Kingdom
Mirabel is currently in the "Disney Adventure Friends Cavalcade" at Magic Kingdom.
Mirabel appears alongside other adventurous Disney characters like Miguel from "Coco," Nick and Judy from "Zootopia," Max, Goof, Moana, and more. Starting September 15, Bruno from "Encanto" will join these characters and Mirabel will begin her own meet and greets with guests.
Starting September 15, Mirabel will greet guests in Fairytale Garden surrounded by whimsical décor inspired by La Familia Madrigal!
Mirabel at EPCOT
Also, Moana herself will arrive in World Nature on October 16, 2023, and start greeting guests in her own dedicated space near Journey of Water, Inspired by Moana in EPCOT.
Moana at EPCOT
Also, Moana herself will arrive in World Nature on October 16, 2023, and start greeting guests in her own dedicated space near Journey of Water, Inspired by Moana in EPCOT.
Figment at EPCOT
Fans will be able to meet the beloved character, Figment, at EPCOT starting September 10, 2023. This adorable purple dragon has been a part of EPCOT since 1982!
Where to Meet Disney Characters at Walt Disney World
Okay friends, now let's talk about the big cheese, Mickey Mouse. You can meet Mickey Mouse at each of the four Disney theme parks. He also appears at certain Disney character dining meals.
Where's Mickey Mouse at Disney World?
Like all the other characters, Mickey uses some pixie dust to move from one location to another quickly. You can meet Mickey Mouse at all four theme parks – and each location offers something special.
Mickey at Magic Kingdom
In Magic Kingdom, you'll find the big guy right when you walk into the park on your right in Town Square Theater. This is where you'll get to visit Mickey backstage as he prepares to head out and entertain his fans.
The line here can be long at times. Best to head there right when the park opens or shortly before closing. You can also opt to purchase Genie+ service and use a Lightning Lane option to meet Mickey at Magic Kingdom.
Mickey at EPCOT
Meeting Mickey Mouse at EPCOT is kind of a hidden spot. At the Magic Eye Theater (near the Imagination attraction) Mickey Mouse meets guests in his traditional costume. The line to meet Mickey is usually not too long here at EPCOT thanks to this tucked-away location.
You can also find Minnie Mouse at EPCOT near the start of World Showcase just before the Mexico Pavilion.
Starting September 22, 2023, snap a photo with Mickey Mouse and Minnie Mouse in their platinum best in the Imagination! pavilion.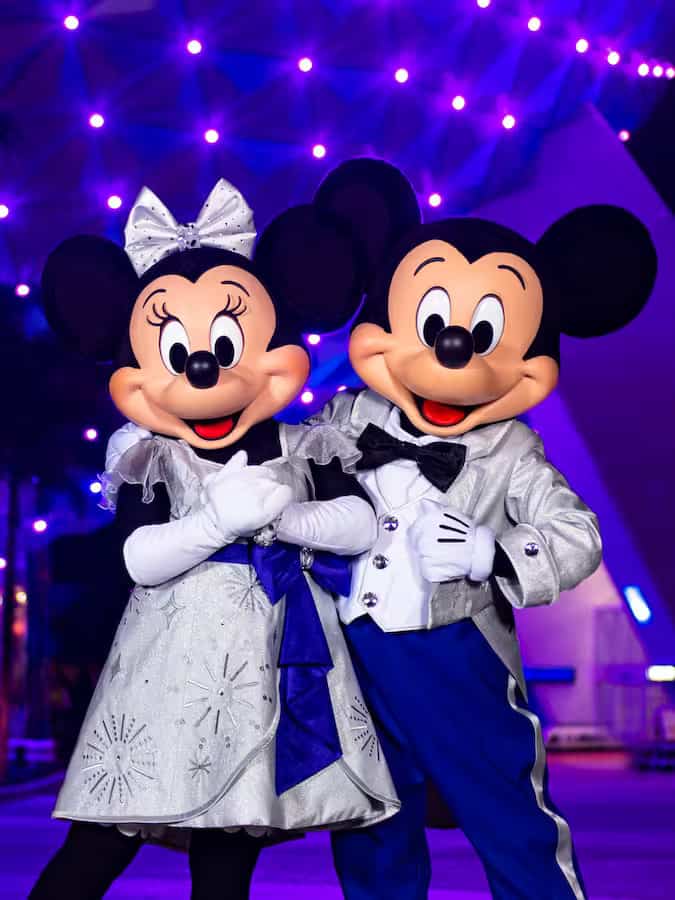 Mickey at Hollywood Studios
Over in Hollywood Studios, Mickey can be found at Disney's Hollywood Studios Commissary Lane where he's dressed in his Hollywood best. This is a favorite place to meet Mickey because of the glamorous setting.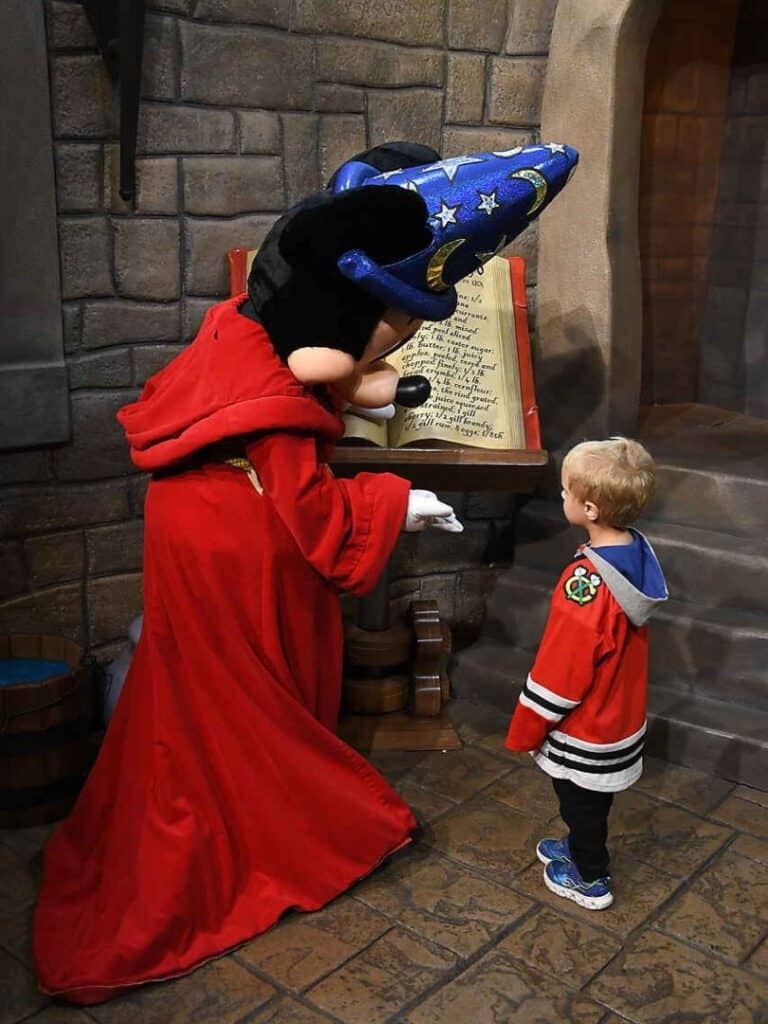 Minnie Mouse also meets guests at Disney's Hollywood Studios. The glitzy setting is made all the better thanks to Minnie's gown. In fact, Minnie greets you first before you head down a hallway to meet Mickey Mouse in his Sorcerer's Apprentice Costume.
Mickey at Animal Kingdom
In Animal Kingdom, Mickey is at the Adventurers Outpost in some snazzy safari gear. Animal Kingdom is a special place to meet Mickey Mouse because he is joined by Minnie Mouse right by his side!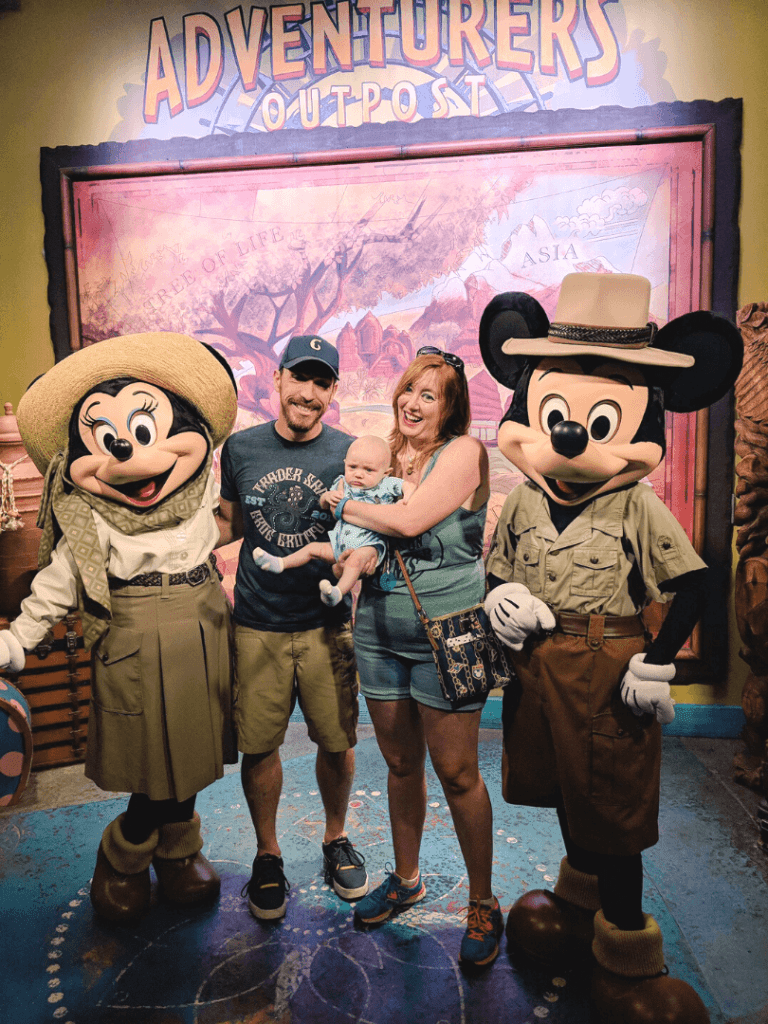 Minnie, Goofy, Donald, and Daisy at Magic Kingdom
At the back of Magic Kingdom is Pete's Silly Slideshow. In this circus setting you can meet Minnie Mouse, Daisy Duck, Donald Duck, and Goofy each with a different circus-themed costume.
This Magic Kingdom character location offers a unique setting with the characters having a circus-themed persona. This setting matches the Storybook Circus area that is tucked into the back of Fantasyland.
Pete's Silly Slideshow reopened on January 15, 2023.
Where to Meet Disney Princesses at Disney World
If your budget allows and you're lucky with Disney dining reservations, you can meet a few Disney princesses at Cinderella's Royal Table. Open for breakfast, lunch, and dinner you will certainly meet Cinderella herself, and a few of her royal princess friends.
NEW! Meet the Live-Action Version of "The Little Mermaid" at Disney's Hollywood Studios
NEW! At Disney's Hollywood Studios this summer experience a new character meet-and-greet with Ariel in celebration of the live-action version of "The Little Mermaid." Her location will be inside Walt Disney Presents – a great museum-like attraction that is a must-do for any Disney fan.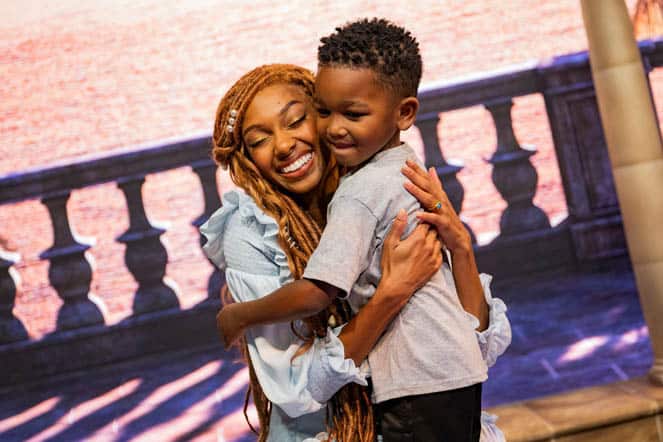 More Princess Meet and Greets at Walt Disney World!
Where to Meet Belle at Disney World
Back at Magic Kingdom, you can meet Belle at her father's cottage. Look for this charming Disney character spot near Be Our Guest Restaurant in Fantasyland.
Enchanted Tales with Belle reopened on February 19, 2023, in which guests are transported to the enchanted castle. Belle appears in his glorious ballgown in this charming show meant for kids, with a brief meet and greet.
Where is Princess Jasmine at Walt Disney World?
Princess Jasmine and her gal pals always draw a huge crowd. The girls are spread out all across the parks giving you a better chance to see them.
The Princess Fairytale Hall in the Magic Kingdom has a rotation of your favorite ladies. Jasmine is on the schedule as well as Cinderella, Tiana, and others.  Travel under the sea to meet Ariel in Ariel's Grotto.
Where to Meet Anna and Elsa at Disney World
Sisters Anna and Elsa from Frozen have a permanent spot in EPCOT at Royal Sommerhus. This is another line that is usually a long one. However, it is adorably decorated like a summer cottage in Arendelle.
Where to Meet Snow White and Aurora at Disney World
Snow White is usually available at the Germany Pavilion, near a wishing well of course. And Aurora, aka Sleeping Beauty, makes herself at home at the France Pavilion, near the lagoon.
The best way to see the Disney Princesses in one spot is having a meal at Akershus Royal Banquet Hall. This restaurant at EPCOT is packed with royal princess meetings and one of our favorite Disney character dining experiences.
Where are the Disney Jr. characters?
If you have a Disney Junior fan in your house, you'll want to visit Hollywood Studios. Located in Animation Courtyard, you'll find Fancy Nancy, Vampirina and Doc McStuffins.
Disney's Hollywood Studios is one of our favorite parks for character greetings. The Disney Jr. characters do not have long lines, usually. Part of this may be due to the character lineup being slightly outdated.
Can you imagine the long line there would be for Bluey characters if they had their own greeting location?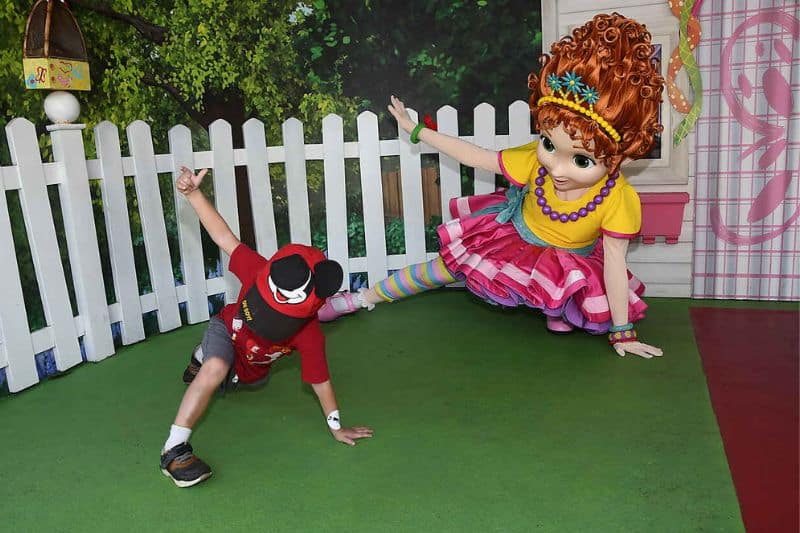 Where are Star Wars characters at Disney World?
In Galaxy's Edge in Hollywood Studios, you will likely see random Star Wars characters walking around. Getting a photo with them isn't a guarantee.
Instead, you can find a few classic Star Wars characters in a traditional character greeting setting on the other side of the park. Head over to Star Wars Launch Bay. That's where you'll find Darth Vader, Chewbacca, BB-8 , and more.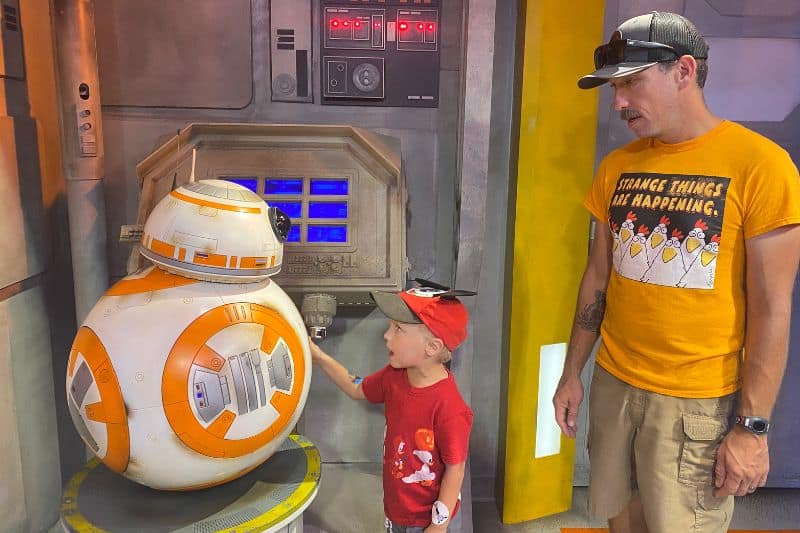 This indoor area is a great place to take a break in the air conditioning while surrounded by Star Wars props and sets. Check the hours because Launch Bay usually closes at 5 p.m.
How do you find those hard-to-meet characters?
The simple answer to this is to attend an after-hours event like Mickey's Not-So-Scary Halloween Party or Mickey's Very Merry Christmas Party. Characters like Stitch, Tweedle Dee and Tweedle Dum, and Sally and Jack Skellington are frequent visitors to these parties.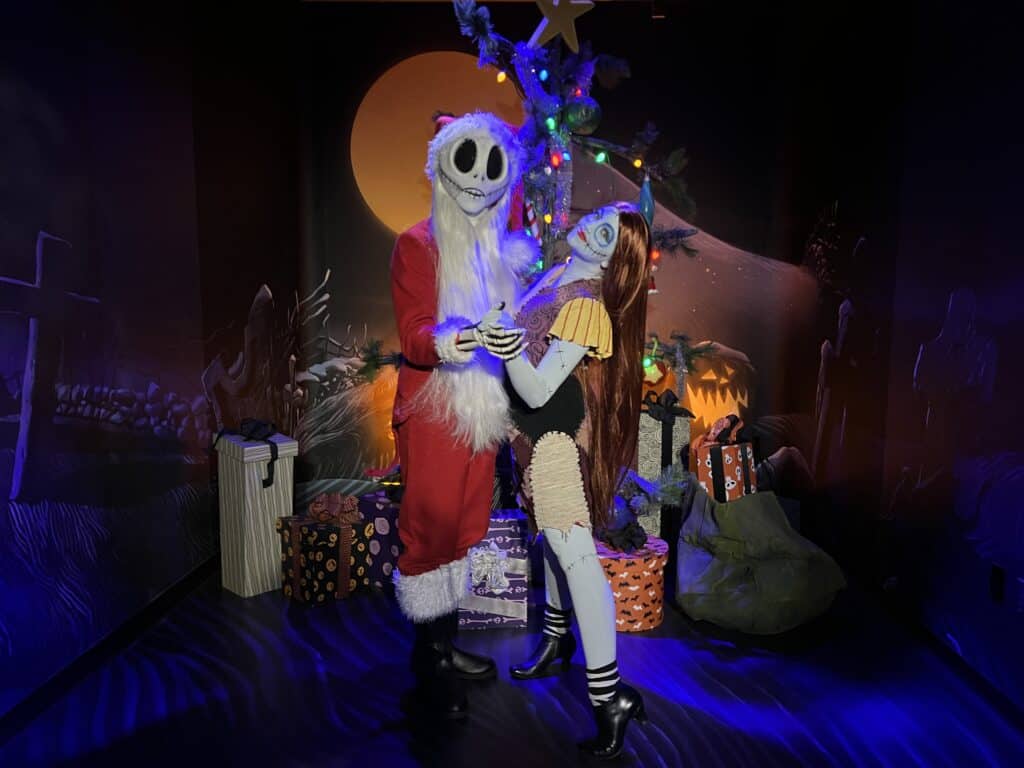 These after-hours parties carry quite a hefty price tag, but they can be worth it. There are often shorter wait times for popular rides and the character appearances are so special. In fact, sometimes the wait for these rare Disney character greetings can be longer than the rides.
You can also check the MyDisneyExperience app for character appearances. Disney's Hollywood Studios has been home to rare characters such as Chip and Dale in their Rescue Rangers attire.
If you want to get photos with popular Disney characters like Mickey Mouse and his friends, consider booking a Disney character dining experience. It is pricey, but you'll be fed, seated, and get a chance to see each featured character for a few moments one on one. Check out our Tips and Tricks to the Best Disney Character Dining.
Disney Cruise Line Characters
Another splurge that is totally worth it for the experience is Disney Cruise Line. For some families, the Disney character experience on Disney Cruise Line is worth the price of the cruise itself.
The Disney characters make appearances throughout the entire cruise, including at certain dining experiences. Aboard the newest ship, the Disney Wish you can experience two character meals including with Anna and Elsa at Arendelle, and the awesome Worlds of Marvel dining experience.
More Disney fun…