Memorial Day Weekend Events in Tampa Bay to Kick-Off Summer Break
Oh, how we've longed for this weekend to come–Memorial Day weekend, the "unofficial start of the summer season" is finally upon us and it's safe to say we're all ready for some family-friendly fun this summer in Tampa Bay! (The first day of summer is actually June 21 in case you were wondering.)
Related: Florida Resident Deals at Theme Parks and Attractions
Before we go into some ways to celebrate the start of the summer season, it is important to remember the spirit of Memorial Day. While the holiday weekend is often referred to as the "unofficial start of summer", it is also an important holiday for us all to stop, remember, and honor the men and women who have sacrificed their lives to protect our country.
What is Memorial Day and why do we celebrate Memorial Day?
The holiday dates back to the spring of 1865 when the Civil War ended –a war that took the lives of 65,000 people and resulted in the the nation's first national cemeteries. In the years that followed, families would honor the fallen soldiers each spring by decorating their graves with flowers, according to History.com.
In May of 1868, General John A. Logan proclaimed May 30, 1868 as Decoration Day to honor the lives lost.
Memorial Day would continue to be recognized on May 30 to honor our country's fallen heroes until 1968 when the Uniform Monday Holiday Act was established by Congress to mark Memorial Day on the last Monday of the month, giving federal workers a three-day holiday weekend. This year–Memorial Day happens to fall on the original day of May 30.
We encourage you to take a few minutes and read the entire article about the history of Memorial Day on History.com.
How to Honor Memorial Day 2023 in Tampa Bay
There are a few events where you and the family can honor our fallen heroes in Tampa Bay. Here are a few scheduled for this Memorial Day in Tampa Bay:
Largo Central Park in Largo
Join the community for this free annual Memorial Day ceremony to honor our country's fallen heroes. There will be live music, readings, and presentations by local veterans.
3810 W Kennedy Blvd, Tampa
The American Legion in Tampa is hosting its annual Memorial Day ceremony at the American Legion on Kennedy Blvd. This is the 101st year the ceremony has taken place here–first honored in 1922. Families are invited to honor the sacrifices of the brave men and women. The Memorial Service will be held at 11 am and you may bring your American flag to wave along Kennedy Blvd. Wreath registration will also be available. Luminaries begin at 8 pm.
2010 W Morrison Avenue, Tampa
The Veterans of Foreign Wars Post 4321 invites you for a somber celebration of Memorial Day to honor the men and women who have paid the ultimate sacrifice for our freedom. There will be a cookout with hot dogs and burgers, a 50/50 raffle, and games for the kids.
4615 E Hanna Avenue, Tampa
Sgt. Melvin Collins started the event to honor Black fallen soldiers. "A program for us, by us." It is sponsored by a local Veterans of Foreign Wars Post and several community organizations. In 2022, the program celebrates 26 years of honoring Black men and women who died in military service. The group meets on the Saturday morning before Memorial Day to plant flag on hundreds of graves honoring Black men and women soldiers. They return on Memorial Day for a formal program. The event is free and open to the public. (Post written by Nat Alie and Kiva Williams)
Veterans Memorial Park: 3602 US-301, Tampa
The James A Haley Veteran's Hos[pital in Tampa welcomes the community to honor the ultimate sacrifice paid by our military members during a Memorial Day Remembrance Ceremony at Veterans Memorial Park. The keynote speaker is Air Force Col. Benjamin Jonsson, commander, 6th Air Refueling Wing, at MacDill Air Force Base.
Available through 10/31/2023
Make it a date night at the AC Hotel Tampa with our Take 2 Package, which includes 2 tapas & 2 cocktails in our AC Lounge and a 2pm check-out! Explore Memorial Day weekend festivities around Tampa and then relax in our luxurious guest rooms, soak up the sun at our pristine outdoor pool and unwind by the fire pit to complete your stay. Book your romantic getaway today!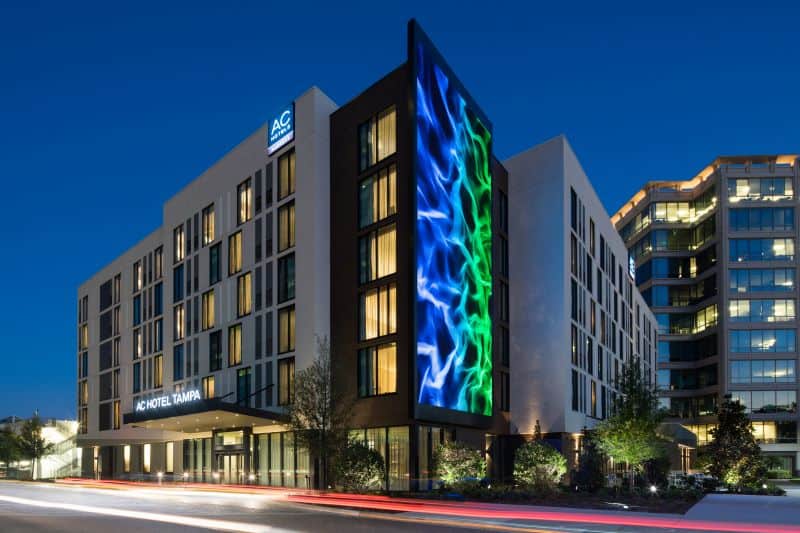 Things to Do Memorial Day Weekend with the Kids: Events in Tampa Bay 
*Be sure to check out our Weekend Top Picks in Tampa Bay for even MORE family-friendly fun!
The beach is always a top pick, so why not head to Caladesi Island State Park which has just been named as one of America's Top 10 Beaches in 2022 according to Dr. Beach–Caladesi Island ranks second!
There are several events scheduled for Memorial Day weekend in Tampa Bay too, including the Margarita Festival in Tampa (which is 21+), but you're here on a Parenting site, so let's focus on some family-friendly things to do Memorial Day in Tampa Bay! You can check out TampaBayDateNightGuide.com for Memorial Day things to do as well!
Tampa
In honor of Memorial Day weekend, this collaboration is designed to create an opportunity for our civilian members to gain a deeper understanding of the veteran experience and engage with former active military.
Tampa
To celebrate Memorial Day, military members can ride the pirate water taxi for free between May 27th and May 29, 2023, with the purchase of one full-priced ticket (Adult or Child). Location: Departing from Tampa Convention Center Dock. Offer includes one (1) comp per transaction for any active duty, veteran, retired, or drilling reservist or National Guardsman. Must present a valid Military ID.
Masaryktown (Hernando County)
Get outside in the fresh country air and enjoy the beautiful gardens, cute animals, and fun activities out on the farm. Admission also includes Sunflower Maze, Hayrides, Picking Fields Access, Tree House Play Area, Tumbleweed Rollers, Play Jumbo Foosball, Pitcher Pump Duck Races, Peddle Tractors, visit with the Animals and more!
Masaryktown (Hernando County)
Visit HarvestMoon Fun Farm for a fun, healthy and wholesome day out on the farm with your entire family or with friends. During the Spring Season, pick a beautiful bouquet of Sunflowers through their maze-like paths, visit the petting farm, jump on the jumping pillow and more!
Tampa
The Florida Aquarium is honoring our service members with free admission May 26-May 29 in honor of Memorial Day weekend. Military members will receive complimentary admission with a general paid admission. This offer includes active duty, veterans, National Guardsmen and more. Bring a valid military ID to qualify.
This Memorial Day the museum is honoring those who serve our country with free admission to the museum for Veterans, Active Military, Gold Star and Blue Star Families.
Memorial Day Things to Do on the Water in Tampa Bay
Living in Tampa Bay, we are surrounded by water whether you're looking for a day at one of the area's world-famous family-friendly beaches, beautiful crystal clear natural springs, or even the best water parks in Tampa Bay, including a brand-new giant man-made lagoon! There is something for every family.
If you are heading to the beach, don't forget the sunscreen–and check to see if your family's sunscreen made the top picks list in EWG's 2022 Sunscreen Guide.
If kayaking is on your list of things to experience this summer in Tampa Bay, check out some of the best places to go kayaking Tampa Bay! Keep in mind that weekends tend to get busy, so you may have some extra company on the water…it just won't be as crazy as the beach, so there's that. Speaking of kayaking, we loved our 'Paddle Pals' tour for kids with Get Up and Go Kayaking in Shell Key!
More ways to celebrate Memorial Day Weekend in Tampa Bay
We don't have to tell you–it gets HOT and the "unofficial start of summer" also means the OFFICIAL start of hot and muggy season in Tampa Bay! If you want to seek the crisp cool of the indoors, why not tour of the best museums in Tampa Bay with the kids! Glazer Children's Museum is always a favorite and so is MOSI.
Looking for some thrilling adventures with the kids? Why not give zip-lining a try? There are some awesome places to go zip lining in Tampa Bay including TreeHoppers in Dade City and TreeUmpf! in Bradenton.
Busch Gardens is also launching its Summer Celebration Memorial Day weekend with a new fireworks show and special entertainment. We highly recommend one of the animal tours like the Serengeti Safari!
Maybe you want to do some shopping and take advantage of all of the Memorial Day sales! Don't forget that May 28 also kicks off Florida's Disaster Preparedness Sales Tax Holiday (2023 TBD). This is a great weekend to stock up and save on your family's hurricane kit–hurricane season starts June 1! But, that's not the only sales tax break we Floridians can take advantage of this year. We've got them all of the Florida sales tax holidays listed here including the sales tax break on children's books and even diapers and baby clothes!
After all that shopping or time out on the water, you might get hungry! Check out some the best family-friendly restaurants in Tampa Bay! There are some great picks for kids including our favorite go-to, the St Pete Pier which not only has plenty of kid-friendly restaurants close by but so much to do for kids!