The BEST Things to Do this Spring Break in Tampa Bay with the Kids
We live where the world comes to play, so you don't have to go too far to find an epic family adventure in Tampa Bay!
If you're sticking around town for spring break, or maybe just looking for something new to do around town this spring, we're sharing some our favorite things to do in Tampa Bay with the kids.
---
Go see what's on exhibit in Tampa Bay this spring break:
It's a great time to check out some really cool exhibits, some of which are only here for a limited time!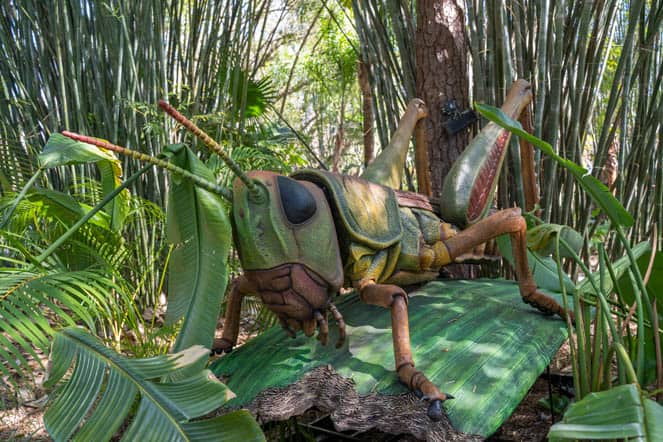 Tampa
Giant larger-than-life BUGS have taken over ZooTampa! Guests will shrink down and be immersed in BUGTOPIA, the fantastic world of animals that slither, crawl, and fly. Join Professor Mo Alexander and his research assistants as they explore the important and fascinating role these tiny creatures have on the preservation of the world we share. Included with general admission.
Tampa
There's a new exhibit on the second floor of Glazer Children's Museum that's all about measuring in a hands on and super fun way for kids! They can pull out a life-sized tape measure, find out how many chickens they weigh and so much more!
Toothpick World: Wonders of the World at MOSI
Tampa
See the world's largest buildings made entirely out of toothpicks and glue at a 1:64 scale! The exhibit expands the entirety of the museum. It's one of the many new things at MOSI you can experience with the kids.
Dino Rescue at Clearwater Marine Aquarium 
Clearwater
Experience Clearwater Marine Aquarium's largest rescue mission ever! Dino Rescue will bring guests up-close to life-size dinosaurs, some as tall as 35 feet and 65 feet long. As guests walk throughout CMA, they will encounter prehistoric dinosaurs, which move and roar, as they rehabilitate from various ailments today's animals face – like habitat loss and entanglement. Dino Rescue is included with admission and roaring now!
Fairgrounds St. Pete: Permanent display
This whimsical wonderland is a collection of artistic works by more than 60 artists. An immersive art exhibit like you've never seen, heard or even smelled before, Fairgrounds St Pete celebrates all that is weird and wacky about Florida. Choose your own adventure experience: You can simply walk through and enjoy the scenery or try to solve the mystery laid out before you. We're giving you an INSIDE LOOK here to get a feel of what it's like!
---
Take part in an epic pie fight on Pi Day with Glazer Children's Museum!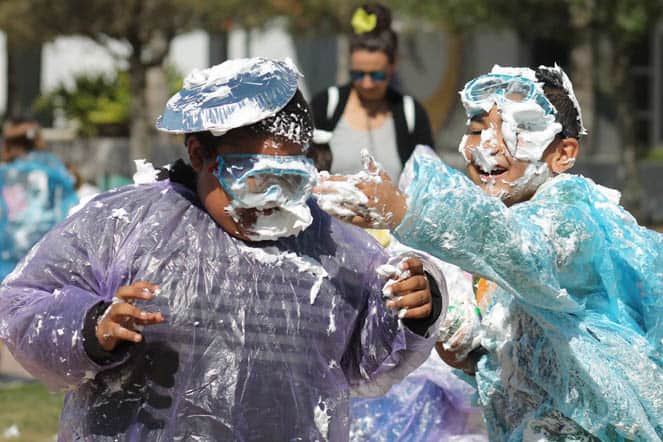 After a few year hiatus, the pie fight is back in celebration of Pi Day and Einstein's birthday! Head to Curtis Hixon Park on Tuesday, March 14 in front of the museum for this free event for kids ages 5 and older before 3:14 pm when the pie fight officially begins…it is a celebration of the number Pi, after all!
Learn more about the Pi Day Pie Fight here.
---
Some of the world's top beaches are right here in Tampa Bay. Since Red Tide has unfortunately been an issue, you'll also want to check the Florida Fish & Wildlife Red Tide Current Status Map before you go.
Here are our favorite family-friendly ones where you can soak up the sun—with plenty of sunscreen, of course:
Caladesi Island via Honeymoon Island:
You can only access Caladesi Island via a 10-minute ride on the Caladesi Island Ferry from Honeymoon Island, but it's worth it! The beaches are pristine, and while Caladesi seems remote, there are beach chairs and umbrellas to rent as well as bathroom and shower facilities and a snack bar.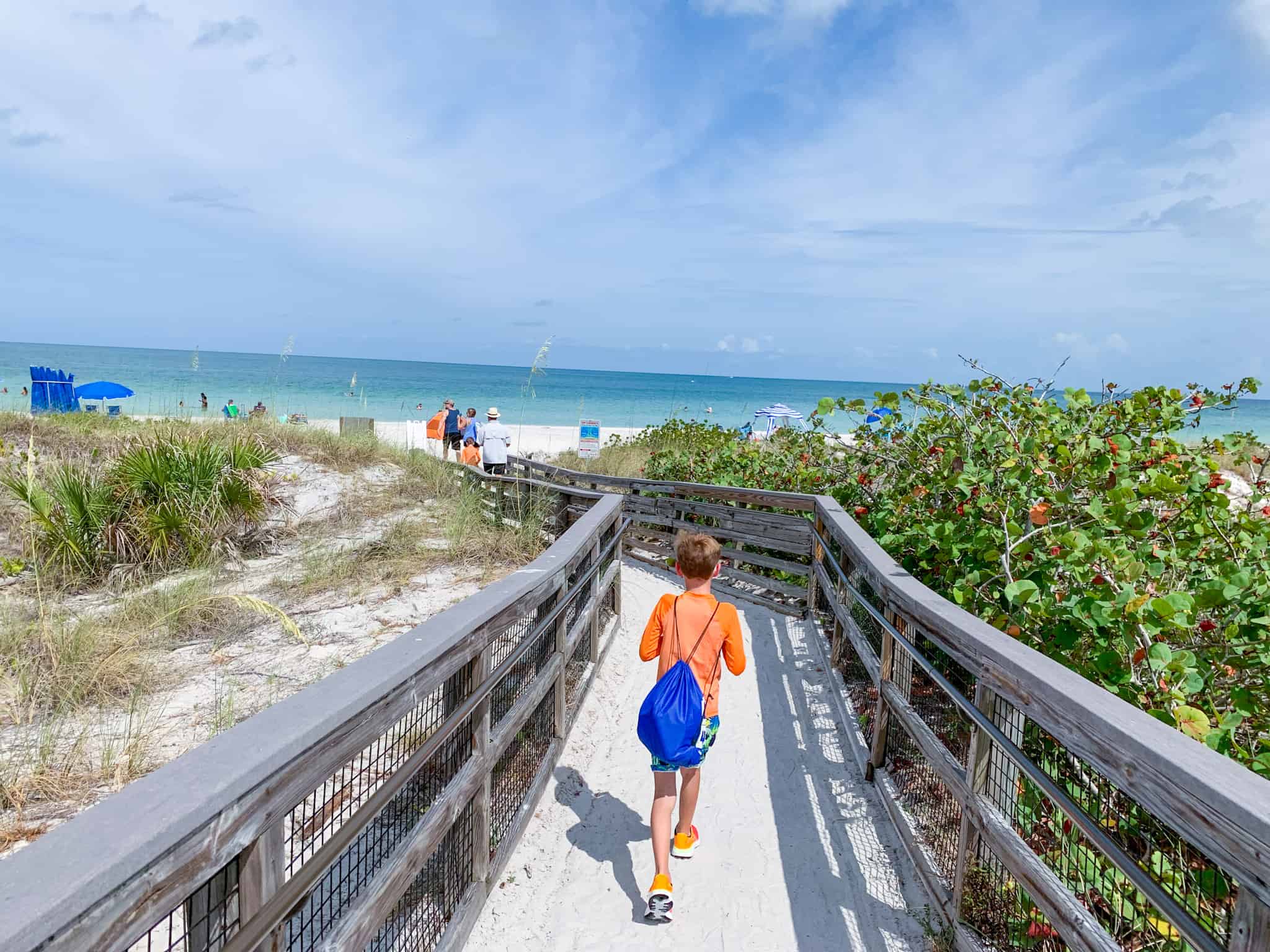 Fort DeSoto North Beach
If you're looking for more beach and less touristy stuff, Fort De Soto's North Beach is your best bet, and has plenty of parking and bathroom facilities. We also love walking the area of the Fort before heading to the beach area of the state park, and we like that we can find plenty of parking and bathroom facilities as well. You can access Egmont Key via ferry ride from the Fishing Pier at Fort De Soto Park and enjoy walking or biking along the seven miles of paved trails.
St Pete Beach
St Pete Beach was rated #1 in the United States by Trip Advisor in 2021, and it's easy to see why! It's not only home to the picturesque Pink Palace, The Don Cesar, but also beautiful white sandy beaches like Pass-a-Grille, which is super family-friendly. If you want something even more rustic and less traveled, consider a ferry ride from the Merry Pier on the Shell Key shuttle to Shell Key. You can also get to the beaches from downtown St Pete for free on the new SunRunner.
Clearwater Beach
Clearwater Beach is the obvious mention because there are so many things to do while enjoying the beautiful white sand beach! Pier 60 always has something going on and there are plenty of shops and restaurants nearby to explore, like one of our favorites, Frenchy's Rockaway Grille. Stop by Clearwater Marine Aquarium or explore the area on the Jolley Trolley with multiple stops around Clearwater Beach. It's free to park and ride to the beach through April 30, 2023! Look for the Park & Ride Marquee on the Jolley Trolley. Check out clearwaterjolleytrolley.com to learn more and see the route maps!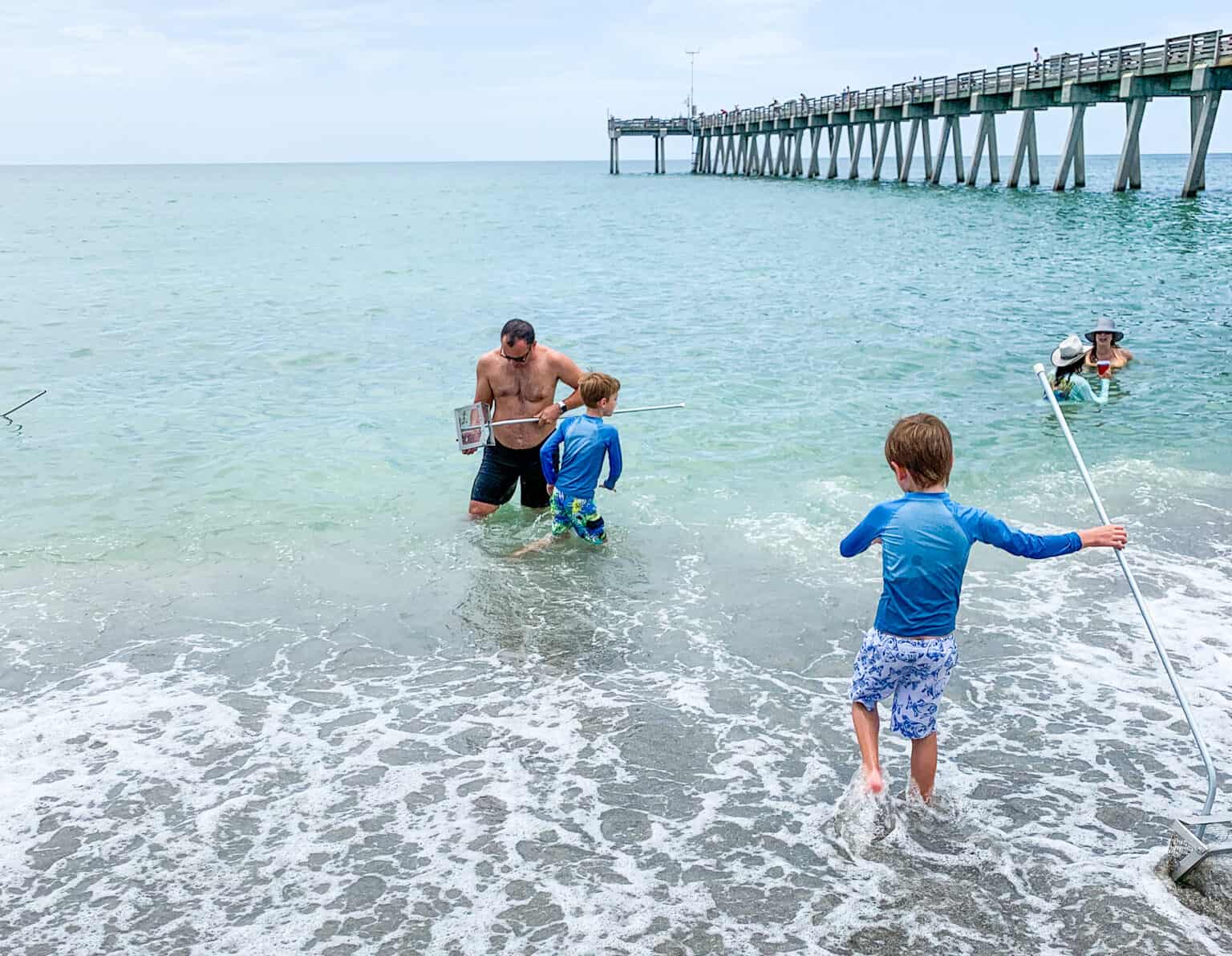 Venice Beach
Further south of Tampa Bay is Venice Beach—the Shark Tooth Capital of the World! A perfect day trip from Tampa Bay, you can rent shark tooth hunting gear at shops on the beach, like Sharky's at the Pier. According to the Fossil Guy, the best spots here to find shark teeth are between Casey Key to the north and Manasota Key to the south.
Want to explore MORE Florida beaches? We're sharing some top picks of family-friendly beaches in Florida HERE.
---
Visit a park or playground around town. We, of course, have a few favorites to share: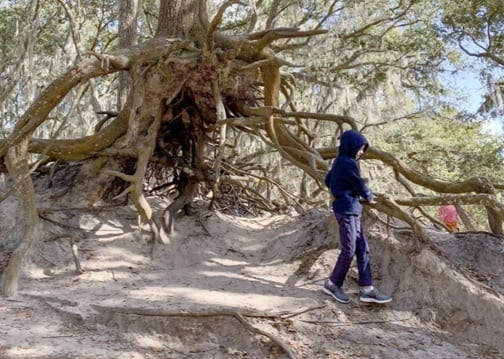 One of our favorite parks in Hillsborough County is Edward Medard Conservation Park in Plant City due to a unique area near the playground where you can walk among otherworldly tree roots exposed by erosion at an old phosphate mine over the last several decades. There are also hills to hike to make you feel as if you're anywhere other than Tampa Bay!
Another super kid-friendly and even stroller friendly hiking spot is Weedon Island Preserve in St. Pete. The boardwalk winds you through the mangroves to a tower for a bird's eye view of the natural park. You can also stop by the Cultural and Natural History Center to learn about the history of the park.
Hillsborough River State Park is another place we've visited recently and really enjoyed hiking with the kids. We parked in lot 3 and hiked the Baynard Trail (1.1 miles) that features a cool suspension bridge and the Rapids Trail (1.2 miles) with has the rapids. There is also a playground near the parking lot that has climbing structures and swings.
If you are looking for a playground to get the wiggles out, our favorites are Julian B Lane Riverfront Park in Tampa and  Glazer Family Playground at the St. Pete Pier. There's a lot more to do too at the Pier–there are not only awesome restaurants, but you can explore the Tampa Bay Watch Discovery Center, ride your bikes or scooters along the Pier or go for a skate the Rockin' Roller Rink which is on exhibit right now!
Both parks have a splash pad nearby, so don't forget to pack the swimsuits, towels and sunscreen!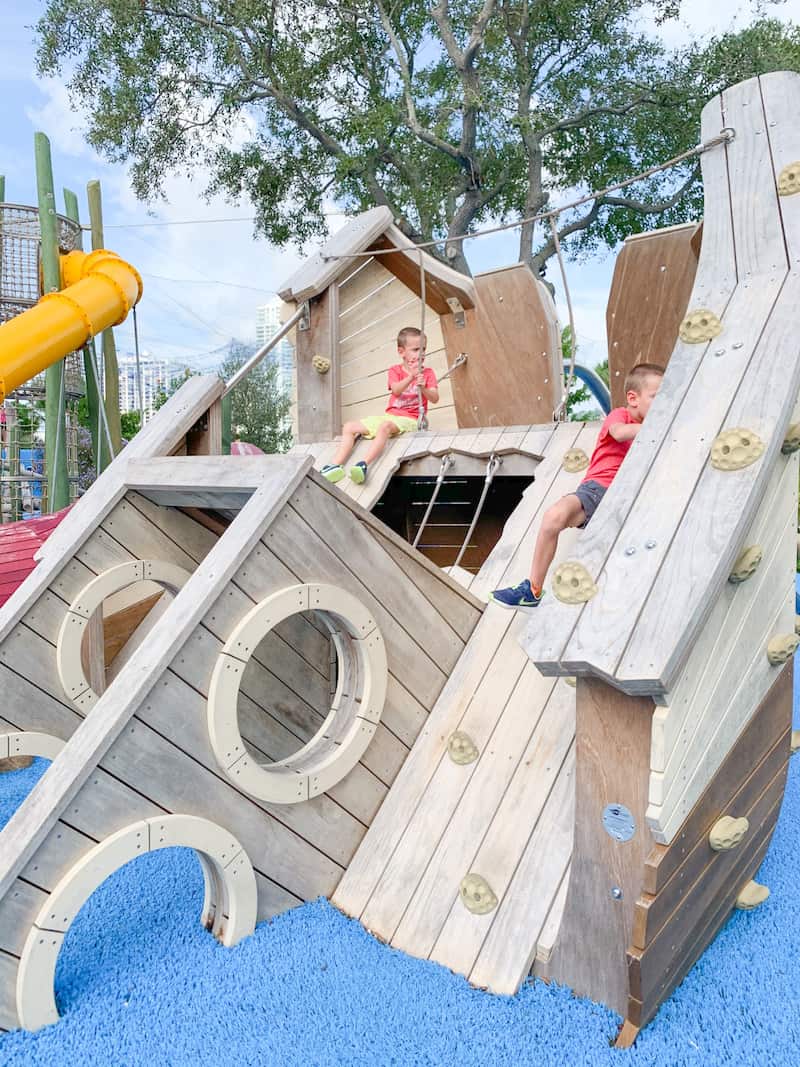 Our new favorite park is also one of the newest! Bonnet Springs Park recently opened in Lakeland and it's definitely worth the drive over from Tampa and is also home to the new Florida Children's Museum.
It also happens to be prime u-pick season in Tampa Bay for strawberries and more! Check out some of our favorite farms here!
---
Visit a local attraction:
Our local attractions include so many new experiences, from new rides to a brand new theme park!
ZooTampa
From the newly expanded Florida Wilds area to new animals to love like the the Hamadryas Baboons in the Primate Realm, ZooTampa offers many new adventures when you go this spring break. There are also several ways you can upgrade your day for an even more magical day! Be sure to be on the look out for Flora the panther, the zoo's newest mascot and of course, BUGTOPIA!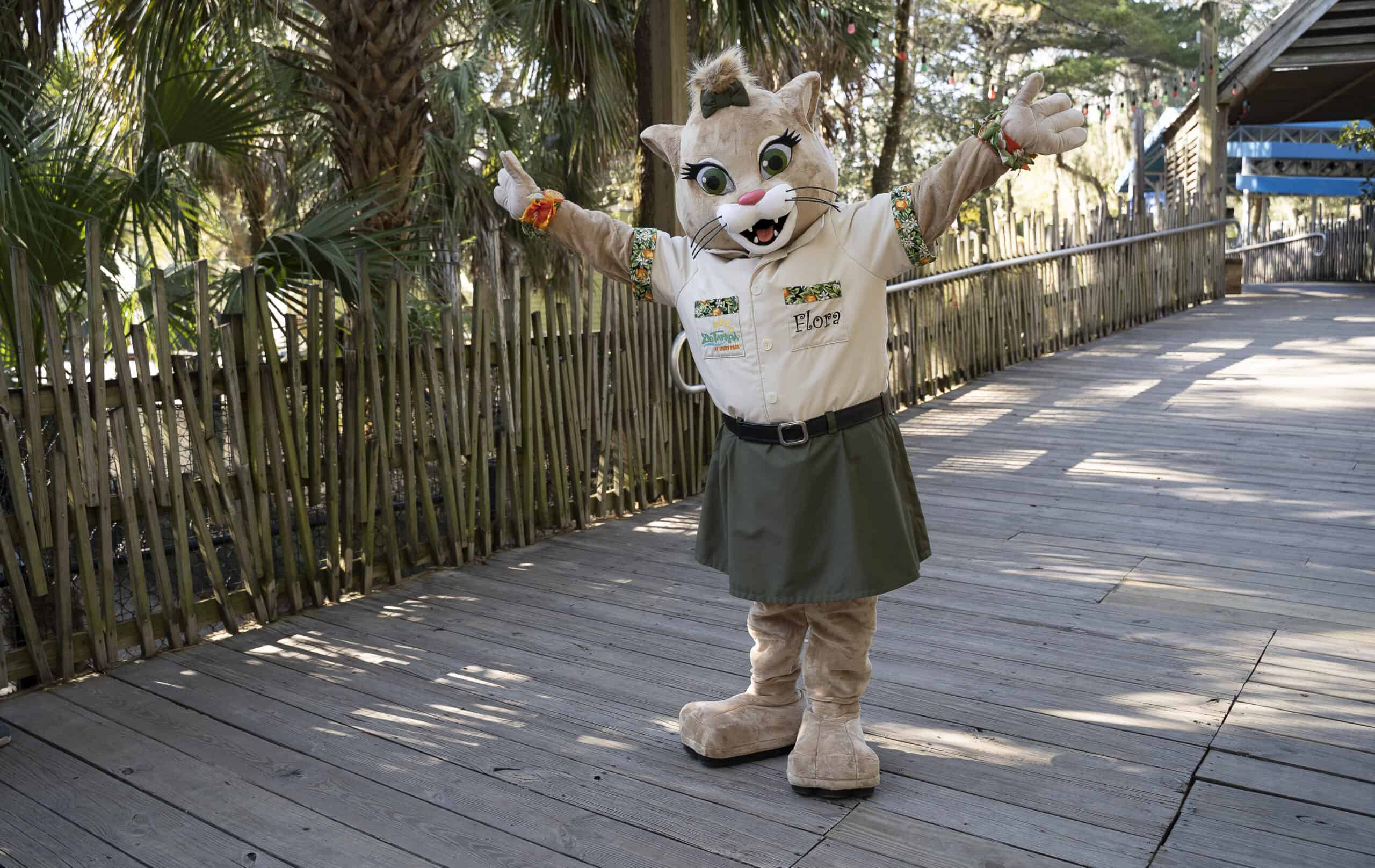 Busch Gardens
If you're seeking mega thrills this spring break, head to Busch Gardens to experience the world's tallest and fastest of its kind, the Serengeti Flyer! We also love the many ways you can upgrade your day with animal insider tours like the Serengeti Safari Tour. You can also taste your way through the Busch Gardens Food & Wine Festival on Friday, Saturday and Sunday nights!
Adventure Island
If you're looking for ways to cool off, then add Adventure Island to your spring break bucket list! It'll be even more thrilling with two NEW waterslides to experience: Rapids Racer and Wahoo! Remix and the new splash pad area opening later this month called Shaka Laka Shores!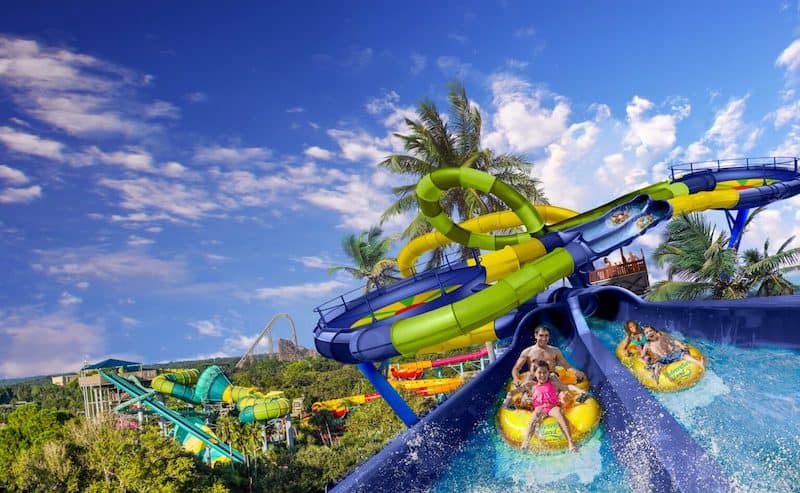 Related: Our Favorite Water Parks to Keep Your Cool in Tampa Bay
LEGOLAND Florida
LEGOLAND Florida offers more than 50 rides, shows and attractions for kids as well as a trip into Florida's past by taking a walk through the onsite Cypress Gardens. There is even a new ride called Pirate River Quest that honors the historic boat tours through Cypress Gardens, with a LEGO twist.
LEGOLAND also has a cool water park, so consider upgrading your pass. to include the water park. There are some pretty amazing LEGOLAND hotels to experience too if you want to make it an overnight adventure!
Peppa Pig Theme Park
Right next door to Legoland is this new park, designed with the littlest ones in mind. It might be the cutest place in the world for kids to experience their first roller coaster. There's also a huge splash pad, plenty of shade and rides and attractions preschoolers and their families will love! See our INSIDE LOOK here.
Weeki Wachee Springs State Park
When it comes to old Florida attractions, one of our favorites is Weeki Wachee Springs State Park to the north because they have 'real' mermaids and a super cool natural springs water park called Buccaneer Bay with water slides and even tubing. Don't miss the famous mermaids in the underwater theater! If you want to explore the area a bit more, consider booking a kayak ahead of time.
Related: Florida Natural Springs to Experience with the Kids Within a Short Drive from Tampa Bay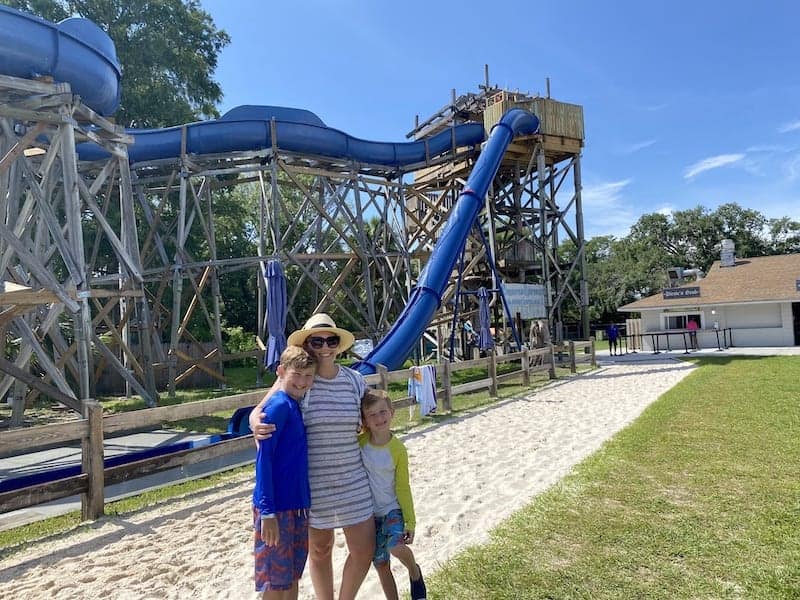 ---
Enjoy the great outdoors in Tampa Bay
Tampa Bay may be know for its beaches, but it has so much more to offer families! We've already talked about some awesome parks, so now we're going to share a few other ways to enjoy the great outdoors!
Go Kayaking with the Kids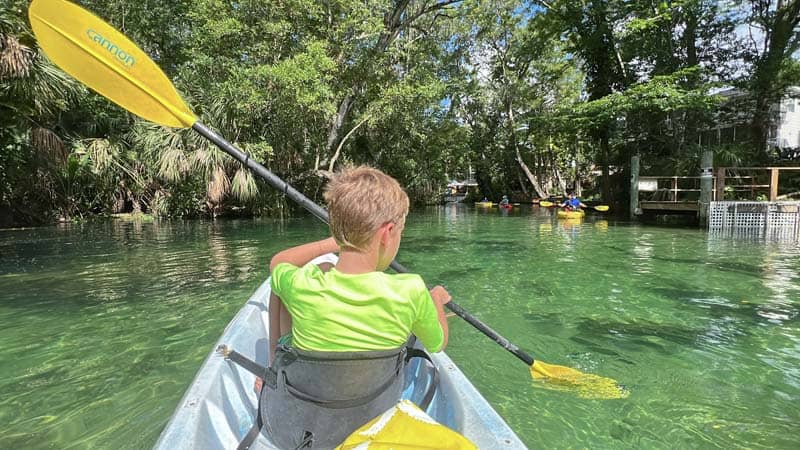 Kayaking with the kids sounds like a lot of work, but it's actually a lot of fun! There are so many awesome spots around the area whether you want to go kayaking in the springs, beaches or rivers, there is probably a spot near you. We're sharing our favorite 10+ places to go kayaking with the kids here.
If you go on a cooler day, you'll have better luck spotting manatees as they seek the warmer waters from the TECO energy plant in Apollo Beach–don't worry, the water is clean. In fact, it's a state and national sanctuary for manatees. But., that's not the only thing to do. You can also tour the revamped Manatee Education Center, go hiking on the boardwalk, explore the TECO Clean Energy Center, and see the Florida Aquarium's sea turtle rehabilitation center where they are also growing coral and sea urchins. It's a pretty spectacular place and will close for the season in mid-April.
Go Zip Lining in Tampa Bay
There are several places around the area where you can zip line with the kids in the great outdoors! We're sharing some of our favorite spots to go zip lining here.
---
Celebrate St. Patrick's Day in Tampa Bay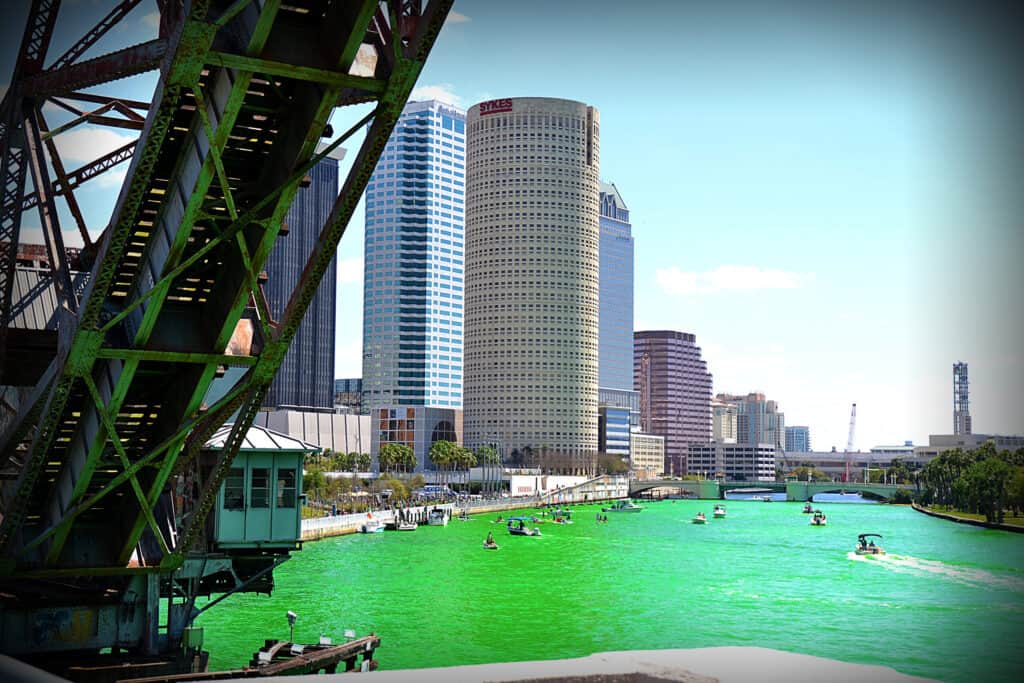 Spring break for most school kids in our area happens to coincide with the St. Patrick's Day holiday and there are several events on schedule that are family-friendly including the annual River O Green Fest in Tampa where the river is dyed a bright shade of green! There will be a lot more going on too, so you can absolutely make a day out of it. We're sharing our top picks of St. Patrick's Day Events in Tampa Bay for Families here.
---
Go to a spring training game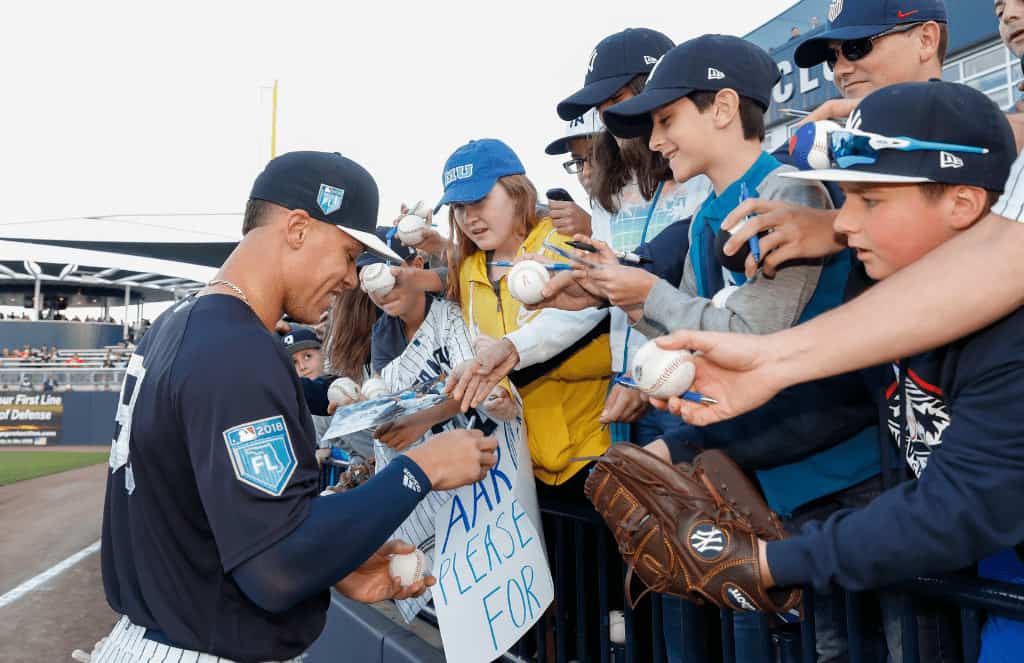 Did you know there are several teams that practice and play during the spring training season right here in Tampa Bay? In fact, the Tampa Bay Rays are playing at home at the Trop this season since the Port Charlotte stadium is undergoing repairs due to Hurricane Ian. We're sharing all the details about spring training in Tampa Bay and where.
---
There are plenty of ways to SAVE in Tampa Bay this spring break, too!
We all like to save a bit of cash, right? One of the best ways to save at local attractions for locals is to consider annual passes that often give members additional perks like free parking and discounts. Other ways to save include:
Tampa Bay CityPASS
Save as much as 52% at five local attractions with this pass which costs $139 for an adult and $124 for kids ages 3-9. This includes admission to Busch Gardens Tampa Bay, The Florida Aquarium, ZooTampa at Lowry Park, Clearwater Marine Aquarium, and MOSI or Tropical Boat Tours Dolphin or Sunset Cruise. The pass is only valid for nine consecutive days from the first day you use it. citypass.com
Tampa Riverwalk Attractions Pass
Pick up a One-Day pass for $55 for adults and $35 for kids ages 3-11 or a Three-Day pass for $79 for adults and $49 for kids ages 3-11. The pass gets you admission to seven attractions: Florida Aquarium, Pirate Water Taxi, Tampa Bay History Center, Tampa Museum of Art, Glazer Children's Museum, H.B, Plant Museum and Florida Museum of the Photographic Arts. visittampabay.com
Library passes
Did you know your county library offers a special pass for families to check out for free admission to select local museums and attractions? They are only available on a first come, first served basis, so visit your neighborhood public library to learn more.
---
Since we're only just scratching the surface…here are MORE FUN ways to explore Tampa Bay with the kids:
---
Fun Day Trips from Tampa Bay:
Since we live in such a central location in Florida, a day trip is totally possible to places like Walt Disney World! Here are a few ideas to add to your spring break bucket list!
EPCOT International Flower and Garden Festival:
We're pretty fortunate to live so close to world-famous theme parks like Walt Disney World. While we can guarantee the parks will be slammed, if you can squeeze in a weekday visit to EPCOT to experience the International Flower and Garden Festival, we highly recommend it. You'll get to taste and sip your way through the Outdoor Kitchens and get inspired by the numerous themed gardens throughout the park.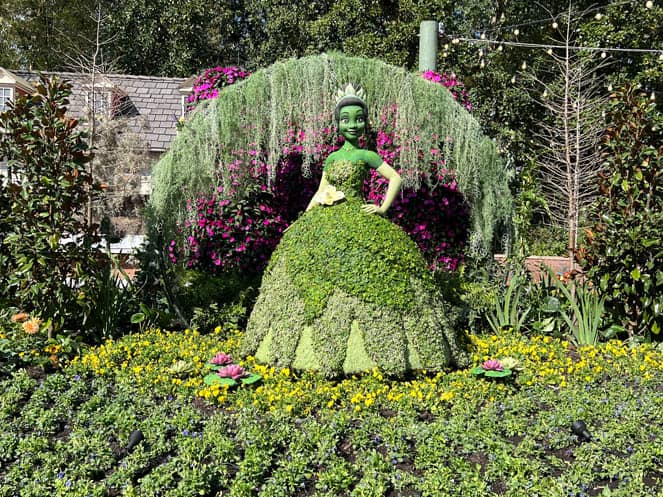 Zip the Canyons: Idea from our contributor, Tara Payor:
Staycations don't mean our feet have to stay planted on the ground. Recently, my daughter and I didn't fly to our destination, but we did fly through Ocala's clear skies and above its pristine water at Zip the Canyons.
Located at 8045 NW Gainesville Road in Ocala, Zip the Canyons offers an exciting array of adventures by air, land and water. Kayaking and horseback riding in canyons doesn't necessitate a flight to Colorado this spring break. Both are available at Zip the Canyons, which has options for staying and playing all day.
We harnessed up, completed a brief practice zip and took the Big Cliff Canyon Tour. With nine zip lines, including an 1,100-foot-long zip across Lost Spring Lake, the tour lasts about three hours. I packed small snacks and tour guides provided water. Cell phones are discouraged but, like a mom, I placed mine in a crossbody pouch. Zip the Canyons takes photos and videos, available for purchase at tour's end, but guides graciously used my phone. Guides were great with kids—full of energy and age-appropriate-jokes. Participants should be about 10 years old and 70 pounds. Fearless: another requirement. Briefer ziplining tours are offered, though they don't include zipping above the canyon's lake. Online reservations are strongly encouraged. Save a few dollars on tours by visiting this amazing adventure park on a weekday. Consult their website, ZipTheCanyons.com, for additional information on tours and participant requirements.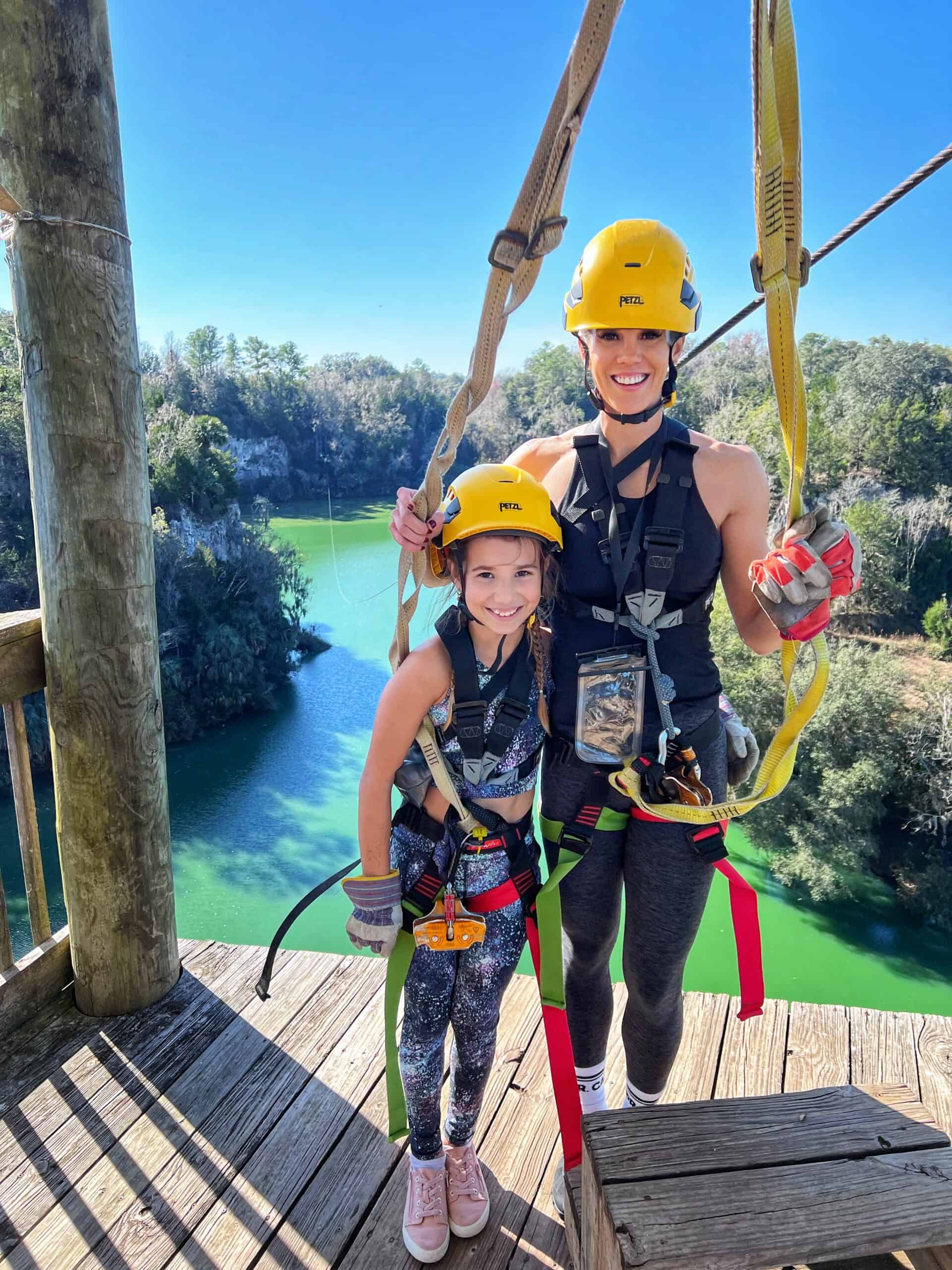 ---
*Originally published in the March 2022 issue of Tampa Bay Parenting Magazine, updated in March 2023.