Spring Break in Tampa Bay: Plan your best STAYcation ever!
The best things to do in Tampa Bay this spring break — there are so many ways to play!!
Spring break 2023 is nearly here and we can hardly wait! If you are sticking around town or maybe you're coming to our area for a visit, we've got plenty ideas to help you map out your best spring break ever. So, let's get to it friends!
Related:
Our favorite things to do in Tampa Bay during Spring Break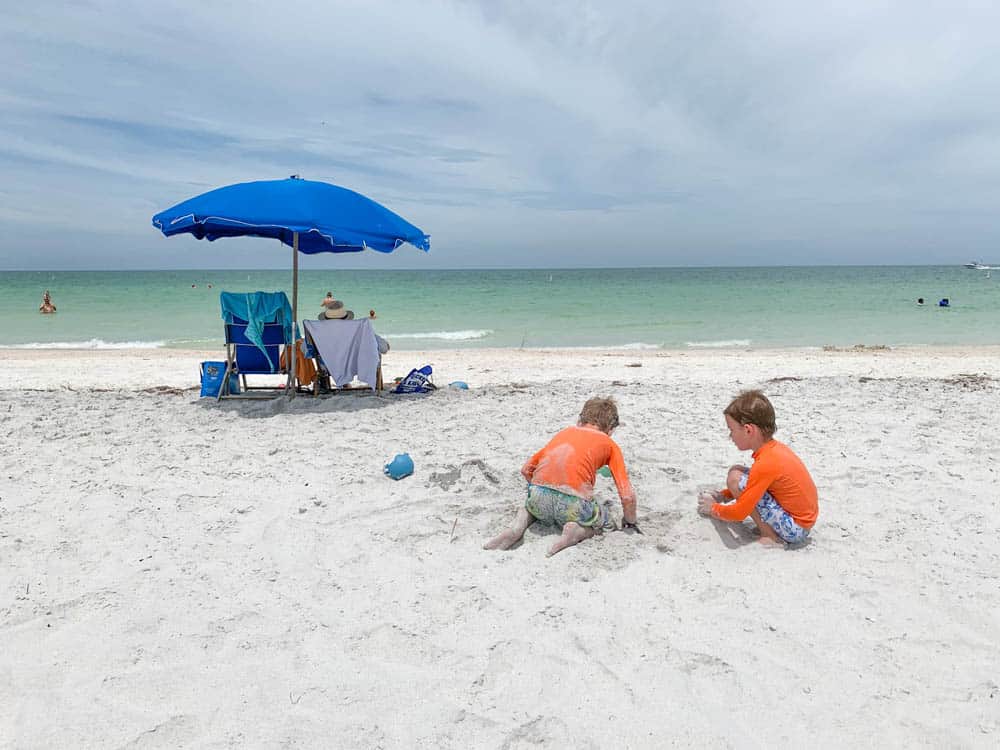 Head to the beach! 
This is probably the most obvious thing to do over spring break since the Tampa Bay Area is known around the world for our gorgeous beaches. While Clearwater Beach is always a family-favorite, it might be a bit busy with visitors in town, so why not explore a new beach! If you want to explore something a little off the beaten path, try Caladesi Island. You can walk there from north Clearwater Beach, but it's a long walk, so we prefer taking the ferry over from Honeymoon Island (which also has gorgeous beaches!). It's worth the extra effort and you'll see why it was ranked as a top beach in the country in 2022 by Dr. Beach.
Check out some more of our favorite beaches in Tampa Bay for families here!
Cool Off at a Water Park in Tampa Bay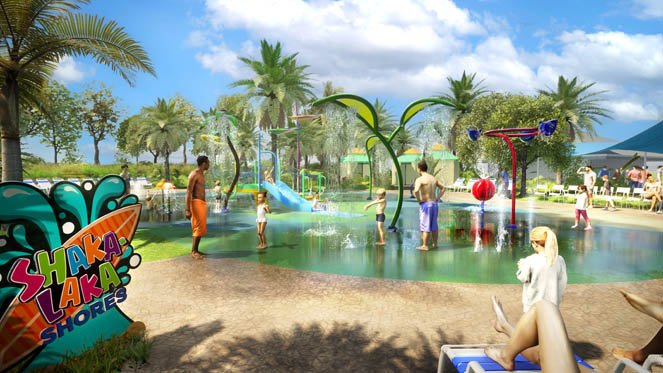 There are some pretty awesome places to cool off around the area including Adventure Island which reopens in time for spring break. There's a brand new water play area called Shaka-Laka Shores for kids and don't forget the two new waterslides which debuted last year: Wahoo Remix and Rapids Racer.
Check out our other favorite water parks in Tampa Bay here.
Explore What's NEW at Local Museums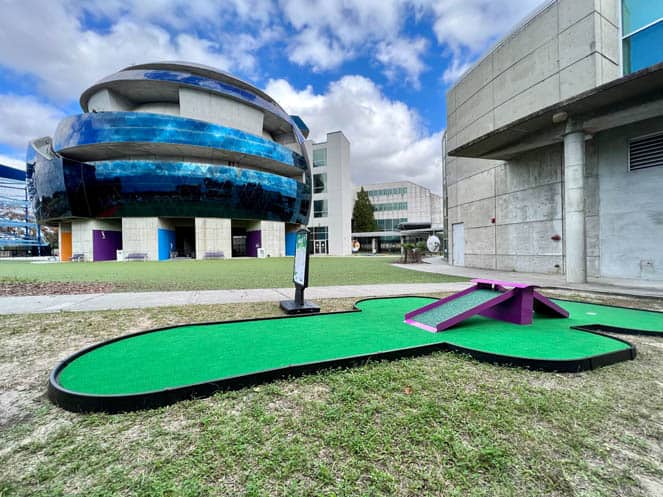 If you haven't been to a local museum in awhile. there are some pretty cool new exhibits to explore. Over at MOSI, Toothpick World is only display, showcasing the world's largest buildings made entirely out of toothpicks at a 1:64 scale. They also have a new putt put course on the lawn with outdoor dining opening this spring! Read more about What's New at MOSI here.
Glazer Children's Museum in Tampa has the new Measurement Rules exhibit on display on the second floor where kids can measure with a giant-sizes measuring tape, figure out how many chickens they weigh, and more. It's super cute! If you head outside, look for the display on the windows to see how you measure up against Big John, the world's largest fossil triceratops that officially goes on display on May 26, 2023.
We sharing even more on our favorite Tampa Bay museums for kids here.
Ride the NEW Serengeti Flyer at Busch Gardens Tampa Bay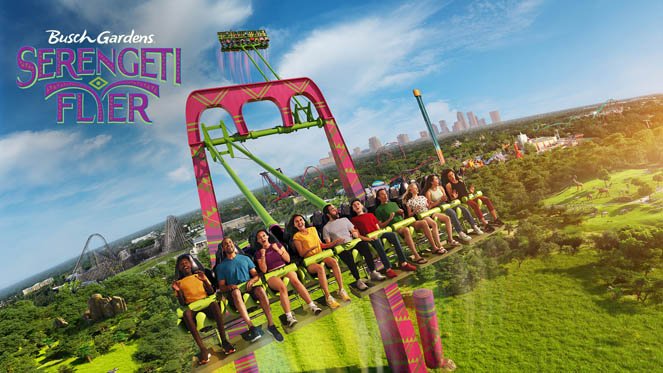 If you're a thrill seeker, a day at Busch Gardens is a must add to the Spring Break bucket list, especially with the addition of the new Serengeti Flyer ride this spring! It's the world's tallest and fastest of its kind, so you'll definitely earn some bragging rights after a ride. Stay and play to enjoy the rest of the thrilling rides and maybe even upgrade your day with an animal encounter like the Serengeti Safari!
Shrink down to the size of a bug at BUGTOPIA at ZooTampa!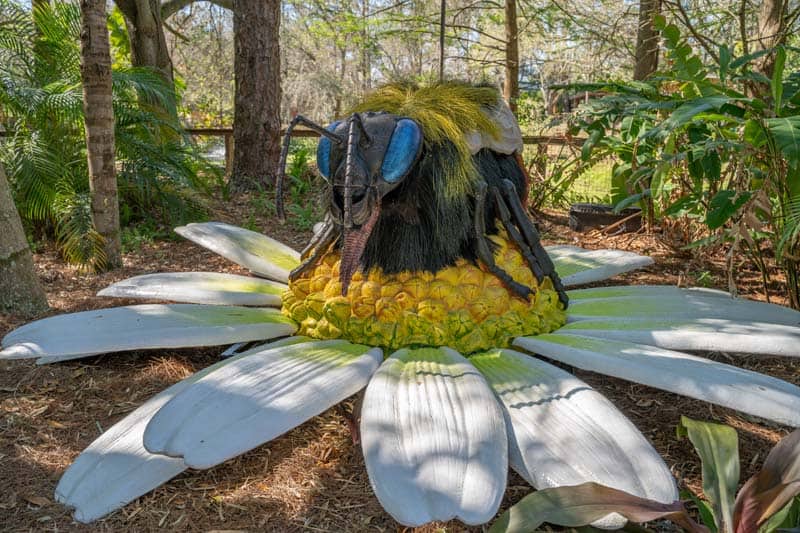 ZooTampa is already a staff-favorite since there are so many things to do with the kids and we are loving the new BUGTOPIA exhibit! Walk through the shrinking machine and explore the world of bugs–you may never look at them the same way again. This limited time exhibit is included with admission.
Go See Dino at Clearwater Marine Aquarium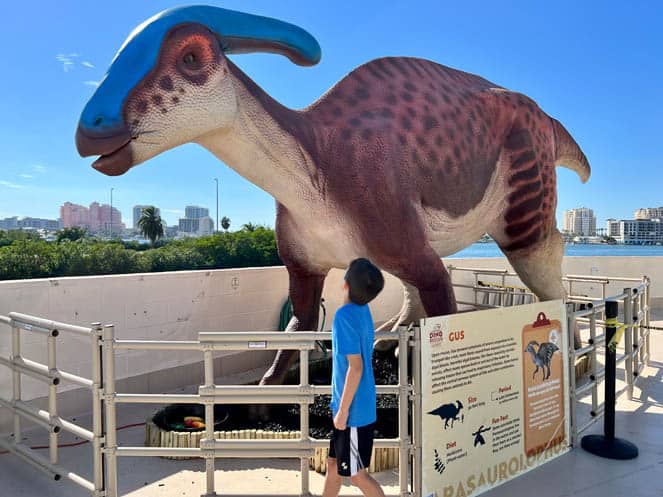 Clearwater Marine Aquarium may be known for its dolphins, but there are other cool creatures taking over for a limited time–dinosaurs! Spring break is the perfect time to head to CMA to explore the aquarium and see Dino Rescue. And since CMA is so close to Clearwater Beach, you may as well stay and play at the beach too!
Run and play at your neighborhood park or discover a new one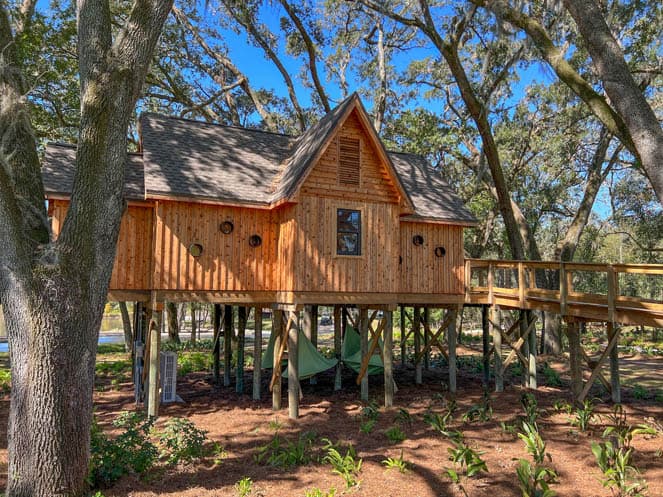 Many neighborhood parks have wide open spaces to explore to help kids get the wiggles out! Bring a ball for a game of soccer or plan a relay race! A few of our favorite big parks: Julian B Lane Waterfront Park in Tampa and Bonnet Springs Park in Lakeland. Here are some other options too in our guide of Parks and Playgrounds in Tampa Bay!
Go for a hike at a local park/nature trail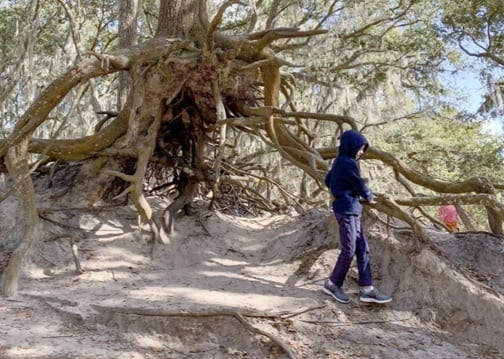 Enjoy the other great outdoors Tampa Bay offers–the numerous nature trails, parks and preserves! Edward Medard Conservation Park, Weedon Island Preserve in St. Petersburg, Lettuce Lake Park in Tampa are some popular parks among families. Here's a great resource for hiking trails in Tampa Bay! 
We also really enjoy Hillsborough River State Park. If you park near lot 3, you can access two awesome and easy to hike trails: the Baynard Trail (1.1 miles) which takes you the suspension bridge and the Rapids Trail (1.2 miles) to see the rapids! There is a playground and plenty picnic shelters too along with opportunities to go kayaking, fishing and more.
Bring a picnic basket and plenty of water for an all day adventure among nature and in the shade of beautiful trees! Keep in mind that group activities and events have been cancelled at all state parks, however the parks will remain open for camping and visitors.
Make a Day Trip to EPCOT at Walt Disney World for the International Flower and Garden Festival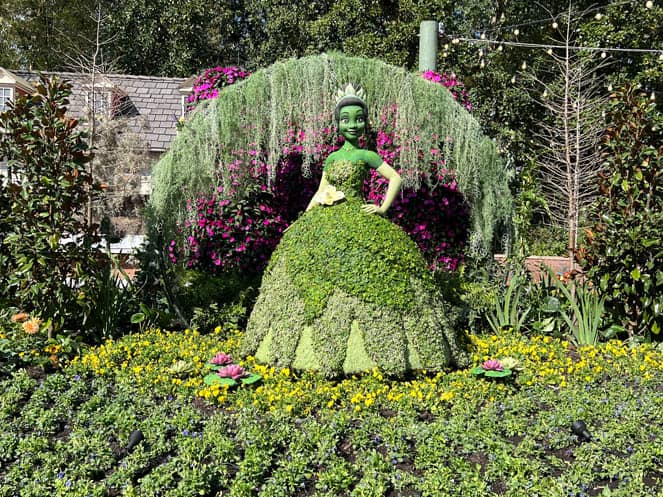 We're pretty fortunate to live so close to world-famous theme parks like Walt Disney World. While we can guarantee the parks will be slammed, if you can squeeze in a weekday visit to EPCOT to experience the International Flower and Garden Festival, we highly recommend it. You'll get to taste and sip your way through the Outdoor Kitchens and get inspired by the numerous themed gardens throughout the park.
Head to a local U-Pick Farm
Inhale all of the fresh air and take in the sun's rays as you and the kids hunt for the best strawberries, sweetest oranges and greenest veggies! There are so many unique farms in Tampa Bay to discover! We're sharing some of our favorite u-pick farms in Tampa Bay here! Be sure to check with each farm's website or social media pages as u-pick hours and days vary.